For Indonesians, the ticket could be bought at Sistic Smailing Tour, Jl. Majapahit No.28, Jakarta Pusat.

Ticket price (free seating):
[Block A]: SGD 88
[Block B]: SGD 78
Tutorial is a Japanese duo comedian, Tokui Yoshimi and Fukuda Mitsunori from Kyoto, Japan under Yoshimoto Creative Agency. They won the 2006 M-1 Grand Prix and actively appear in various variety show regularly. Since we watched them often in Japanese variety show, we decided to watch their live together.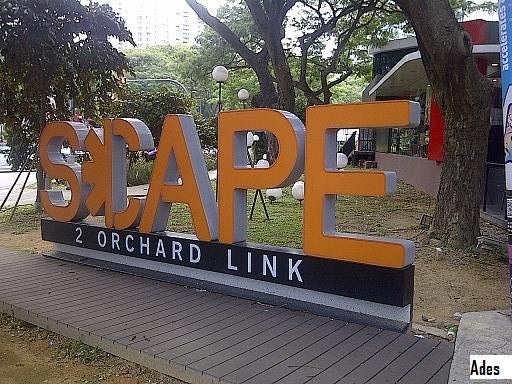 On 25th January afternoon, Wicha, Diti and I already arrived at Scape. Scape is rather like a mall with a small hall inside. More like to Skeeno Hall in Gandaria City, Jakarta, but smaller. Far smaller actually but with better lighting and sound system. Wicha who had ever watched several other performances here said that this place is like a perfect place to see a performance because of the small venue so everyone can have a good sight of the artists.
Most of the audiences are Japanese, and I feel like we're the only Indonesians there so the cameramen and reporter asked us several questions and recorded it.
With broken Japanese and some misunderstood statements, we were trying our best in answering the questions. We made new friends too there. We also brought several omiyage from Indonesia for Tutorial and we managed to give it to the staff, which later the omiyage itself, made us really surprised in the end of the show.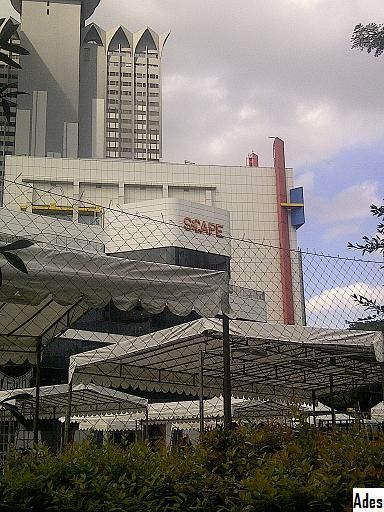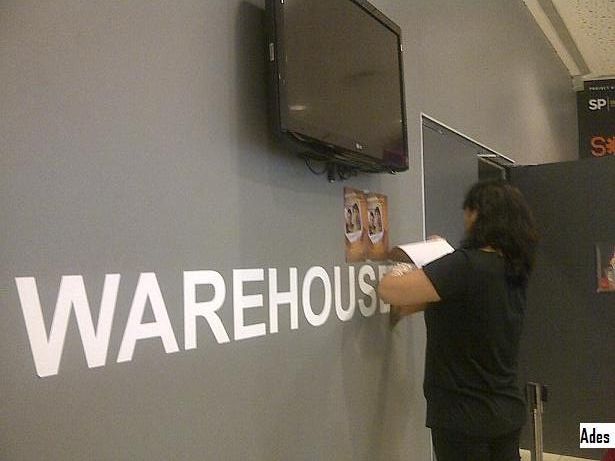 Around 6.30 pm, the staffs let us in. We can't get block A (VIP seating) since the ticket sold really fast. But we managed to get the front row in block B. There's a screen behind the stage, and only one microphone on the stage. The screen later showed an introduction video of Tutorial members, Tokui-san and Fukuda-san, riding on a motor bike. They look like great riders there and by the time the video is finished, both of them came on to the stage. Tokui-san looked really cool with a casual suit and black blazer while Fukuda-san looked really relaxed with this tropical shirt and brownish pants.
They talk about their Asia tour and of course about the lost trunks incident. On the previous day, Tokui-san wrote in his twitter saying that he lost a baggage during his flight from Srilanka to Singapore. At previous night he also twit that he hoped the trunks were sent through the river, with a photo of him in the alley of Clarke Quay restaurants and accross from Novotel Hotel. The story gradually became a skit, because he added that he also had an insident in a Singapore's cafe where he also lost his order. "Lost baggage, lost baguette".
The manzai went on with the story of how worried Tokui-san is to Fukuda-san because his hobby is riding motorbike. Somehow he mentions that Fukuda-san is really old now, over and over again. Well, it's true that after his illness, Fukuda-san is thinner and looks like older than before, but apart from that, Tokui-san really likes to bully Fukuda-san with his thin and old appearance in his skit.
And then they talked about the horror story about a bike. While Tokui-san talked about a grandmother riding a bike being crashed with a car but having no injuries, Fukuda-san talked about how he saw a person with no head riding a motorbike.
The manzai then talked about how they should write a story book like the other comedian. Tokui-san mentioned some ideas, but they were all completely absurd and being harshly rejected by Fukuda-san. The 'pero-pero' skit was performed in this part as well.
After the manzai ended, they went back to the backstage while the audience watched a video. The video showed us about "Food Made by Your Own Hands". Well, when you think about food you made yourself it's a common logic right? You use your hand to cook. But…they literally cook the food with their hand without any tool. They peel of the carrot and the potato, cut the onion, rip the meat off, and saute all of them with bare hands! The most absurd one is when Tokui-san tries to peel the potato skin by doing a handjob movement to the sad potato. EROI! Why the heck they prepare a long potato!!!! And the worst part is they mix the water and the curry block with their bare hands too!!  Oh…and Tokui-san and Fukuda-san wears girls' wigs and aprons!! lol.
After the video, the stage became dark again and the staff prepared some properties. By the time the light turned on, Tokui-san entered the stage wearing white pants and leather jacket, completely a dork!It's a conte!
He then acted as a hotel receptionist. And then Fukuda-san came as a guest. Tokui-san asked so many questions, from the guest's car and completely comparing the guest's corolla car with the Benz and Audi, and then the facilities, the breakfast menu, everything…that of course tired out the guest. Tokui-san also described the onsen condition which has lots of animals but Fukuda-san said that he's ok with the racoons and monkeys. But then Tokui-san said that the animals are dogs and wild cats. Honestly, I wouldn't even want to go to onsen with lots of dogs and wild cats then stay overnight in there with an annoying receptionist, but then… Fukuda-san is too nice,isn't he?
The conte ended nicely then they showed us another video. The video is like one of NTV variety shows called "Hajimete no otsukai" which sends small children on errands. In this video, Tokui-san acts like a doting parent and Fukuda-san is asked to do some errands just like little kid. First, he asks Fukuda-san to buy drinks in vending machine outside the room. Then he pats and compliments him extravagantly…which makes Fukuda-san angry. LOL. Then he goes on to ask for another errand. Now he asks Fukuda-san to buy a cable for him to do karaoke stuffs. He also forces Fukuda-san to repeat the detail of the cable, "RP CPA 100A 1.5m", so many times that Fukuda-san is getting annoyed with that repetition. Then Fukuda-san goes out from the office and strolls around the city to find electronic store, to eat, to walk, to meet fans, to walk, to eat, then finally buys the cable…then he finds out that actually Tokui-san is worried and stalks him along the way…just like a doting parent.
The video ended and they come again on the stage to do a manzai. They said that Singapore is really free unlike Srilanka. In Srilanka they have to be careful with their skits since the regulation is pretty strict. They start right away with a pink talk. lol. Tokui said that lately he's into photography and asks Fukuda-san to be his model. The always nice and kind-hearted Fukuda-san, then did some poses, which are really awkward.lol.
After the manzai ended, the next video is a story about Tokui-san being hospitalized. The doctor said his life time is only for another 3 months.Both him and his girlfriend are depressed but are trying to be strong. After his girlfriend goes back, he receives a motivational email from her. Then the comedy part is because of the auto-dictionary saved in his phone. I'm not good in reading Kanji but my friend's said most probably the words are dirty words because everyone is laughing. And where's Fukuda-san? He's….the patient nearby who's looking Tokui-san with a straight face.
The next conte is called Korito-ru. I have to say that laughing for 2 hours non-stop is tiring. And this conte is rather boring since it takes long time with repeated action. The staffs prepare a table and a sofa. Fukuda-san comes inside with a salary-man attire. He's a tired worker who finds a massage service advertisement on his living room table. He calls the massage service to be pampered but then he finds out that the massage service is very unprofessional and also has the same office with the cake shop where he bought the christmas cake 2 years ago. Tokui-san is not in the scene, since he's only making the different voices to call Fukuda-san. One of the callers are Fukuda-san's friends who always talk about nabe, and…I think Tokui-san here is doing a Bobby Ologon's monomane.
Finally, the show ended. Both of them came out together wearing the hat we brought for them from Jakarta. It's called Blangkon, a traditional headdress from Java Island. Actually, in every wedding party with Java tradition, the bridegroom will use it as their headdress, but the formal one. Meanwhile what we gave to Tutorial combo is the casual blangkon. They wear it nicely. Really, it's really shocking to see them wearing it on stage. They also asked who came from Indonesia from the stage, so we raised out hand high from our seat and I wondered if they really noticed us in that dark venue. Apart from that event, I am really glad I managed my time well to fly to Singapore that morning and watch them live, and go back to work on Saturday.
Three of us were waiting patiently on the back door while everyone is already leaving. Finally we met with Tokui-san and Fukuda-san again, but we can only wave our hands and take pictures of them. I guess we're too startled to ask for a handshake or to take picture together.  They look so tired that night too so we're trying our best not to make them annoyed. Until the end, when they went out from the backdoor until they went inside the taxi, they were still holding onto the blangkon. Maybe we're dying in happiness that time. The staffs were also really nice. They offered us cupcakes and also mineral waters. I'm really glad we only met nice people there.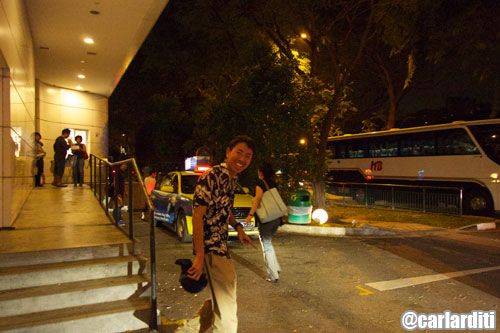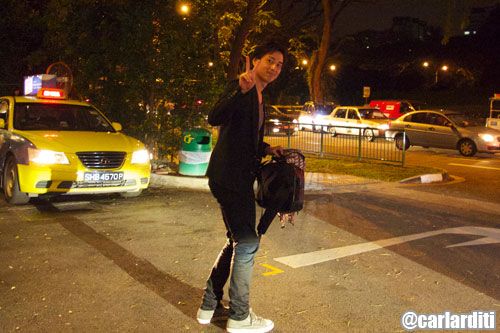 Special thanks to Reiko-san, Michie-san, Aria-san, and Jplus magazine