The press conference for Barks participation in Music Matters Live in Singapore was on Thursday 23rd May 2013.  BARKS' participation in this event is to launch the BARKS website in Chinese and English as part of their promotion strategy expanding Japanese music worldwide.
For the first time in South East Asia, a free concert with 3 great J-rock bands perform live since BARKS initiating the movemen to promote Japanese music worldwide. As we know that it's pretty hard to get information about Japanese artists in different language in official Japanese website. Moreover it's also pretty rare to see Japanese artists perform around South East Asia. Compared to other foreign performers, Japanese artists who go outside Japan apparantly are only few of them.
The presscon was started at 13.30. Every person in charge was ready on time. The first person who was called to be on stage was BARKS' producer, Mr. Tadashi Goto, who gave presentation about BARKS in his speech and the video.
BARKS is estimated had 80 million yen in its capital, become one of Japan's largest online music publication, providing agency services, consultancy, as well as digital music distribution and aggregation. Some BARKS's shareholders were also mentioned in his video presentation, such as A-Sketch, Maveric DC Group, Global Plus, HIP LAND MUSIC CORPORATION, etc. Of course, the three artists (SID, flumpool, and WEAVER), who performed in Singapore, are the top artistes managed by those companies.
This further reinstates the points he mentioned in the press release:
We have been receiving requests by the global community who want to know more about Japanese music, but so far, most of the information from the industry is available only in Japanese. In response to this, BARKS has recently launched an English site for the global fans. Today we are delighted to launch two new sites in Simplified Chinese and Traditional Chinese, to make information available to fans who understand Mandarin. Through these sites, we hope that more people will love, and be able to catch up on the latest news and trends of Japanese music and artists.
In addition, three of our growingly popular artist groups will perform in Singapore tonight. I hope that through their music and performances, music fans in Singapore and Asia can recognise and appreciate the universal appeal of J-Rock, and continue to support the artists by checking out their latest news and updates on BARKS.
Mr. Goto also mentioned that BARKS would like to bring more Japanese artistes throughout Asia, and also through their website, supporting all these Japanese artistes by providing these platforms as a form of gateway and bridge to connect to their international fans.
Next after the presentation of Mr. Tadashi Goto, WEAVER come to the stage. They introduced themselves in English which is very rarely to see for Japanese artists to do this. WEAVER has come to Singapore previously for their showcase in 2012 so they had gained a number of fans in Singapore. Members of WEAVER are Yuji Sugimoto (vo.pi), Shota Okuno (ba.), and Kawabe Toru (dr).
Yuji Sugimoto said he was very thankful that WEAVER has been invited to perform because Music Matters is such a fantastic event. He said that performing in Music Matters is a good opportunity to let people all over the world know about J-rock. He also promised to bring the best from WEAVER in the performance so that everyone can see how wonderful Jrock is.
Later, Shota Okuno also expecting that Barks with English and Chinese English will be a great media to share information to people who don't know about J-rock yet world wide.
Next after WEAVER, flumpool came to the stage. For flumpool, it's their second time going to Singapore. flumpool is a band consists of Ryuta Yamamura (vo), Genki Amakawa (ba), Seiji Ogura (dr), and Kazuki Sakai (gi). Because WEAVER using the introduction in English, Ryuta Yamamura also said that he wanted to try using English. Later he added that Flumpool hope to expand globally because they want to show their gratefulness to the people around the world for the support to Japan during the tsunami in 2011.
When asked about their expectation to BARKS, Ryuta Yamamura said that music must be heard, means that people must heard their music first to like them. So they want to strengthen their live performances and updating information through BARKS websites. By BARKS website, people can easily get information and updates about flumpool.
Meanwhile Kazuki can't come to the press conference due to their program called flumpool diet. This flumpool diet made him unnable to appear in public due to his promise to loose weight this year. Seiji also made a joke that due to Kazuki's body weight, Kazuki has difficulties in pressing f chord in his guitar.
Lastly, the band who appears the first time in Singapore and celebrates their 10th anniversary, SID. Again, SID's member were introducing their names in English. SID are Mao (vo), Shinji(ba), Aki(gi), and Yuuya (dr). Mao said he's very excited with the upcoming live. They also shared their expectation to BARKS to update their activity especially since they just had a performance in Taiwan.
During a short Q&A session, one of the questions asked was on flumpool's most memorable experience during their performance with Mayday in Taiwan. Ryuta mentioned that hugging Ashin from Mayday during the live in Japan made him very happy since he can't do that freely in Taiwan.
Next question is about their feelings for being in Singapore. Since WEAVER were coming for the third time, vocalist Yuji Sugimoto said that they want to make their performance better than the first and second one. They also prepared the mc in English, but the surprise is that they also will perform English song in their performance.
For flumpool, since it's their second time coming to Singapore, they want to be heard live and be appreciated.
"Music has the energy and ability to connect people and sharing the moment. While we're four members on the stage and audience, we can be connected and share the moment. We want to create the moment and share the unforgetable memory of the live".
Meanwhile SID, although they said they're very nervous because it's their first time coming to Singapore, in airport they had many fans welcoming them so that they felt surprised and unexpected. Vocalist Mao-san said they feel the supports and really grateful. They also said that being performed together with WEAVER and flumpool made them assured.
Mao-san said that the impression of Singapore is the delicious food, although they need to be careful of over eating since they had to keep the visual kei shape. This time, flumpool's vocalist jumped in said to be careful (definitely not to make SID Diet program, like flumpool, lol).
The last question to SID was about their 10th anniversary. Mao-san said that SID members are not just members of SID, but also good friends, that's why they can pursue their 10th year nicely. Then he asked Yuuya-san who is a mood maker in SID to joke around while Yuuya only said, 'Yes, I am'.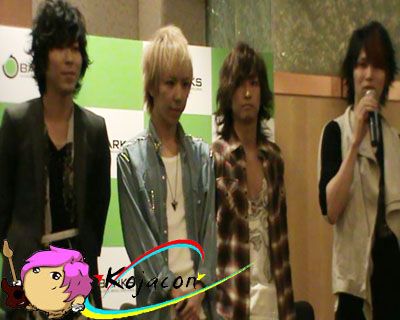 Special thanks to : AsiaPRwerkz, 19SixtyFive, SONY MUSIC SG, MML 2013, BARKS