[flumpool experience Showcase Live in Singapore]
May 24th @ 4pm
Venue : Shanghai Dolly at Clarke Quay
Entry Requirement : Buy "experience" album Singapore version (price for the album was $24,9 if you buy it at HMV but if you buy it at Music Matter Live 2013 or at Shanghai Dolly the price was only $20)
the first 200 fans get free first drink

We went to Singapore to catch Music Matter Live 2013 but since flumpool was holding a showcase as well so we decided to go to their showcase.
flumpool fans were queueing up since in the morning, some fans even said they have been queueing up since 6am!
When we were queuing up, the event organizer gave us one small paper, they told us to wrote down our name, phone number and identity card number. There will be a lucky draw for 8 lucky fans, 4 lucky fans will get a group photoshoot with flumpool members and the rest 4 lucky fans will get an autograph poster. The gate was opened at around 3.45 pm and the showcase was started at 4 pm.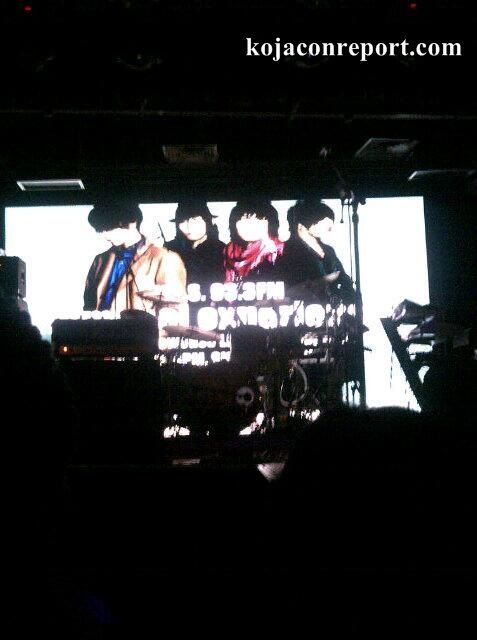 They performed the same set list with the one in Fountain Stage and Beer Market, but definitely, being locked up with flumpool fans are different with the mixed one. Everyone was hype for anything flumpool did on the stage.
During the MC part, Ryuta talked in english, "Are you excited? Me too. Thank you for buying our CD. We want to meet you. Who came yesterday?" And when fans shouted, "ME!", he shouted back and pointed each of us, "I love you!"
He continued the MC, "In Singapore we performed for past two days, we love it. We're definitely coming back again! Please wait for us! I'd like to dedicated our last song. Akashi."
During Akashi, fans were singing along with Ryuta and flumpool members looked very happy.
Eventhough, they said Akashi was the last song, but when flumpool's members going backstage, fans were getting wild. They shouted for encore, and their request was getting louder and faster. After a while, flumpool's members went back to the stage, and Ryuta said it was a really last song. They performed OAOA to close the stage.
After the showcase was ended, the MC came up to the stage to interviewed them.
MC : How does your feeling for today's perfomance?
Ryuta : (in english) Excellent! Unbelieveable, it's like a dream.
MC : How do you fell about your collaboration with Mayday?
Ryuta : Sorry can I use Japanese? (laughs) Appreciate all of you, Mayday connected you guys with us, thank you Mayday!
MC : How did you feel when you heard the song? Because it's in Chinese.
Ryuta : Ashin is very nice but when recording he was very strict.
MC : What are flumpool plans for the upcoming months?
Ryuta : On summer, we will be releasing new single and we will hold concert in Nippon Budoukan. Although Japan is so far from Singapore, we want you to come to Japan.
MC : Any words for Singapore fans that have been supported you, guys?
Kazuki : Hello Singapore! I've lost 3kgs already, when we meet again i will be very skinny. (while doing skinny gestures with his cheeks).
Ryuta : So happy I could sing along Akashi with you guys, I feel that music is very strong. It can connect our countries eventhough Japan and Singapore are so far. We will comeback again. Please wait for us!
After the MC part was over, flumpool pick 4 lucky fans that will be given an autographed poster and 4 lucky fans who will take a group photo with them after the show.
Set list:
1. Kakusei Indentity
2. Touch
3. Because I Am
4. Hana ni Nare
5. Akashi
Encore
6. OAOA
The showcase was fun even though the setlist was also the same with the previous performance in Fountain Square and Beer Market. Perhaps it's because the fans, especially flumpool fans that the atmosphere was really great! Next time, Kojacon definitely will cover their show again!