[J-rock Matters presented by BARKS part 2]
23 May @11pm
Performers : WEAVER, flumpool, SID
Venue : Beer Market, Clarke Quay
NON-TICKETED FREE EVENT-LIMITED
Right away after SID finished their performance in Fountain Stage we went to Beer Market, it was almost 11pm and the queue was very long.  Many fans can't go inside Beer Market because it was very packed.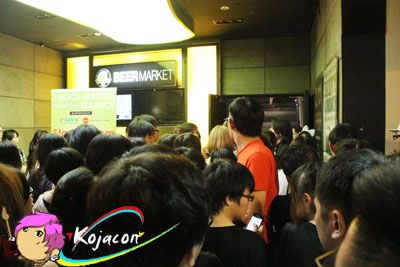 Although the staffs asked everyone to go home since noone seemed can't fit anymore, some fans were still waiting outside. Some were lucky enough to catch a glimpse of their favorite idol outside the venue before they went inside the bar. Some fans who didn't go back also got a chance to come inside when there's another person went out. After WEAVER's ended their performance, the fans went home so flumpool's fans got a chance to go inside the bar. And it happened during SID's performance too. When flumpool's fans went back, SID's fans can come inside the venue.
WEAVER opened up the show with 5 songs, but if we count it carefully perhaps they sang around 11 songs including each song in the medley. With Tokidoki Sekai which showing off Yuji's ability in piano, every one in the bar enjoyed the music while clapping and of course screaming to their idol's name.

They played several English songs in the bar, including Wraith and their own session which we believe that there's The Beatle's song in it. Lastly, they perfectly added the heat of the bar by singing a very hip song, Shall We Dance.
WEAVER setlist :
1. Tokidoki Sekai
2. Wraith (English Version)
3. Replay Medley (Performance, 66, 2 Jigen Ginga, Hard to Say I Love You – Jazz Arrangement, Session)
4. Session (English Oldies Medley)
5. Shall We Dance
Right after WEAVER's performance, there's a 30 minutes break before flumpool came on stage. Even in the opening song, they already sang  Kakusei Identity. With the heavy drum beat from Seiji and guitar's intro from Kazuki, they already got unending high pitch screams from the audience.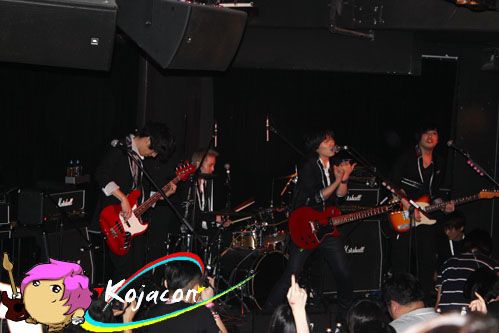 flumpool setlist :
1. Kakusei Identity
2. Because I Am
3. Hana ni Nare
4. Answer
5. Akashi
SID's performance was begin at almost 3am but fans were very hyped, they played Mascara for the opening. After playing Monochrome no Kiss, Mao introduced his fellow members starting from Aki, Shinji and Mao himself. He was teasing Yuuya by saying that SID only has 3 members resulting sulking Yuuya who hit his drum furiously…. this is uber cute lol

Mao said they're very happy with their performance in Music Matter and they promised that they will comeback to Singapore, "Thank you tonight! We will comeback soon! We are definitely comeback to Singapore! See you guys again! Last song, Binetsu."
Right after they finished playing Binetsu (which is supposed to be their last song), fans shouted "Mou ikkai! Mou ikkai! Mou ikkai!" (note : mou ikkai means once more) then SID members were staring each other then Mao said "Even after this we get scolded (by staff), Yell!". Fans were singing along with them and SID members seemed touched.
SID setlist :
1. Mascara
2. Monochrome no Kiss
3. Uso
4. V.I.P
5. Binetsu
Encore
6. Yell
WEAVER, flumpool and SID performances in Beer Market were very marvellous! Since the venue was very small, they could interact more with their fans. We're definitely going to cover their event again in the future!
Special thanks to BARKS and Music Matter Live 2013