Alice Nine's Zepp Fukuoka ticket
The same setlist, so probably not much that we can say about the Fukuoka's live. Nevertheless, the atmosphere was completely different with one in Osaka. And of course the mc part. Between the four lives we attended, we think the mc in Fukuoka was the most interesting though.
When we arrived at Yahoo Dome, there was Exile concert being held, and Zepp Fukuoka is just right across from Yahoo Dome. We were pretty panicked whether the crowd would be overlapping or not, but apparently, no it's not.
When we arrived there, many fans were lining up already. Here are some pics of the situation. The gift box this time is outside the building. Some fans were wearing yukata so it had a real summer feeling on it.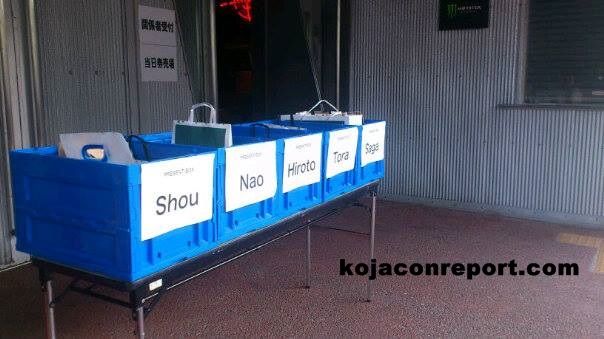 Alice Nine's gift box
The mc part was hosted by Shou-san (*finally) and Saga-san. When Shou-san entered the stage, screams were everywhere. But when he stood there in the middle saying nothing at all and was only smiling, suddenly the scream stopped, maybe the audience thought he wanted to say something and waited until the audience calmed…but actually, no he wasn't. He was confused with the sudden stop and laughed a little bit. He smiled again and gave gestured that the audience can scream more. This situation was actually very weird. lol.
Shou-san said it was the first time he talked first in the mc talk after the two lives. The audience were really quiet, so it's like a monolog though. And he said, 'yappari, Fukuoka'.. so we thought, Fukuoka atmosphere is always this cold. lol. We think he was lost of words there alone, so he called Saga-san.
Both of them are not a good chatter, so they talked random things like Fukuoka's atmosphere then suddenly they created awkward talk about gays. Shou-san started by talking with their costumes might aim to macho figures. Well, their costumes are rather sleeveless, especially Shou-san and Saga-san, and their arm muscles look perfectly fit with the costumes. However, many people started asking them whether they are gay or not. Since the questions are becoming more annoying, they answered yes in a whim. lol. But then Saga-san comfirmed many times after that, "We are not gays…".lol.
This awkward conversation keeps continued until Hiroto-san and Nao-san came to the stage. Nao-san came to the stage, commenting about what Shou-san said about gays, "I know what boys and girls feeling, because I am cherry…" and a cherry popped up from his hand and he kissed the cherry lol.
What surprising was when they asked Tora-san to come to the stage and asked the audience to call Tora-san together with them by the nick…. Toraemon. So we called them loud and clear, "TORAEMOON~!!!"… and he came to the stage, sulking and complaining, just like usual. But when he reached his mic, he did monomane as Doraemon, "Uruse na, Nobita-kun!!!" and he kept talking with the voice of his Doraemon version until they started to play the encore.
Setlist Alice Nine 9th Anniversary #1 World's End Daybreak-Zepp Fukuoka :
1. SHADOWPLAY
2. Le Grand Bleu
3. TSUBASA.
4. BLUE PLANET
5. Affection
6. RAINBOWS
7. Scarlet
8. Haikara Naru Rondo
9. Himitsu
10.Fuurin
11.H.A.N.A.B.I.
12.shooting star
13.Subete e
14.Q.
15.Daybreak
16.Kowloon -NINE HEADS RODEO SHOW-
17.DEAD SCHOOL SCREAMING
18.the Arc
-MC-
Shou-san and Saga-san
-Encore-
19.Heart of Gold
20.RED CARPET GOING ON
21.the beautiful name
Credit : live pictures from Hiroto's blog