Today, 16 February 2014, Kojacon Report came to Singapore to watch flumpool's mini live. After their performance in Jakarta for WAKUWAKU JAPAN Music Festival, flumpool flew to Singapore to hold a mini special acoustic live at Switch, a pub in Bras Basah road.
The surprising thing is that the DVD which is supposed to be sold on the spot was already sold out when they announced that they'll perform special acoustic performance only in Singapore. Luckily the management did a pre-sale of the DVD for fans who have been queuing for the live.
The fans queued since afternoon. They were clearly excited to meet flumpool. Besides local Singaporean, fans were coming from many countries like Taiwan, Thailand, Japan, Malaysia, and also Indonesia. Fans said that they're excited to watch different version of flumpool's acoustic live. Total fans coming are approximately 300 people.
After everything's ready, finally flumpool appeared on the stage. Genki, Seiji, Kazuki, then Ryuta walked to the stage then held their own instruments. There is also additional keyboardist, Daiju Takato , who always accompanies flumpool.
Ryuta greeted the fans, "Hello Singapore, We're flumpool! How're you? Thank you for coming to our mini live. This is only for you, our accoustic live. Hana ni Nare!!"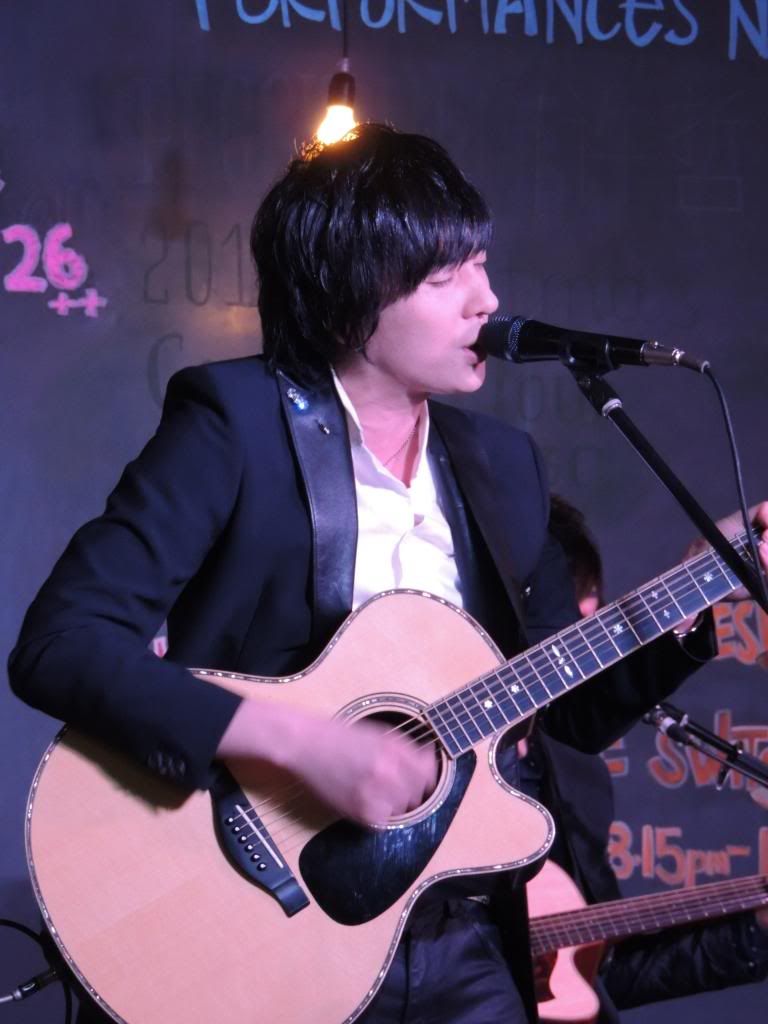 Seiji started the song with his drum beat then the fans clapped their hands following the rhythm throughout the song. Then after the song was finished, it was Kazuki's turn to greet the audience. The tension is getting higher and higher because Kazuki blurted a joke in his greeting.
"Hello Singapore! Are you having fun? I miss you! I love bakuteh, chilli crab and fishballs", as usual, Ryuta cut his speech and said, "Wait, wait, sorry, no more food!". Kazuki then said it was just a joke then threw kisses to the audience while saying that besides food, he also loves them. Right after that Ryuta was jokingly asked whether the fans who got those kisses from Kazuki were okay or not.
The next number played is "Over the rain", then Ryuta explained that the song is about determination and perseverance. Then after that, during the member introduction, Ryuta kept complaining how Genki should talk more during member introduction. Seiji walked to the front stage and introduced himself in Chinese.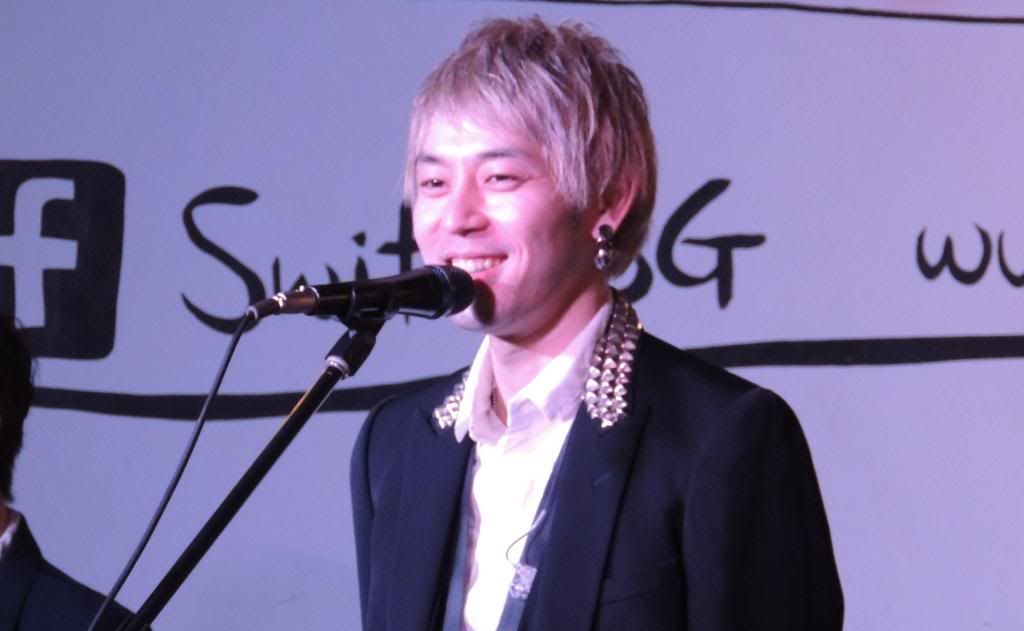 Soon after the member introduction, they played a cover song by The Beatles, In My Life. It was a lovely cover where Daiju played tambourine and Seiji played the drum box.
Ryuta introduced the next song in Chinese, and it was Akashi in Chinese,  Zheng Ming. Fans sang together in this song. Then finally the last song, a very energetic one, Kimi ni Todoke and fans clapped and sang the verse of the song together.
They supposed to end the live but fans wanted more and shouted for encore. The final encore was Hoshi ni negai wo and Ryuta let the audience left their seat and went up front. "Waaah, this is like live house", said Ryuta and everyone was yelled and danced happily until the performance was over.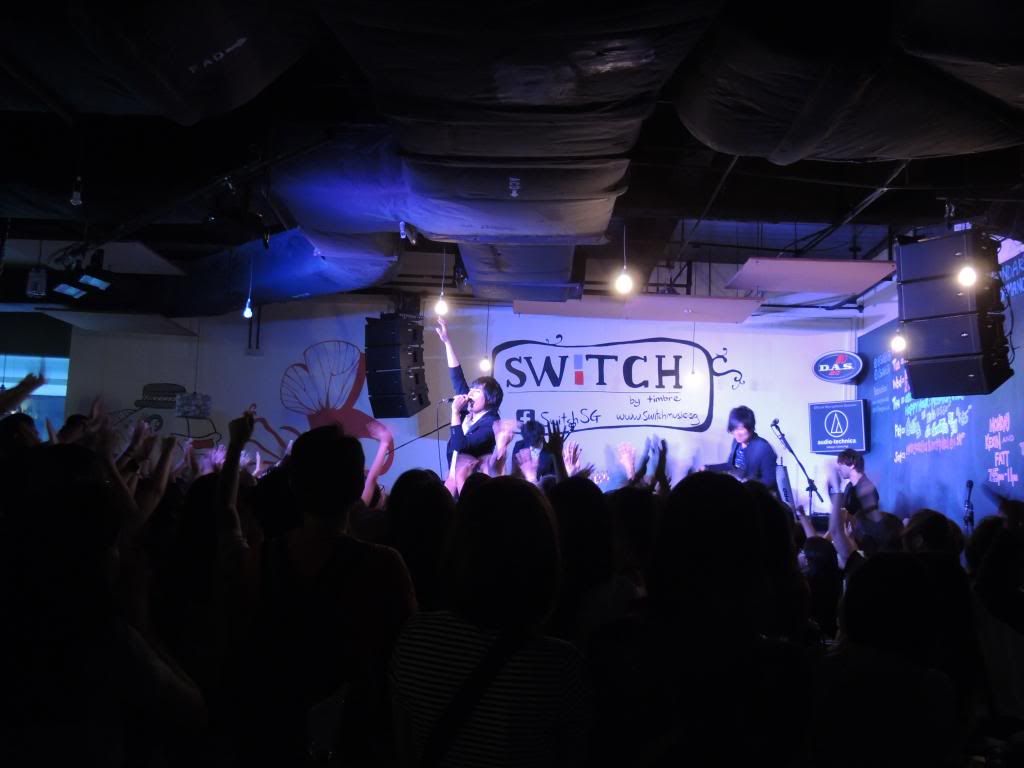 The mini live was followed with mc talk about their favorite local food in Singapore and how they feel for coming back to Singapore after 9 months. Ryuta asked how many people came to their 5th anniversary in Budokan and some fans raised their hands. He was quite surprised with the number.
When they were asked about the DVD content being sold, Kazuki explained that the strong point of the DVD is the documentary part.
Ryuta added that they will have national tour this year, (read here) and that this concert tour will make a significant improvement for flumpool towards their 10th anniversary.
Photo : Rock Records official