The duo comedy COWCOW came to an Osaka local TV show hosted by duo comedian Black Mayonnaise, called "Black Mayonnaise no Hatena no Kanzume" and shared their experience doing live performance in Indonesia.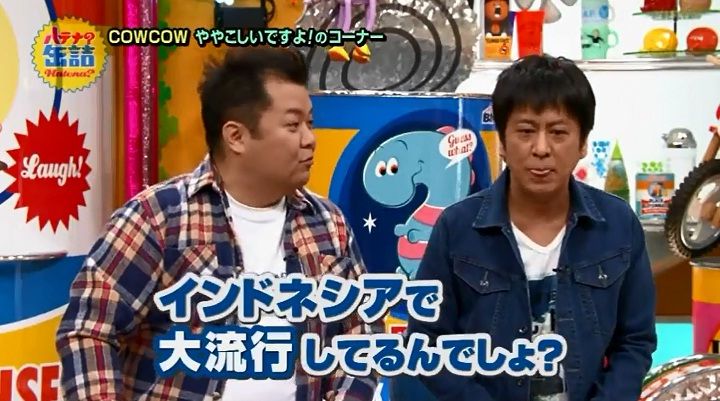 COWCOW members, Yoshi Yamada, the tsukkomi of the group, and Kenji Tada, the boke, are both from Osaka Prefecture. In this tv show, Kosugi-san asked about their experience for participating in an event in Jakarta, Indonesia.
Kenji Tada said that they were being invited for Indonesia Japan Expo then added that they also performed in JKT48 theater then continued to some Indonesian variety shows. He explained that they have Indonesian version for Atarimae Taisou and sang it in the show.
He also revealed the story that in JKT48 theater, all the 50 boys coming for the theater were surprised with their appearance then the reaction was really great. The guests also danced and sang along with them during the performance of Atarimae Taisou with loud voice that made him jump to surprise as well. They were so glad to be glad to participate in Jakarta event.
Besides having to perform in JKT48 theater, they also came to some Indonesian's variety show. So far, they performed in two high-rating variety show; YKS (Yuk Keep Smile) and Opera Van Java in Trans TV. Both are comedian variety shows and they appeared in those tv programs to sing and dance Atarimae Taisou together. Black Mayonnaise was really surprised to hear that COWCOW were participating in so many activities in Indonesia.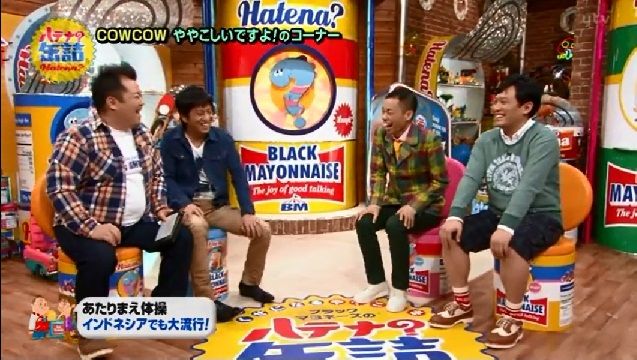 However there's one funny story they had during the shooting of Yuk Keep Smile. They said that Indonesia, being known as spa resorts country (refer to Bali), then all the games they had in the game corner of the tv show made them bewildered with the reactions. For example, when they played with balloon above their head and they needed to explode to balloon of the other team, if in Japan the inside of the balloon will be wheat flour but in Indonesia, the balloon was filled with aromatic powder. In the end when the balloon was exploded they didn't know how to react.
And also in Japan, if there's a sumo battling game, the floor will be full with oily lotion that made it dangerous for the comedians, but in Indonesia, instead oily lotion, they spread out rose petals. This statement made Black Mayonnaise cried in laughter. In the end Kosugi-san said that rather than tv show, it's like spa resort.
We hope COWCOW will be invited again and also more comedians will come to perform in Indonesia!