Anime cuisine has become hot topic recently at Association Japanese Organization. They reproduced some animation cuisine in to real one and made people vote which cuisines are the best one. Ranking project to choose the best cuisine in anime as written in Yahoo  are as follow :
10. Howl's Moving Castle – Thick bacon slices and sunny side up (9%)
Howl's Moving Castle, one of Ghibli's best movies, is a 2004 Japanese animated fantasy film scripted and directed by Hayao Miyazaki. The film is based on the novel of the same name by English writer Diana Wynne Jones. From this novel, Miyazaki combines a brave young woman and a mother figure into a single character named Sophie. She starts out as an 18-year-old hat maker, but then a witch's curse transforms her into a 90-year-old grey-haired woman. Sophie is scared by the change at first. However along the movie and characters surrounds her, she learns to embrace it as a liberation from anxiety, fear and self-consciousness.
Since the movie's background is in England, they have this thick bacon slices and sunny side up to portrayed the  condition. Really mouth watering!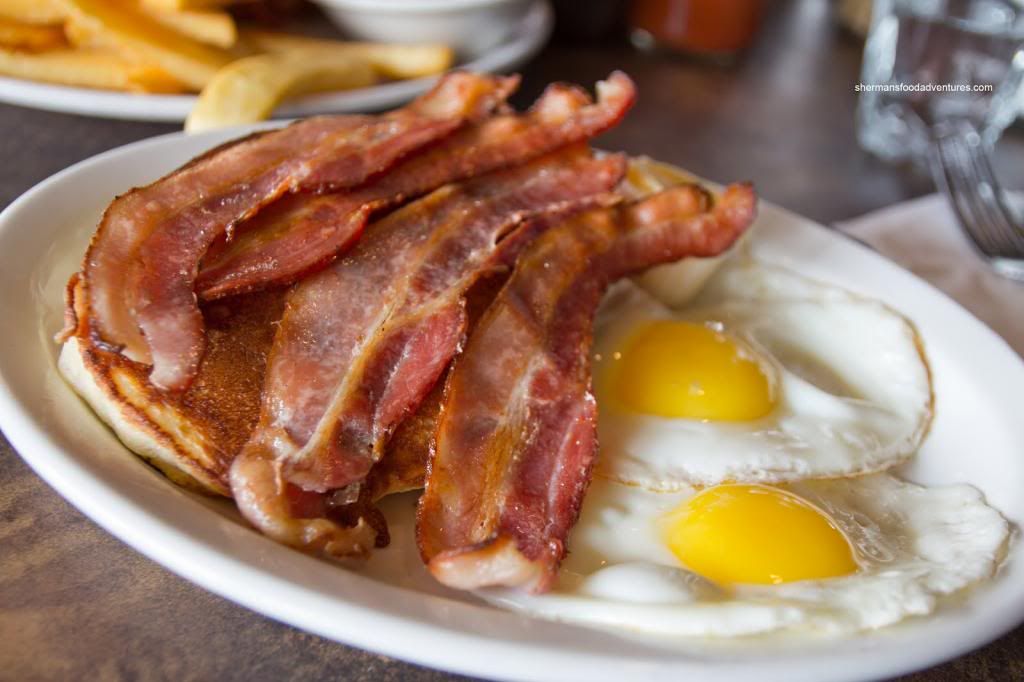 9. Lupin III: The Castle of Cagliostro – Meatball spaghetti (10.3%)
Older movie from Hayao Miyazaki, The Castle of Cagliostro, was made in 1979. It is the second film featuring Monkey Punch's master thief Arsène Lupin III, from his manga series Lupin III. The film is also notable for being the directorial debut of Miyazaki, who previously worked as an animator for Toei Animation and TMS Entertainment.
The Castle of Cagliostro features gentleman thief Arsène Lupin III who starts by robbing a casino only to find the stolen money was counterfeit. Lupin heads to the tiny country of Cagliostro, the rumoured source of the bills, and attempts to save the runaway Clarisse from the Count Cagliostro's men. Lupin enlists his associates, Jigen and Goemon and sends his calling card to the Count to get Inspector Zenigata, the man tasked to catch Lupin, to the castle. After becoming trapped in dungeon under the castle, Lupin and Zenigata form a pact to escape and foil the Count's counterfeit operation and save Clarisse from her forced marriage to the Count.
The cuisine again adapted the movie background. Can you guess where it was?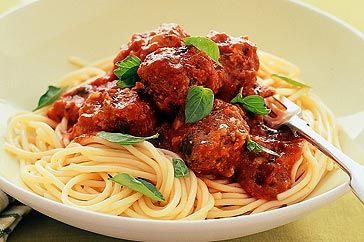 8. Kiteretsu Daihyakka – Korosuke's croquette (10.7%)
Kiteretsu Daihyakka is a science fiction manga series by Fujiko Fujio. There are many similarities in the makeup and appearance of the main cast to that of Doraemon. However, the content of the story is completely different. The protagonist is a scientific genius grade school boy named Kiteretsu, who has built a companion robot named Korosuke. He frequently travels in time with his friends and Korosuke in the time machine he invented.
In the animation, Korosuke's favorite food is croquette. In Indonesia, people eat croquette as snacks. Sometimes it's also eaten with green chili. There's even filling like minced meat and carrots.
7. Spirited Away – The food Chihiro's parents were eating (12%)
Spirited Awayis a 2001 Japanese animated fantasy film written and directed by Hayao Miyazaki and produced by Studio Ghibli. The story revolves around a sullen ten-year-old girl, Chihiro Ogino, who while moving to a new neighborhood, enters the spirit world. After her parents are transformed into pigs by the witch Yubaba (Natsuki), Chihiro takes a job working in Yubaba's bathhouse to find a way to free herself and her parents and return to the human world.  Chihiro's parents are transformed into pigs because of their greed towards the food served. You can check the clip below :
6. Kinnikuman – Gyudon (12.7%)
Kinnikuman, a clumsy fool of a superhero, finds out he is the missing prince of the planet Kinniku, known for turning out the greatest superheroes in the universe. Being a clumsy fool, however, he must prove himself worthy of the throne. To do so, he enters into wrestling competitions and battles evil Chojin, ultimately culminating in a tournament between Kinnikuman and five pretenders to the throne.
Kinnikuman really loves gyuudon. Kinnikuman's fondness for Yoshinoya brand gyūdon is often believed to have contributed to save the company from bankruptcy in the early 80s. As thanks for this, Yoshinoya had special bowls made for Yudetamago (Kinnikuman's manga artists' pen name) with their name written in them.
5. Fujiko F Fujio works – Koike-san's ramen (13.0%)
If you're unfamiliar with Fujiko F Fujio, you might know him from Doraemon. He's the creator of this famous blue robot and many more inspiring anime and manga. One of his works create also Koike-san. Ramen is said to be the favorite food of Koike San and so Koike's face was arranged with premium nori seaweed and served with Inari Sushi in Fujio's museum for 900¥.
Sharam Q even once released the song about how Koike-san likes ramen in here before they went on hiatus in 2000.
4. Heidi ~Girl of the Alps~ – Melted cheese (14.3%)
Old movie from 40 year ago, yup..1974 animation! Heidi is one of several World Masterpiece Theater titles produced around the "classical children's literature period" (1974–1997), based on classic tales from around the world. The story is about an orphanage named Heidi who lives with her formidable grandfather in Swiss Alps. Along the story, it seems Heidi loves the melted cheese…but…who don't??
Nowadays, we can also easily find cheese fondue in many fancy restaurants…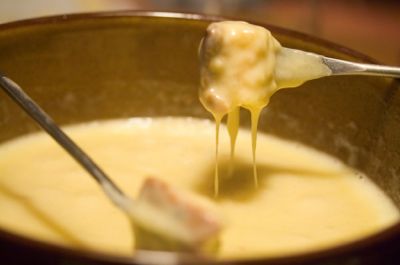 3. Dragonball – The meal that Goku ate before participating in the Tenkaichi budokai (14.7%)
One of the most succesful manga ever. Dragon Ball. It is written and illustrated by Akira Toriyama. Originally serialized from 1984 to 1995, this manga features the adventures of Goku. From his childhood through adulthood, he trains in martial arts and explores the world in search of the seven orbs known as the Dragon Balls, which summon a wish-granting dragon when gathered. Along his journey, Goku makes several friends and battles a wide variety of villains, many of whom also seek the Dragon Balls. Personally, watching little brat eating as many as he can is satisfying and somehow is really cute. Heart warming scene indeed.
Pic Source : here
2. Doraemon – Dorayaki (15.3%)
As everyone may know this blue robot created by Fujiko F Fujio, it is firstly appeared in 1969!!! The series is about a robotic cat named Doraemon, who travels back in time from the 22nd century to aid a pre-teen boy called Nobita Nobi. Doraemon is really famous for having Dorayaki as his favorite snack.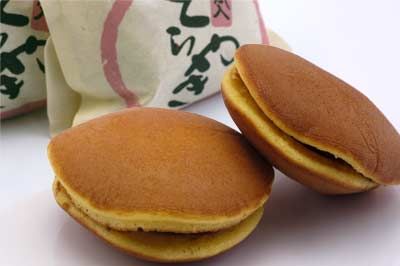 Dorayaki is a type of Japanese confection, а red bean pancake which consists of two small pancake-like patties made from castella wrapped around a filling of sweet Azuki red bean paste.In Japanese, dora means "gong", and because of the simililarity of the shapes, this is probably the origin of the name of the sweet. Legend has it that the first Dorayaki were made when a samurai named Benkei forgot his gong (dora) upon leaving a farmer's home where he was hiding and the farmer subsequently used the gong to fry the pancakes, thus the name Dorayaki.
1. Laputa Castle in the Sky – Fried egg on open toast
 The real title, Castle in the Sky, is a 1986 animated adventure feature film written and directed by Hayao Miyazaki. It is the first film produced and released by Studio Ghibli. However, it was retitled as Laputa : Castle in the Sky for re-release in UK and Australia.
In the film's backstory, human civilizations built flying cities later destroyed by an unspecified catastrophe, forcing the survivors to live on the ground while the sole exception Laputa remains in the sky, concealed within a powerful thunderstorm. The story then revolves around young Pazu who works at a mine, assisting Mr. Duffy with the heavy machinery. One night he sees something shining slowly descending from the sky. It is a young girl named Sheeta, who is wearing a pendant of rare levitation stone. Both a band of pirates led by their mother Dola, and the military led by Colonel Muska are after the girl, trying to find the secret of Laputa, the legendary flying island and Pazu finds himself thrown into a merry mess of trouble as the two groups struggle for the girl and the island.
In this movie however, fried egg on open toast seems the easiest food to be made ever. But somehow, looking at the real thing, I believe you want to try to have it on your morning breakfast tomorrow!
Source : Yahoo