Music Matters is an annual event that hold in Singapore and this year is the second time for the Special Japanese showcase. Since its first debut at Music Matters 2013 as "J-ROCK Matters" featuring flumpool, SID and WEAVER, the Japan showcase received overwhelming support and positive responses. This year, the Japan showcase is returning to Singapore with a bang, revamped with a brand new identity, "JAPAN NIGHT 2014 in Music Matters".
This year Press Conference was held on 22nd May 2014. The Press Conference was started at 1pm. Mr. Tadashi Goto who is the Producer of BARKS gave an opening speech and introduction about JAPAN NIGHT.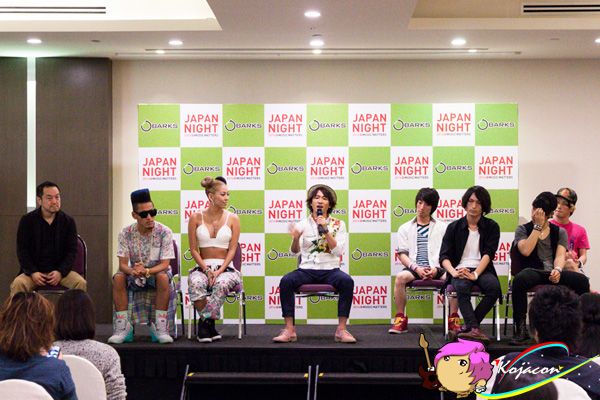 JAPAN NIGHT is a huge size event of as a final event of National Stadium Olympic Stadium in Tokyo. This event will be held on May 28th and 29th. On 28th event title is "Yell for Japan" and featuring IKIMONOGAKARI, UKASUKA-G (Kazutoshi Sakuran and GAKU-MC), Kaori Kishitani, The Gospellers, Naoto Inti Raymi, Funky Kato, Yuzu, Sukima Switch and more. For specials band are Seiji Kameda (musical director), Tom Tamada (drums), Seiji Kameda (bass), Hirokazu Ogura (guitar), Susumu Nishikawa (guitar), Makoto Minagawa (keyboard), Yuta Saito (keyboard) and Chieko Kinpira (strings). For 29th featuring artist are SEKAI NO OWARI, Perfume, MAN WITH A MISSION and L'Arc~en~Ciel. As for "JAPAN NIGHT 2014 in Music Matters" is billed as a pre-event conjunction of that event.
Then after the introduction and greetings, the MC introduced us three artists who will perform on "JAPAN NIGHT 2014 in Music Matters" : CREAM, THE ORAL CIGARETTES and Naoto Inti Raymi.
CREAM is a hip hop group consists of two members :  Minami dan Staxx T. THE ORAL CIGARETTES is J-rock band from A-Sketch and consists of 4 members : Yamanaka Takuya (Vo/Gt), Suzuki Shigenobu (Gt), Nakanishi Masaya (Dr) and Akirakani Akira (Ba/Cho). Naoto Inti Raymi greeted everyone who attended the Press Conference in 6 different languages.  He said he's very honored and happy to be there .
Q&A session was conducted by the MC.
"Since everyone here is performing in Singapore for the first time. Could you please introduce more about your group and your music?"
Naoto Inti Raymi : Can i try to speak in my poor English? I wanna try. I'm Naoto Inti Raymi, actually i'm a traveler, a backpacker. I traveled around the world and i've been to around 40 countries, Hong Kong, Taiwan, Thailand, India, Turkey jabjbahxvhaxhxvhvx (he mentioned some other countries which he visited very fast)…. and Singapore, thank you la (he tried to speak in Singlish). I am inspired by many different influences of music and  cultures when i composed music. I started composing music since i was 14 years old. I want to perform, not only singing, human beatboxing, dancing or like a comedian, i want to perform more so that the audience are entertained. So today i will do my best. Thank you very much.
THE ORAL CIGARETTES : (Yamanaka Takuya) Is it okay to speak in Japanese? (laugh) Hello everyone we are THE ORAL CIGARETTES and actually we are the only bands performing tonight so we want to show you and all the fans what J-Rock is with our performance and we will do our best tonight. Thank you.
CREAM : (Minami) Hi nice to meet you guys. How are you guys? Good? My name is Minami and this is Staxx T, we're in group called CREAM. We originally started off on Youtube Channel called "CREAM Vision" and we have fans from all over the world and today we're very happy to be in Singapore. We just released our second album "No Filter" which started to be sold from April 30th and tonight we will sing few songs from that album. So please enjoy it, thank you.
"What is your impression of Singapore?"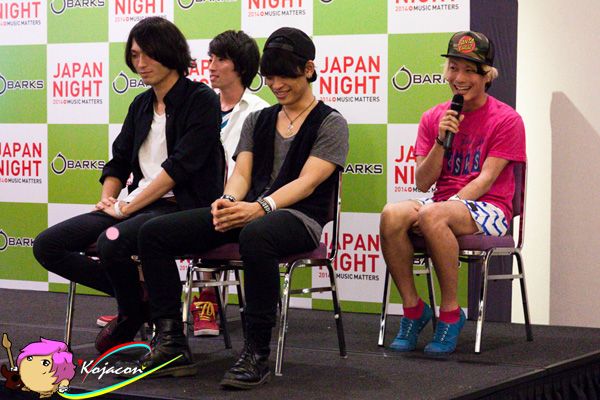 Naoto Inti Raymi : It's my third time to come to Singapore but it's my first time to perform here. I'm very interested in different cultures, race and different religions mixed in one country. Singapore is very peaceful and people in Singapore are very kind. So I love Singapore. Thank you.
THE ORAL CIGARETTES : (Suzuki Shigenobu) This was our first time in Singapore and we're quite surprised of how good the city is. We saw Merlion which is much bigger than our expectation so we hope we can enjoy Singapore again.
CREAM : (Staxx T) I'm going to reply in Japanese (laugh). This is the second time to Singapore, actually the last time was only for transit in Singapore while we were heading to Thailand so this is actually our first time having the time to enjoy the foods of Singapore and last night  we enjoyed the local food. I really enjoy the foods because I love spicy foods. I was very surprised that the city is  very beautiful. I'm a smoker but it's really difficult to find smoking area in Singapore (laugh) but maybe that's the reason why Singapore is very beautiful.
"Since you are all performing tonight, what can we expect from your performance at JAPAN NIGHT?"
Naoto : Like my keyword of my life, sharing. I want to share the time, atmosphere and music. I want to try to perform with same style in Japan. My name is Naoto Inti Raymi, Inti means the Sun, Raymi means Carnival like Festival like Party. Naoto is my real name. So I want to be a sunshine, I want to be a sunshine which make the music festival even brighter and fun!I want to make good vibes in Clarke Quay, I will do my best.
THE ORAL CIGARETTES : (Nakanishi Masaya)Definitely we want to show ourselves as a band. Our lyrics are in Japanese but I'm sure everyone can enjoy our music by their eyes and their ears and with their whole body. So we are going to move our body during our perfomances so we hope we can enjoy the performance tonight with all of people in Clarke Quay. Thank you very much.
CREAM : (Minami) We are all about the party, we love to party, we love to drink, we love to dance. So that is basically what our show is all about, so tonight we hope to see everybody with a fist pumping and jumping all around and being really exhausted after our show and having a really good time. Thank you.
"Your message for fans in Singapore"
Naoto Inti Raymi: I have no fans now but I want to have a lot of fans from tonight. And someday I  want to perform my solo live here. So tonight lets make it the best night ever, xie xie, terima kasih, syukuria syukulajidan, arigatou la.
THE ORAL CIGARETTES : (Akira Akirakani) We are looking forward for a very fun night tonight with everyone here and I would like you to enjoy our best perfomance. Xie xie, sikapola la (he tried to copy Naoto (laughs)), arigatou la. Thank you.
CREAM : (Staxx T) Since our beginning was from Youtube channel which is "CREAM Vision" and since Youtube are broadcasted all over the world, we have fans called "CREAM Team" and we have few fans from Singapore as well, we met them this morning and they have given some messages to us "please do your best at the perfomance" and like Minami said "let's just party all night" we're looking forward for the best performance.
Special thanks to Amuse Inc. Asia