This afternoon Kyary Pamyu Pamyu (KPP) held the press conference just before her concert on the 21st of June at The Star Theatre, The Star Performing Arts Centre. FYI, the press conference would allow fans to see KPP up close as the event is open to the public at the Atrium of the Funan DigitaLife Mall. Many fans of KPP flocked into this mall and parades of cosplayers were seen.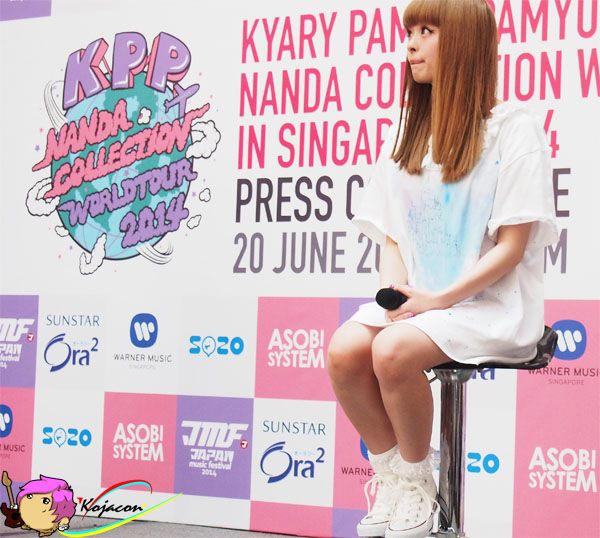 Kyary introduces herself, and mentions that its her 3rd time here (the second time was for her show 「Catherine」and that she's happy to be back here in Singapore where the streets are very clean and she's looking forward to do some sight-seeing here. She's very excited for this last stop of the NANDA COLLECTION tour, which is Singapore. This time, she has brought along the stage setting from Japan, unlike the first time she was here, and explains that the concept is of "A Girl's Room".
During this press conference, some Q&A were conducted. Check out the Q&A with KPP!
Q: What kind of Singaporean food have you eaten?
I ate Chilli Crab yesterday! But I've only just reached yesterday and I haven't had lunch so I hope to try more local foods!
Q: When you do your concerts overseas, are you conscious of the fact that you are performing as a Japanese?
I do perform consciously realizing that I am Japanese and I do feel the pressure to do my best as I am representing Japan in a way and if I don't do as well, it would influence the reputation of Japanese acts overseas. But I'll always try my best to do well.
Q: During the recording of 「 Family Party 」 , was there any interesting occurrences?
During the recording, Nakata Yasutaka (CAPSULE), the producer asked me to amplify my voice more, which is not what I'm usually used to and it also surprised me. In my album 「Pika Pika Fantasian」which will be released, when you listen to the songs, I feel that Family Party will stand out the most as compared to the rest. More that an interesting happening, I think its more like I became conscious of it.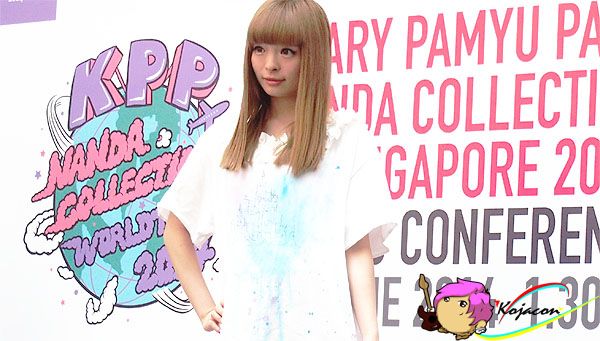 Q: Being a fashion icon, is there any items that you are into lately? And what is your fashion point today?
Recently I've been into night gowns! It's a slightly see-through kind. I have about two to three pieces that I wear often.
Today's fashion point is this dress I'm wearing which is designed by a young Japanese designer, and the picture on the front of the dress is hand drawn. I was told to take special care of this dress because it is very delicate. There's this image that I'm usually very colourful but today I'm dressed in full white.
Q : Please give a message for the fans here. 
A lot of people came in cosplay and I'm very happy that I got to meet all of the fans that attended the public press conference. I am very excited for my second show in Singapore. It's hot in Singapore so please take care . Also, I hope to be able to dance with everyone during the live so please do come in clothings that you can move around in freely. Thank you all so much!
It's only a brief one but KPP is really cute! I can't wait for her performance tomorrow! Let's get party in the live!!!
-Thanks to KyaryPamyu Pamyu and SOZO-