Throngs of fans filled the star theatre on Saturday to catch the much anticipated Kyary Pamyu Pamyu concert. Following a successful first concert here last year for her 100%KPP world tour, she was back in town for her NANDA Collection world tour, to the delight of many KPP fans in Singapore. A significant number came sporting the NANDA Collection World T-shirt, while others came in very kawaii, kyary-inspired outfits that closely rivaled Kyary's ones.
The concert started at around 7pm, with fans filling the entire floor. The moment the hall lights were dimmed, fans stood up from their seats, light sticks clutched in their hands as they cheered in excitement and anticipation for the star of the show. Nanda Collection began to play and the dancers soon appeared on stage. As soon as Kyary appeared, the cheers amplified in volume as the start of the first song played. With her flawless, quirky and cute dance movements, the fans couldn't help but move along to songs like Invader Invader and Ninja Re Bang Bang. During Mi, fans were enthusiastically chanting along with Kyary as she went "Hai! Hai!".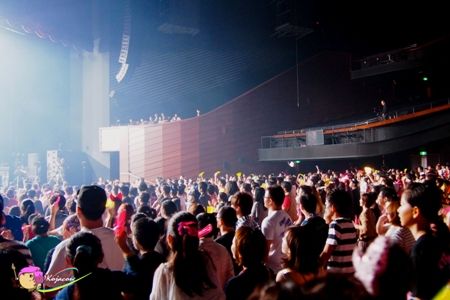 Kyary greeted the fans in English language during the MC, and explained in Japanese that this is actually her third time here, as her second time was for the filming of her show Catharine. She says that she visited the Night Safari and this time she managed to visit Gardens by the Bay. She expressed her desire to visit Marina Bay Sands and swim in the infinity pool. When she says that she is going back to Japan the following day, fans immediately let out an "Eeeehhh?" at her admission. Kyary responded  "Ah, it(my message) got through.", surprised that despite saying it in Japanese, the crowd perfectly understood.
After KPP got off the stage following her performance of Tsukema Tsukeru, there was a video presentation of Kyary in a mini-skit. It was entertaining to say the least, as fans saw Kyary dressed up as a Yanki (A Japanese thug) acting tough and sporting a very thuh-like hairstyle, which is very unlike her usual hair.
Kyary no March and Cherry Bonbon were next, followed by the much anticipated number. Kyary's yell of "PON PON PON!!" was met with a loud roar of cheers from the audience and as the familiar tune of the intro played, some fans could not hold back their excitement and broke into dance along to the song.
After the main set ended, fans immediately began chanting for an encore in hopes of seeing Kyary on stage once more. Their cries successfully reached Kyary as she appeared on stage once more in the NANDA Collection Tour shirt and a cute pink skirt. CANDY CANDY followed by Family Party was met with fans bopping to the catchy tunes.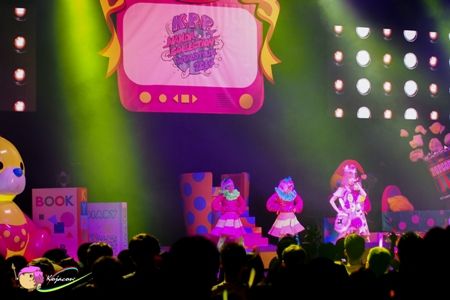 Finally, Kyary announced that this would be the last song of the day. Chanchakachanchan was played as the final song of the setlist, which I felt was very fitting as at one point in the song, the lyrics go "See you see you see you again~ See you see you see you next time~", which keeps KPP fans hopeful that she would return again soon for another splendid, spectacular concert.
Setlist:
1.       なんだこれくしょん Nanda Collection
インベーダーインベーダー Invader Invader
3.       み Mi
4.       きらきらキラー Kira Kira Killer
にんじゃりばんばん Ninja Re Bang Bang
6.       きゃりーANAN Kyary Anan
7.       ふりそでーしょん Furisodeshon
ぱみゅぱみゅレボリューション Pamyu Pamyu Revolution
9.       もったいないとらんど Mottainightland
すんごいオーラ Sungoi Aura
くらくら Kura Kura
Super Scooter Happy
-MC-
13.   ゆめのはじまりんりん Yume no Hajima Ring Ring
14.   さいごのアイスクリーム Saigo no Ice Cream
つけまつける Tsukema Tsukeru
-Video-
16.きゃりーのマーチ Kyary no March
チェリーボンボン  Cherry Bonbon
PONPONPON
ファッションモンスター  Fashion Monster
ENCORE
CANDY CANDY
ファミリーパーティー  Family Party
ちゃんちゃかちゃんちゃん  Chanchakachanchan
Special thanks to Japan Music Festival for the opportunity to attend this event.