flumpool just held their first one man concert on 2nd August 2014 at *Scape The Ground Theater, Singapore. It's their fourth time in Singapore and this time they promise to bring something different.
Although the door opens at 6.30 pm, fans have already been queueing since early morning. Some fans were preparing a banner so other fans can give a message to the band. Even though the weather was quite hot, fans were patiently waiting till the door open. But before that, goods queue has already started at 3pm. it's time for fans to grab the special tee that are made only for Taiwan & Singapore lives and other merchandises such as towel, bag, pamphlet book.
When the door open, fans entered The Ground Theater one by one from Premium VIP, VIP and GA. Inside the venue, fans were entertained by flumpool's PVs while waiting for the final check. Then the narator welcomed the fans, basically told the fans to get ready for the brand new flumpool and the light went off.
flumpool came out with confident smile and ready to show the brand new flumpool. Ryuta promised that fans were going to have an unforgetable moment just like the tour name and asked fans to have fun untill the end. The band played MW ~Dear Mr. & Mrs. Picaresque~ to open the night. They played one by one of their hits song, such as reboot ~あきらめない詩~, 星に願いを.
Then Ryuta greeted the audience, he asked where the fans came from. He seems to acknowledge fans who came to watch them in Singapore were also coming from other countries such as Malaysia, Taiwan, Thailand, Japan, Korea and said hi in those language.  Next song was the new song from the Best album Monument, ビリーバーズ・ハイ, then continued with two of us and Belief  ~春を待つ君へ~. After that, Ryuta started to introduce each member, including their support keyboardist Daiju Takato. During Kazuki's introduction, he tried to sing a verse of the famous song from Frozen OST,  Let it Go.
In a fluent Mandarin, Ryuta share story about him working out a mandarin song that took 5 days and the song was made for a movie which they're going to play next. Then they played 強く儚くin chinese. Beautiful  verses from The Beatles – In My Life, as we know the band is The Beatles fans, was played after.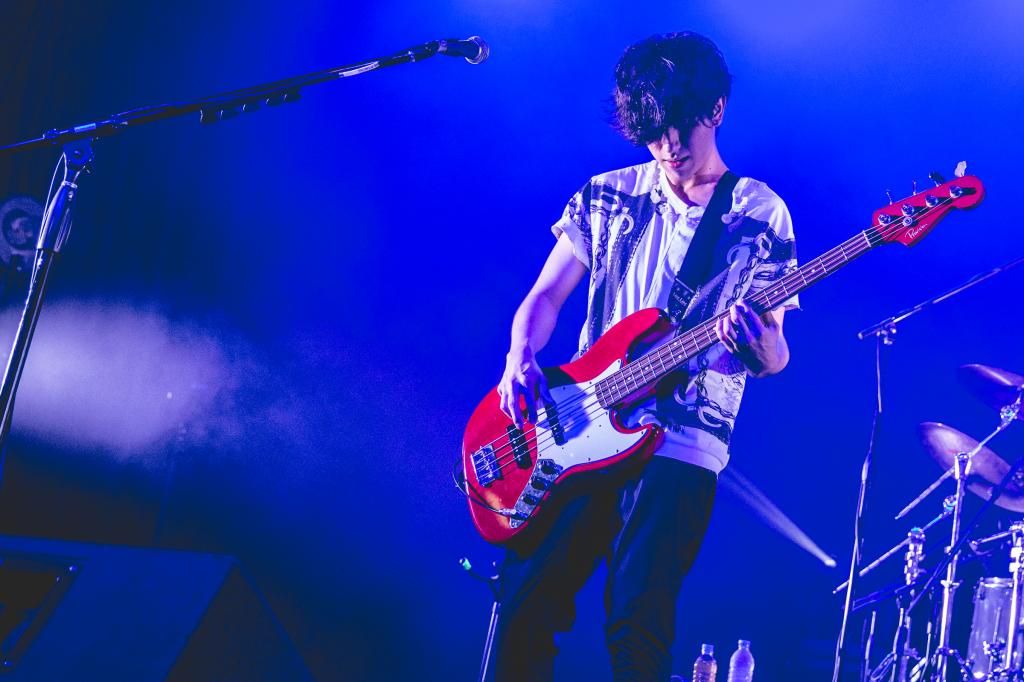 The concert hype was not stopped because they kept on performing great numbers such as 花になれ, Hydrangea with Ryuta, Kazuki, Genki sing together, Because… I am, OAOA start with Japanese ver and ends with Chinese ver, and last 君に届け. Although Ryuta said that it's not over yet, they all went to the back stage.
This time, instead of shouting for encore, fans sang a verse of 大切なものは君以外に見当たらなくて. When flumpool came out on stage, they have changed their wardrobe to the tour tees and performed 証明 (証in Chinese).
Ryuta had a long speech about how flumpool and fans are all come from different nationalities and cultures but the pains, sadness, hopes and dreams are the same and whatever happens he encourages the fans to face it together with the life. He added that even for flumpool members themselves, the song always encourage them to keep going. The last song that they played was the song that they really want the fans to hear the most that night, 明日への賛歌.  Ryuta said that he wants their song to be heard around the world and then asked the fans to bring friends and family to their next concert.
Some fans were seen waiting at the backstage door to say thank you and goodbye to the band. Couple minutes waiting, flumpool came out holding the banner that fan made and wrote message earlier. It was really an appreciation for the fans that flumpool acknowledged fans' efforts and feelings. It was definitely the best night for both flumpool and fans.
setlist:
MW ~Dear Mr. & Mrs. Picaresque~
reboot ~あきらめない詩~
 星に願いを
ビリーバーズ・ハイ
two of us
Belief  ~春を待つ君へ~
Let it Go (OST Frozen) – Kazuki vers.
強く儚く(Chinese ver.)
花になれ
Hydrangea
Because… I am
OAOA (start with Japanese ver and ends with Chinese ver)
君に届け
Encore:
証明 (証Chinese ver.)
明日への賛歌
Photo Credit: Rock Records / Marcus Lin