Who loves idols here!?
Behold guys!!
We're gonna bring you the up-to-date report regarding @JAM EXPO 2014 which presents total of 84 idols performing at Yokohama Arena in this summer~~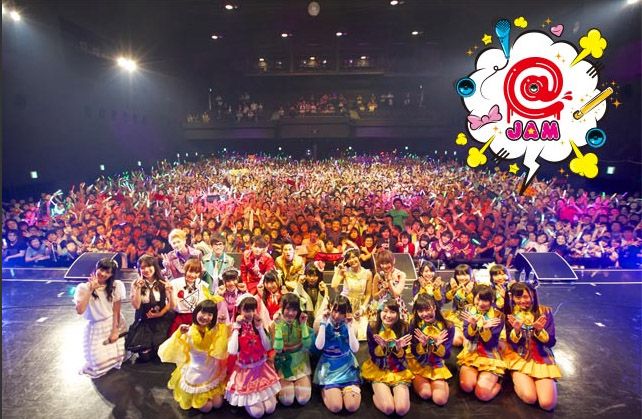 @JAM was first held in 2010. That time, Vocaloid and ani-song culture was still burgeoning in the mainstream and idol culture was still growing, but look at now… we are now in the midst of a nationwide boom, mushrooming in every nation.
To celebrate one of Japan's leading social and musical scenes, @JAM has moved to the the biggest arena in Japan; Yokohama Arena.
Not only to have a national-scale summer gathering of idol acts and their fans, but @JAM EXPO also share the phenomenon of pop idols with the world – hence the "Expo".
And to bring all the performers and their fans together under one banner, prominent track-maker Kenichi Maeyamada, a.k.a. HYADAIN has put together an original theme song specifically for the event. The title is "Yume no Suna – theme of @JAM," and guess who will be performing?  The @JAM ALL STARS, comprising Risa Aizawa (DEMPAGUMI.inc), Hitomi Arai (Tokyo Girl's Style), Mari Takahashi (Dorothy Little Happy), Mariya Suzuki (Cheeky Parade) and Azusa Sekine (UP UP GIRLS KAKKOKARI). You can check from the making in the video below. Not only singing the theme song together, but they are ready to bring you the exclusive track on CD to be distributed to all the fans at the venue!
So to all the idol fans, J-fans and music fans, if you're going to Japan this summer, make sure to visit this event at the end of August!
A total 84 idol groups and DJs have been announced to perform, so check out the full lineup here!
But then, if you're unable to come, we're going to give complete report soon!
@JAM EXPO 2014
■Date: Aug. 31, 2014 (Sun.)
■Venue: Yokohama Arena 
■Ticket Information: