Around J-pop world now, Arashi is maybe the most popular Japanese boy band around Asia. Not only their CD sales are good, but they can also gain a lot of attention from foreign fans. Last year, on October 31st they released their newest album called Popcorn. This album was released under their record label J-storm in two editions with more 750.000 units sold and certified for Triple Platinum in Japan. As for details on the album contents, you can always check here.
And finally, after the album was released, the concert tour schedule was also announced. "Arashi LIVE TOUR Popcorn" was hold at all the major dome stadiums in Japan. They had 16 performances beginning on November 16 at the Kyocera Osaka Dome, followed by Sapporo Dome on November 30, Fukuoka Dome on December 7, Tokyo Dome on December 13, and Nagoya Dome on January 11, 2013.
Some friends I know went to Nagoya Dome on January 12 and 13. Nagoya Dome location is pretty far from Tokyo, around 2 hours by JR. It's closer from Osaka though, 1 hour by JR. Across the dome is AEON mall so while you're waiting for the concert to start, if you don't want to buy the goods, or if you have already bought the goods, you may wait inside the mall.
Japanese sure loves to queue though. I always see kilometers of queuing scenes when I go to Johnny's concerts. What do they queue for? Yes, they queued for the limited concert goods.
The concert venue is actually very convenience because it's provided with seat numbers, so the entrance queue is not as hectic as the goods queue.
My worst experience was in summer 2009, when I had to queue from 7 am in the morning and I managed to buy all my stuffs I wanted at 1 pm. You can read it here. But this concert is different. It's in January. It's winter. So if you really want to queue in winter, make sure you bring enough preparation to keep you safe from the chilly and windy winter breeze.Especially if the goods you want is rare item. That's what happened to my friend. Just 20 minutes before her turn, the limited ear jack she wanted was sold out. My suggestion to avoid this thing from happening is to come on the first day, and to come earlier. Another friend of mine was queuing since 4 am in the morning to get all her favorite stuffs! I suggest you don't queue and watch the concert in the same day. You will extremely tired after the concert ended or worst,  in the middle of the concert, so that you won't enjoy the whole concert. I believe that if you want to enjoy the concert, buy the goods on different day.
The popcorn goods being sold were:
1. Pamphlet – 2000 Yen
2. Poster (group/member) – 800 Yen
3. Jumbo Uchiwa – 500 Yen
4. Clear file – 500 yen
5. Original Photo Set – 600 Yen
6. Popcorn Penlight – 1500 Yen
7. Shopping bag – 1200 Yen
8. Bath towel – 3500 Yen
9. Phone Strap – 800 Yen
10. Bandana (blue/yellow) – 500 Yen
11. Hand Mirror – 1000 Yen
12. IC card sticker – 300 Yen
13. Earphone jack accessory (different colors in each dome) – 700 Yen
14. Mini uchiwa – 300 Yen
15. Oshare Seal – 500 Yen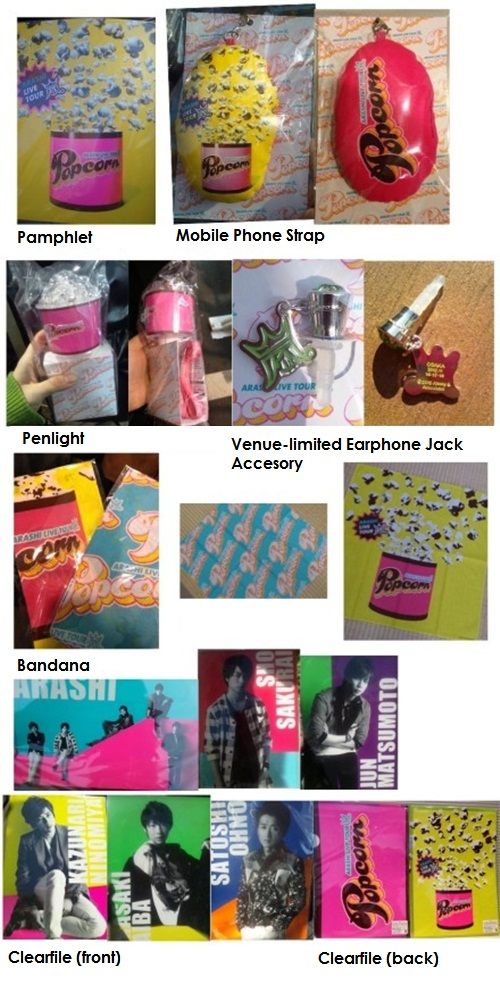 Nagoya dome is an indoor stadium and the capacity seat is around 40 thousands seats. No wonder many people will ballot for this dome. I came to the Kokuritsu Dome previously, so Nagoya Dome is better for fan girl-ing than Kokuritsu.
Arashi's concert is really like a festival, so when you come to a place where Arashi is going to hold a concert, that place becomes kind of like an Arashi City in an instant. You'll see thousands of people wearing Arashi's accessories everywhere around the city.
My friends were amazed at how many people of different age came to see the concert. There were several old grannies and grandpas, and whole big families as well. Fans will also put nice outfits to the extent of doing cosplay (costume play). Some fans are reproducing costumes, wearing various popcorn girl costumes, or the same costumes as a drama or variety show that Arashi members are in, like Kaibutsu-kun, or a pajama that Nino-kun wore during a VS Arashi.
Uchiwa is a must. Fans brought creative hand-made uchiwa that they can wave every time the member they like best passed their seat. However there's like an unwritten law in concerts in Japan: waving an uchiwa can only be around your chest or chin. You can't wave it above your head because you'll disturb the people behind you. Besides uchiwa, you can also wave the penlight. Every time I watched a Johnny's concert, I was always amazed to the unison of the fans' hand gestures in each song. I'm not sure if it's the same, but in J-rock fandom, we called it furitsuke and usually the member of the band teaches some of the hand gestures from the stage as well. Another thing to pay attention to is that we can't sing along with loud voice during Arashi's performance. Probably only in some parts that we can sing along. In my first experience of watching a concert in Japan, I was told to shut up lol. And lastly, taking pictures or video is prohibited. If the officer saw you taking pictures during the concert, you'd be kicked out from the show. And if you're a fan club member, you'd be questioned and you may lose your membership. Japanese fans may notice you as foreigner and report you to the security officer too, if you behave indecently.
These are the song played during the Popcorn Tour on January 13th:
1. Up to you
2. Welcome to our party
3. Troublemaker
4. Believe
5. Meikyuu Love Song
6. Cosmos
7. Akashi
8. Kaze no mukou e
9. Rakuen (Aiba's solo)
10. Fly on Friday (Sho's solo)
11. Super Fresh
12. A Day in Our Life
13. Kitto Daijoubu
14. Kakenukero
15. Tsuide Oide
16. Kimi ga iru kara
17. Two (Ohno's solo)
18. Tabi wa tsuzuku yo
19. Nice na kokoroiki
20. Lucky man
21. We wanna funk, we need a funk (Jun's solo)
22. Sore wa yappari kimi deshita (Nino's solo)
23. Refrain
24. Face down
25. Oh yeah
26. Love so sweet
27. Your eyes
28. Waiting for you
29. Wild at Heart
Encore
30. Carnival Night
31. Energy song
32. My girl
33. Wish
34. Happiness
35. A.RA.SHI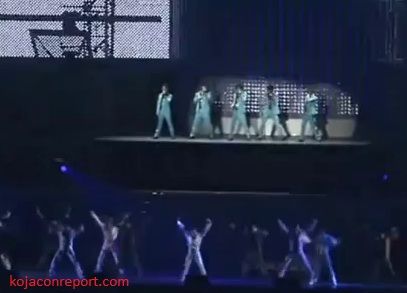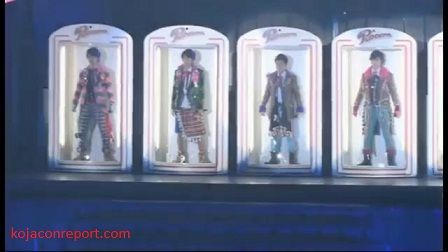 During the performance, there were so many boys love moments between Jun-Satoshi. They held hand, locked fingers, and kissed each other's hand. Many fan services are given too. During DJXMJ, Jun-kun changed his costume on the stage, and acted really cool. Screams came from many corners of the dome.

In the MC part they talked about random things just like usual. From propellers, dance choreographs, to their New York trip. Of course before they ended the MC, they promoted their activities. Nino-kun talk about his upcoming Platina Data, Aiba-san with his Last Hope drama, Sho-kun with his Kamisama no Karute and Nazotoki, Jun-kun with his movie, then they promoted NHK's program (airing on that night) compiling the videos of people they interviewed for the 2012 Furusato. Lastly Ohno-kun promoted this year 24hrs Terebi which they hosts again for the third time now. Arashi is still on a roll!
After the show ended, the staff guided us to exit section per section. No chaotic queue, but going to the nearest train station was a competition. Especially if we brought a lot of concert goods. Usually after I buy the goods, I go back to my hotel to put everything down so that on my way back I won't get worried my posters get torn. The concert ended around 7 pm. It's a rush hour even for regular officers, so make sure that you're a polite fan. My friend went to Aeon mall before going back to her hotel and found the Fasio shop with posters of Jun fulfilling the store. She took pictures there. LOL. I think you may find random stuffs if you stroll around the concert area.
That's all from me. See you in other concerts!
(Report compilation by Ades. Many thanks to Astrid_974, Mitchie, and Risu for their contribution. Source : wikipedia, tumblr, and various tv news).