For Indonesians, the ticket could be bought at Sistic Smailing Tour, Jl. Majapahit No.28, Jakarta Pusat.Ticket price:
CAT 1 [Block A] & CAT 2 [Block B]: SGD158 [SGD161 with Sistic Fees]
CAT 3 [Block C]: SGD118
CAT 4 [Seated, Block T1 & T2]: SGD118
CAT 5 [Walkabout]: SGD88
Venue: MarinaPromenade, Singapore Grand Prix F1 Pit
THE FAN MEETING
We arrived safely in Singapore on December 29th 2012. Our flight was delayed for several minutes for landing, and we got off from a different exit gate than Alice Nine. Nevertheless we were able to catch up with Alice Nine and the staffs before they went out from the gate since they took time to get their luggage.
On the 30th of November, Sundown Festival also held a public fan meeting at J-Cube mall. Apparently the mall was quite far from the place the press conference was held. (Our press con report can be read here).  There were special privileges given by the event organizer to 50 fans of EACH artist who came early. The earliest 50 fans of each artist to queue for the fan meeting were able to have a sort of handshake and received a signed poster made by Sundown, with said artist.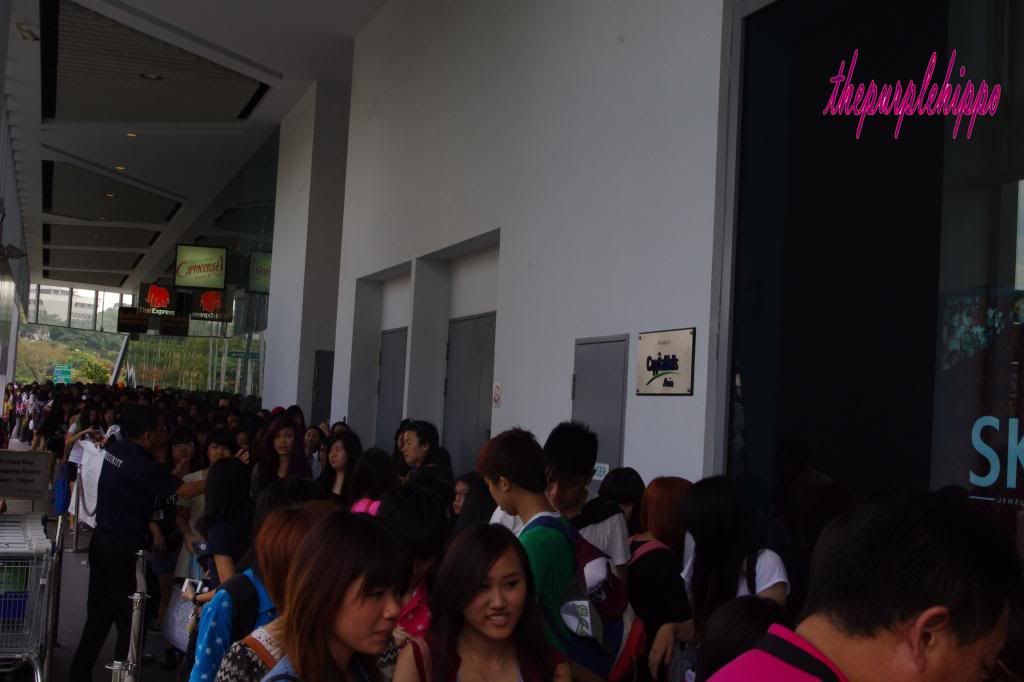 We got there around 4 p.m.  A Singaporean friend of ours said some of her friends have been queuing since 6 in the morning. As expected the queue for the poster signing was long enough, so we decided to ditch it and just head inside. The fan meet itself would start at 7.30 p.m. Random fact but I noticed again, Alice Nine's airport fashion, press con fashion, fan meet fashion, were exactly the same.
The fan meeting's venue was actually nice. Singapore was quite humid that weekend and the fan meet was held on JCube's open garden venue. The crowd was rowdy and jam packed.  Luckily we were granted permission to cover the fan meeting from inside. So aside from Red Spade (the EO) and JCube's PR team, we were the only media in there. Each artist were to come up the stage one by one and do the fan signing.
The first artist to enter was Alice Nine. The boys seemed fine and were all smiles. Their mood seemed way much better than the press con.
They expressed their regret for Hiroto not being able to attend the fan meet and promised a fired up performance the next day to make up for his absence. With that being said, Shou then told that they wouldn't be signing the posters, since it's not the five of them there, but the fans may have a handshake and receive the posters personally from the members. After it was done, the boys then threw a question to the audience, the prize was an official Alice Nine poster signed by all members. With that done and giving their final pose, the boys exited the venue.
Next to come up was Anthony Neely. As we noticed earlier at the presscon, Anthony is a charming person. He had a fun personality and the crowds loved him. The MCs interviewed him a bit then it was his turn to personally give out posters. He signed his posters on stage and gave a handshake to each fan that came up.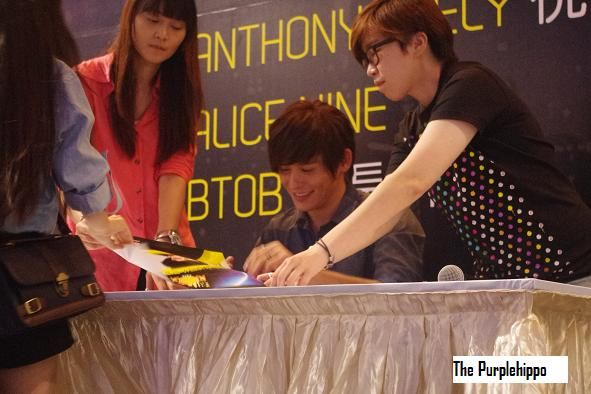 Jeno Liu Li Yang came up next. It seems she's quite well known here. Her fans consisted of equally males and females, with a wide range of age. She gives out a strong aura and was very kind to the audience. We were seriously curious with how her performance would be on the next day. Just like Anthony, Jeno personally signed her posters on stage and gave handshakes to her fans before she finally got off from the stage.
Last but not least was BTOB. The BTOB boys seemed very much happy and energetic; they were fun to watch and were interactive to their fans. BTOB also signed their posters on stage and gave it personally to their fans. With that finished the BTOB boys exited the stage and ended the fan meeting. Same with the press con, Raymond Lam was not able to come so he didn't appear.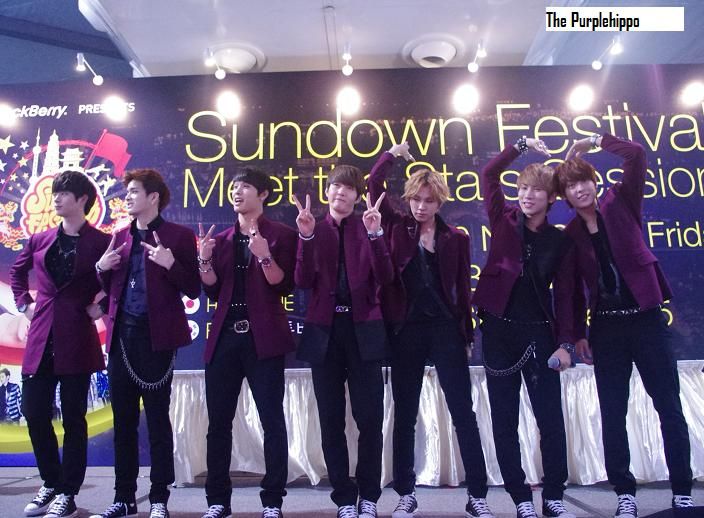 THE EVENT
We originally wanted to check the venue the night before, after the fan meet. But following the whole events, our bodies certainly couldn't catch up so we eventually skipped it.
We had actually bought tickets for the festival CAT 1 (block A) but then we got new tickets for C3. Any block is fine anyway. The heat from the sun plus the venue, which was on the coast side, gave a great summer feel. The venue was not as big but good enough.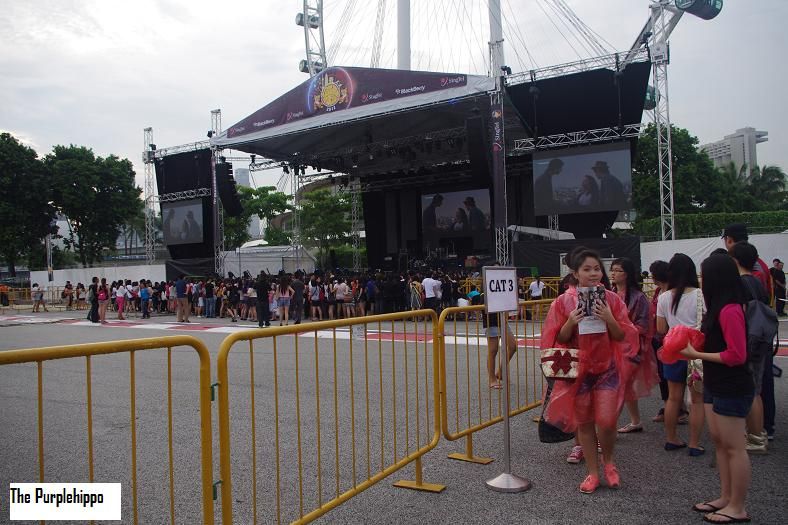 There were quite some fans that stayed up on the night before on the spot to secure their position. Most of them were Alice Nine's fans. Well, honestly we wouldn't have enjoyed the show if we had to stay overnight on hot asphalt and the queue resulting to just that. We were a bit worried about the people coming though, since on that day there were THREE other events held in Singapore, Psy, G.Na, and …… 2ne1!!!
Anyway, the weather was worsening around 4pm. The rain poured down really hard and everyone was cramped beneath the tent altogether. Thank God around 5.30 the rain stopped and the gate was opened.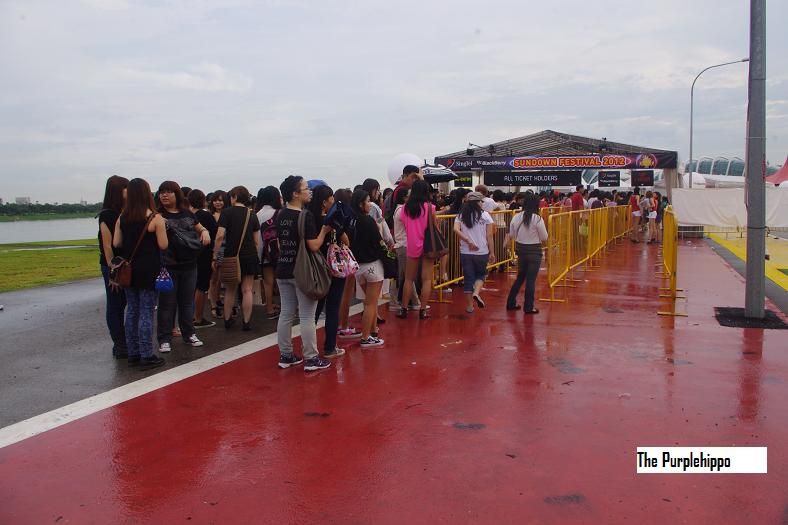 We ran to Cat 1 and managed to secure a place at the second row of Saga-Tora's side of stage. Cat 1 and Cat 2 were quite packed….in the front. The back part was more or less empty whereas Cat 3 was quite empty though.
The show itself began around 6, a bit surprised though because the flyers of the festival said it would start at 7. This year's Sundown Festival featured 5 artists:  Jeno Liu Li Yang from China; Raymond Lam from Hong Kong; BTOB from Korea; Anthony Neely from Taiwan and Alice Nine from Japan. We then saw that it was actually a couple of opening acts. Around that time also we've seen Hiroto's tweet saying that their preparation was all set and they were ready to rock the stage.
The opening acts were entertaining at first. Some cover dances, some band performances, even a traditional Chinese performance, they were great to watch. But suddenly the act was stretching too long. Will you still call it an 'opening act' if it took around 2-3 hours?? We had to swallow our disappointment. It was just too long.
We bought tickets to see our favorite artist who would be just singing around 5-6 songs, yet we were forced to see the never-ending flow of opening artists whom we didn't even know who or why they were there in the first place.
Around 9 pm, BTOB performed first. A bit sad thought, because those fans that were so hyped up during the fan meeting were nowhere to be seen. How'd we know? It wasn't rowdy at all, not as full as the other day. Quite regretful but the boys gave a great performance nonetheless. They were clad in grey pants, blue jackets and white tees. Along the performance, leader Eunkwang and member Peniel decided to discard their jacket as it became more and more hot, literally. Was kind of wondering why Minhyuk put his jacket back on XDa They were energetic and interacted a lot with the fans. Some of them even took the gifts some fans were holding out to them. We were quite impressing, they showed very good show of dancing and vocals and harmonizing. It was seriously enjoyable to watch.
Songlist:
Insane
Irresistible Lips
My Girl
I Only Know Love
WOW
Liu Li Yang was second to perform. She was gorgeous and had a powerful vocal. We were quite deceived by her looks. She was actually sporting that tomboyish look with the short hair and all, so we didn't expect her to sing a lot of mid tempo to slow songs. But we've got to admit, she's actually got some awesome power in her vocals. Sadly saying we have no knowledge at all about her music so we had no idea what songs she was singing, hence the lack of song list.
Next up was Anthony Neely. His gentleman smile was really suave. He made us 'kyun', that's for sure lol. He gave a fun and light feeling performance, lifting the mood of the audience with his fun personality. He did seem a tad bit nervous on stage, cute. Same thing with Jeno, we sadly had no knowledge of his music other than that he was still a new upcoming singer.
Finally, the host came out and gave out some goodies to the lucky audiences; The Sundown Festival posters, not too tempting though with that, pardon for the lack of good words, cheap-looking design poster compared with the official Alice Nine posters they brought themselves from Japan.
In the end the fans kind of ignored the hosts, for real, they started to get a bit annoying plus they kept speaking Chinese when this was actually an international event. Were we asking too much to hear English at an English speaking country's international event? So eventually the fans got impatient and started to call Alice Nine.
Some staffs then came up preparing the instruments and whenever each member's instruments were brought on the stage, the audiences screamed. The time was…..10pm, but then every disappointment of waiting was gone when Tora followed by Saga were entering the stage. Hiroto came out later with a very big smile on his face. Damn how we missed him and we cried for worrying his sickness just the two days before. Later, Nao sat behind his drum right away, and lastly Shou-san said hi to all of us.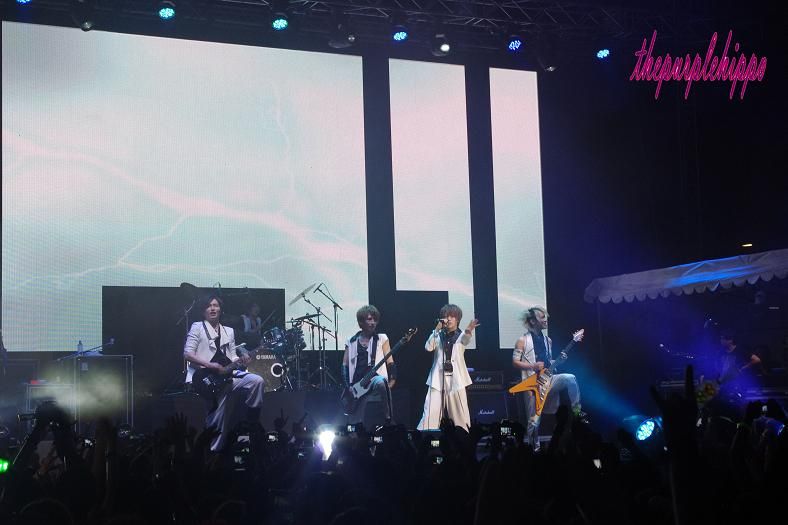 Alice Nine sang 6 songs without a break. Despite their attractiveness that night with their glimmering-punk-rockish costumes, they had several problems that night. Hiroto's guitar died around Rainbows, he was seen consulting with a staff member with a worried expression. He was using his precious flying V, so it was a bit sad to him having trouble. Things got fixed after a while but it was not the end. Shou's mic was a bit problematic too. We couldn't hear him clearly and he was kind of struggling to hear the music, we had no idea what the problem was.  To be honest, we were putting our hopes quite high for the sound quality. We were hoping for something different and maybe a better quality compared to Jakarta's Jrock Evolution 2012. The venue was outdoors anyway, so yeah, this was kind of a disappointment. And we guessed that they just couldn't stop and check to get the troubles done, because time was ticking. They NEEDED to be at the airport by 1.30am. Tora even swapped his guitar before a song ended, that actually shocked us. Not to mention we were really annoyed by the person in charge of the lighting. Nao sat behind the drum without any lights and he was in the dark spot all alone without any spot light for the entire show. Not a fun sight to see.
Tora has this never-ending smile. He has this radiant friendly countenance which was really rare to see. And there was this bra incident too, which we know some of you have actually heard. Fans were responding to Saga's request during the October broadcast of Alice Nine Channel. Apparently a fan during the fanmeeting on the previous day had asked Saga if she was allowed to throw him a bra, Saga said yes and so she did….alongside a couple more of fans XD
An occurrence that might not have happened in Japan, which was actually fun to see, what with Hiroto twirling one of the bras around, kissing it then throwing it back to the audience, PLUS there were a lot of fanservice during the performance.
Even so we couldn't guess what their thoughts were along the performance. It's hard to tell whether they enjoyed the whole performance since there were so many technical issues with the properties. Don't get us wrong, we strongly believe that they were happy to be able to perform in front of their over Singaporean fans but still having so much technical problems with the instruments aren't actually convenient to deal with.
Alice Nine songlist:
Heart of Gold
Rainbows
Fantasy
Blue Planet
Tsubasa
Shunkashuutou
We felt that the overall songlist was a bit too 'playful', no actual challenging songs so we were not too content with it to be honest. We felt that that night we just came to 'see' Alice Nine and not watching their real performance. We just came just for the sake of them without having the opportunity to actually enjoy their music.
Ending their performance, they gave their last regards and exited the stage one by one. Nao came up front *FINALLY we got to see him* and threw his sticks. Hiroto stayed last and gave a bow to the audience, we were kind of tearing up here ;;
Right after Alice Nine's performance, we couldn't really wait until the closing because we had to run ourselves to the airport for our check in time. It's a shame we weren't able to see Raymond Lam's performance although we noticed he had a huge fan base here in Singapore.
To sum things up, we were quite disappointed with the flow of the event. It was a bit hard to get confirmation for media and not to mention the crappy sound! Had we come there to exclusively watch Alice Nine's performance, it'd be a total disappointment. No kidding. We really hope the next Sundown Festival, were it to be done again, will be better than this. We'd love to come again but of course, please do fix some things. Plus wouldn't it be better if the fan meeting event were for your ticket holders? It would have been more convenient and given Sundown more exposure. But then again, that's what we as audiences have to say XD