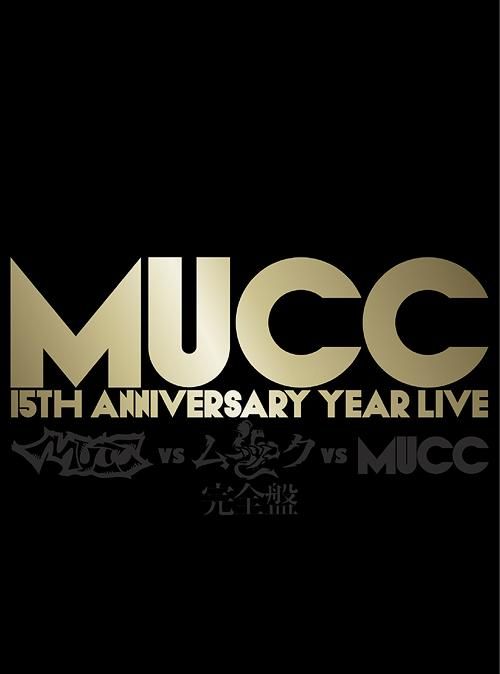 On June 9th 2012, MUCC held their 15th anniversary live concert "MUCC vs mucc vs MUCC" at Makuhari Messe International Exhibition Halls 1-3 in Chiba prefecture. They also announced that 3 DVDs for this live concert will be released for three consecutive months. This live was held in 3-part structure, so each part will be recorded in a separate DVD.  The first part titled "Shisei" (released on August 22nd 2012), the second part titled "Misshitsu" (released on September 12th 2012), and the third part titled "Kodou" (released on October 4th 2012).
However the complete limited edition was released on13 February 2013 for  the fans called  -MUCC 15th Anniversary year Live – "MUCC vs MUCC vs MUCC" Complete Edition. The DVD contains the previous three discs and will feature footage from the band's 15th anniversary concert, which was held on June 9th 2012 at Makuhari messe hall. The song lists are :
Disc 1 contains  two parts of the concert:
Shissei
 Houyoku
Kagayaku sekai
Ranchu
Bouzen jishitsu
Waga, arubeki basho
Shougyou shisou kyou jidai kou
Saishuu ressha
Hari bote no otona
Kami no hoshi
Monster
Namonakiyum
Daikirai 2006
Misshitsu
Akai oto
Aka
Zetsubo
Shoufu
Itai tegami
Yoru
Uso de yugamu shinzou
Yume karasu sankajou
JUPITER
Kokonoka – 15 th anniversary limited Ver. –
Mae e
Swimming
Zutazuta
Disc 2 contains Kodou and Encore parts.
Kodou
Falling Dawn
Ozu
Fukur?noyurikago
Gokusai
Barusu
Nirvana
Arcadia (Featuring Daishi Dance)
Fuzz
Houkou
Utagoe
Flight
Ryuusei
ENCORE: Yasashi uta
Disc 3 contains the documentary "Shankunetsu tairiku" in which YUKKE was involved as an editorial supervisor.
The complete DVD costs 6586yen (6915yen Tax incl.) and you can get it here.
(ades)
Source :  Tokyohive and Jame-world