Hi guys!!
So after the AYABIE live, the following day I attended Kiryu's tour final at NHK hall in Shibuya.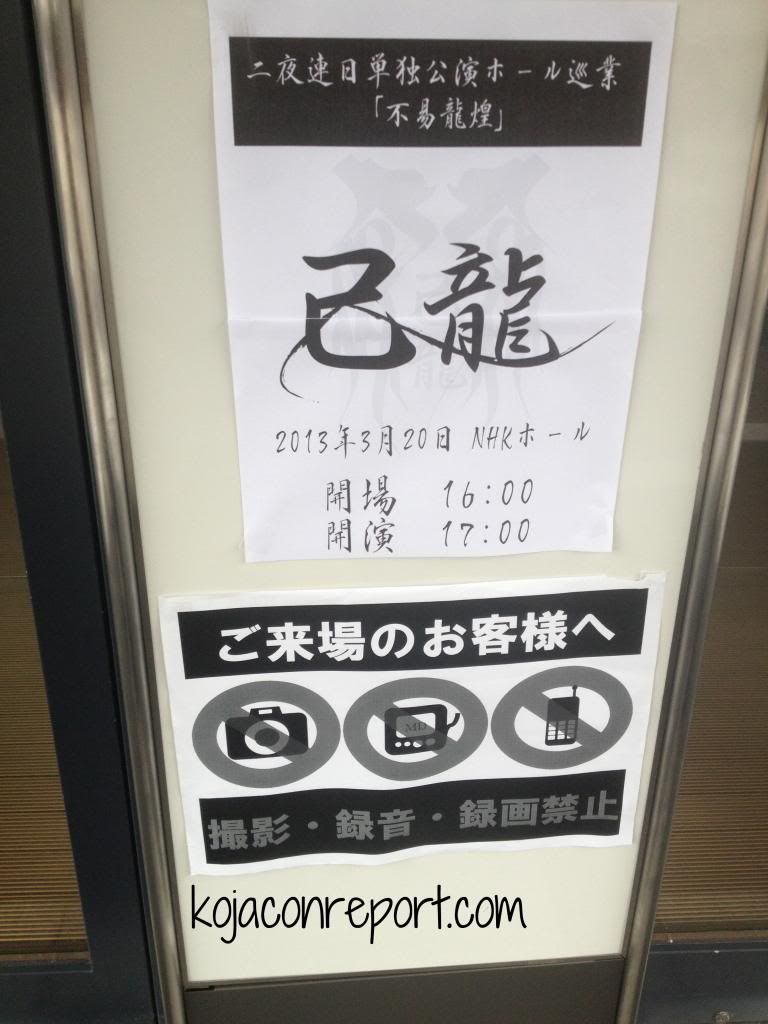 Before the concert at about 1pm there was a really long queue outside the hall which was for the presale of Kiryu's LIVE DVD. If you purchased the DVD, you would have a chance to take a polaroid with your favourite member after the live. One friend of mine went ahead to queue for the DVD while my other friend and I decided to queue up for tour goods. Within an hour they had sold out the copies of the presale DVD and my friend wasn't able to get one. ):
I bought the sensu (fan) and drew one cheki.
Kiryu wasn't disappointing at all. Mahiro's powerful vocals combined with the band's distinct sound live was nothing short of amazing. I've seen Kiryu live before but this was, fo me, the first time attending a one-man live. The fans were really hyped and head-banging and doing the furitsuke to the songs with ease. Seeing all the fans on the first floor head-banging together really is something you can't help but be amazed at sometimes. Even though I myself was one of them for another concert ><. I'm not too familiar with all their songs but I don't think you need to know all the songs to have fun at Kiryu's concert. The atmosphere of the live and the fans are enough for you to join in and head bang like crazy.
Despite being an "all seated" live, the fans on the first floor could mosh without problem. It was cool to watch them being divided into two by Mahiro and charging towards each other.
After the main live the band did something totally unexpected…
They all came out as…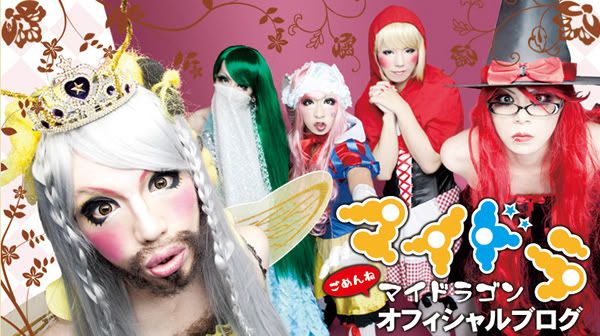 Yes. My Dragon.
(For anyone who isn't too sure or has no clue who "My Dragon" is, they're actually Kiryu's alter-ego band. So yes, they are the kiryu members. Here's a link to their music video if anyone is curious.)
Junji had his usual woven basket and Mahiro came out with a plastic wine cup and shades. No one held their instruments. Instead, they were all dancing to the 2 songs that were performed. The audience, myself included, were dancing to Nijigen Complex and Otoko to Onna no Tactics. My Dragon was absolutely hilarious in their outfits, especially Hiyori who came out in his version of a Snow White dress. Junji kept throwing sweets from his basket to the crowd as well.
After My Dragon, the band came out again and performed two songs for the encore. They also took a picture with all the fans before the end of the concert.
During the last MC, Mahiro said  "Kiryu won't betray (our) fans. So stick out your chests (with pride) and follow us." It was a really touching statement.
In between the live, the band also announced an upcoming nation-wide tour as well as an Asia tour. They will be heading to China, Hong Kong, Korea, etc. A new single will be released in May, "Aienken" and the band will be holding free lives in three different locations in Japan for the lucky fans who purchase the new single and applications are picked to be invited to these free lives.