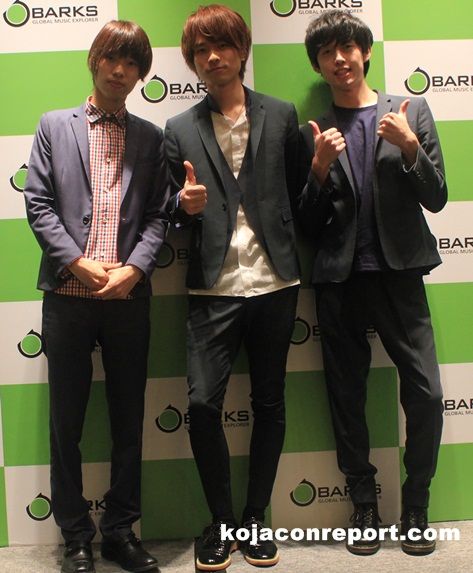 Dear Kojaconists,
During our stay in Singapore for Music Matters 2013, we had this extra opportunity to have a short interview with WEAVER, too. WEAVER, who was originally a four member band, formed in 2004 from Hyogo. The so-called piano-rock-band, debut their first single in 2009. For the past four years, they have come and performed three times in Singapore, made them gaining more international fans in short amount of time. The recent members of WEAVER are Yuji Sugimoto, Kawabe Toru, and Shota Okuno.
Know WEAVER more!!
1. For your new single "Yume Janai Kono Sekai," you will shoot the PV during concert with fans. tell us how you feel?
Yuji: During the tour in Japan, we have the opportunity to share the moment of the concert with the fans, so we came up with the idea of creating live version of the pv. There are also some touching moments, so it creates a good memory not only for WEAVER but also for fans as well.
2. Is there any plan to leak Haru ni tonight?
WEAVER (together): (panicking) ohhh…noooo… it's still secret. (lol).
3. Is there any plan to release WEAVER Piano Trio Performance Live at Zepp DiverCity DVD aside from ASMART?
Okuno: Unfortunately, there are management issues regarding the releases, so that's why WEAVER can only release special CD or DVD in particular places. But anyway, we hope, fans can still buy our releases and enjoy our music.
4. Do you have plan to visit any other SEA aside from SG?
Kawabe: We want, of course, it's like our dream to have live performance in other SEA countries. But now, we're not capable yet to do live performance in other country. We will improve our skill in live performance, so that we can perform in Indonesia.
Okuno: In our live in Japan, there are Malaysians and Indonesians who come as well. I hope more people come to our live in Japan, too.
Kawabe : Anyway, this one is quite out of context. Recently, I had this opportunity to watch musical about Asia Pacific History 60 years ago about the World War. The story was about the relationship between Indonesia and Japan. I believe, since Indonesia and Japan had a relationship since a long time ago, it's only a matter of time we can perform in Indonesia.
5. Most of WEAVER song is made by Kawabe-san, can you tell us what is your inspiration?
Kawabe: I think by reading books and watching movies help me a lot in writing nice music, although the inspiration is coming from the bottom of my heart.
-how about the love song?
Kawabe : (laugh) that's only coming from imagination.
6. What do you think about the enthusiasm of fans outside japan, especially the fan boys?
Okuno: Recently the number of fan boys in Japan is increasing too. We're happy to see their power during our live.
Kawabe: Fan boys are like our friend. We usually can talk about music openly with fan boys. We can also share our point of view about music with the fan boys.
7. In the live performance, Sugimoto-san used to lift his feet on the piano. Has anyone ever got angry at you about this?
Yuji: …mom…. (lol) because my mom is a piano teacher so she scolded me a lot because of my stage act.
8. We heard that three of you like sweets.
Kawabe: Well, Yuji and I like it, but Okuno seems avoid it recently.
Okuno: Yes, yes, I avoid it now. I don't want to get fat.
9. What kind of desserts that you like?
Kawabe: Chocolate ..
Yuji : Ah, I definitely like strawberry shortcake…
10. We need you to promote your single in Indonesia, please promote it in Indonesian language.
Here's the video!!! WEAVER in Indonesian ^^

Special thanks to : AsiaPRwerkz, Music Matters 2013