Kojacon managed to keep our promise to Alice Nine from our last interview in Singapore last year here. Well it's not exactly 10th anniversary, but we're a bit in dilemma since Alice Nine keeps mentioning that this year's live will be special. Shou-san (vo) even said that since Alice Nine has number '9' on its name so this anniversary live is going to be very special for them. We packed our luggage asap and managed to get the tickets for 4 first lives; Nagoya, Osaka, Fukuoka, and Hiroshima. Here's the story at Nagoya live.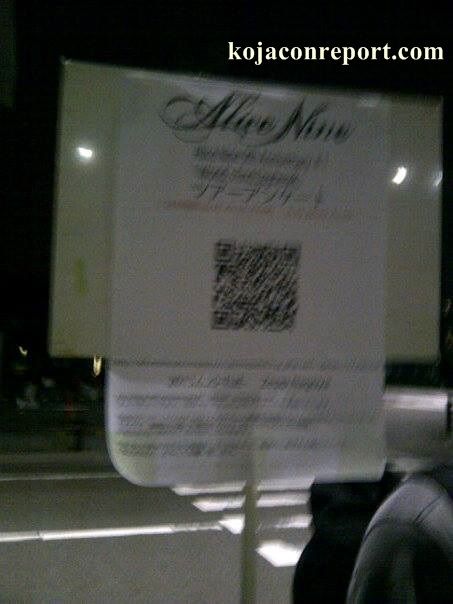 Alice Nine's Zepp Nagoya tickets
Zepp Nagoya is located just 10 minutes from Nagoya station, walking distance. When we arrived at Zepp Nagoya, it's already 5 pm and the queue in front of the building is quite long. For you who already hold the ticket, you don't have to get worried, the staffs already separated the queue based on the numbers on the tickets. All you have to do is to queue according to your number. Anyway, for this concert, the tickets sold are standing tickets. So you can choose anywhere you want to stand, be it in front row or at the back. The rule is that you can't take someone's place. So for example your number is 600 something, but at the front row is still empty, you can just go and stand there as long as noone stands there. You may ask your surroundings whether you can stand there or not. But if you are standing at the front row make sure you follow along with the hand movements (furitsuke) so that people behind you can follow you along.
Many fans prefers standing at the back too. Or maybe in the middle. The fans standing at the back perhaps don't want to head bang or don't want to be slapped by the hair of other fans, or maybe they just want to have fun because musically it's really nice to hear the performance at the back. You can hear and enjoy the music better because of the more balanced tune and appropriate distance with the sound system. And fans in the middle, maybe because they're waiting for the members throwing something to them, like drum sticks, bottles, towels, or picks.
Any place is fine. Since it's the first day, we choose a further place to check the condition of the live. Around 800-900 people coming for the lives in Nagoya. Zepp is just a perfect place, the sound system, the lighting, the air conditioner, they all fit perfectly. The second floor was not opened so everyone was having fun in the first floor.
The show starts at 6.45 pm sharp. Fans are waiting patienly while talking with the others. Just for your information, when the doors were opened for the goods sale, we can hear the band members doing rehearsal. Well, in Indonesia it'll be chaotic, but in Japan, everyone is very calm.
Almost in every Alice Nine's live, when you hear a  ballet song played, it's a sign that the live will be started soon. And when the ballet song played, fans are ready. Then the curtains opened.
Beautiful lights showered Shou-san with his sleeveless black leather vest with gray sleeveless shirt, showing his arm muscles. His new hairstyle was so refreshing, and he started singing SHADOWPLAY perfectly. At the back, Saga-san accompanied Shou-san by playing the piano. The lights also showered Saga-san who also wore sleeveless black shirt. Both of them look so beautifully perfect on the stage. Soon after the guitar and drum parts followed along, they start to show their skill as rock band. Fans followed along to do headbang or furitsuke that Shou-san commanded from the stage. SHADOWPLAY is the second single released this year and written by Shou-san. The respectable lyrics with complicated melody showed how his skill has matured throughout the years  in lyrics and music arrangements.
Soon after the song ended, without any break, Nao-san started to bridge along for Le Grand Bleu. The coupling song for their 2010's single Senkou. With unique furitsuke, the fans started to raise their hands throughout the song chorus. Then Alice Nine brought us back to 2007 with TSUBASA., their 12th single. With the guitar intro hypnotizing the fans, they started to jump, raise both their hands, doing the usual hand movements for this song. The fast beat of this song is really tremendous that only in third song, we already had sweats all over because of the jumps and furitsuke.
Blue Planet, single from 2006, was brought either. It's very nostalgic to hear old songs being played again with the fans still remember the furitsuke and again it's a beat pop rock song that everyone will jump and sweat until the song ended. Then the coupling song from the latest single, Affection, was played. This song has become J-MELO's theme song project from April until June 2013. Since this is a new song, so a new furitsuke is made. Shou-san asked the fans to lift the towel and twirl it up during the song. Absolutely tiring but Hiroto-san said it was beautiful scene when the looked it up from the stage.  Unfortunately, when we saw it from the back, we merely saw dust flying in the air.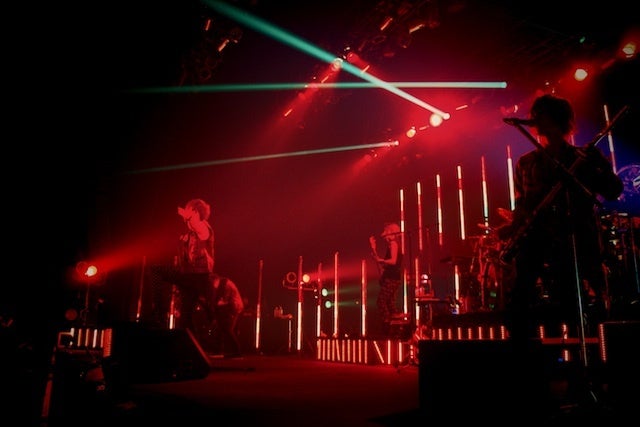 The live performance setlist was made by Saga-san, nevertheless, he forgot to put break time. They go on with RAINBOWS, single from 2008, then the coupling song from shooting star single, Scarlet, then going back again to 2005 from the album ALICE IN WONDERLAND with the song Haikara Naru Rondo.
Shou-san vocal performance was so perfect in this first live, and we have to admit that their one man live was very different with the show we've watched so far in Jakarta's J-Rock Evolution and Singapore's Sundown Festival last year. The fans hype, the warm welcome from the opening live, and how they shone so brightly on the stage with supportive lighting and sound system were so perfect that it made us addicted to watch lives again at Zepp.
The three last songs need more stamina for the headbangs. After the 17th song, we know that we'll have bruises on our necks. Basically come to rock concert, then prepare a balm for your bruises. Thank God, we didn't  forget to bring our Salonpas and Counterpain lol.
Before the encore parts, they made a new corner, where two of the members come out and doing talk. The first live was presented by Tora-san and Saga-san. Tora-san started out the conversation by complaining the whole setlist to Saga-san who made it because the setlist made them impossible to even have a drink. While the drinks were prepared, Tora-san also had to throw it to the audience and his rants continued that the audience should throw the drink back to them because it's them who were thirsty. lol. Anyway the mc continued like their usual Alice Nine Channel aired in Nico Nico Douga. Staff-san threw a letter filled with tasks to them and that they have to read it out. Saga-san read out several announcements, which you can check in their website, or here.
Not long after that, one by one member come to the stage. Nao-san, brought a water gun, tried to shoot Saga-san. Since this live was Saga-san's birthday special so they brought a big cake for him. And with Tora-san's command and Nao-san's accompanying on drums, audience sang happy birthday to Saga-san together.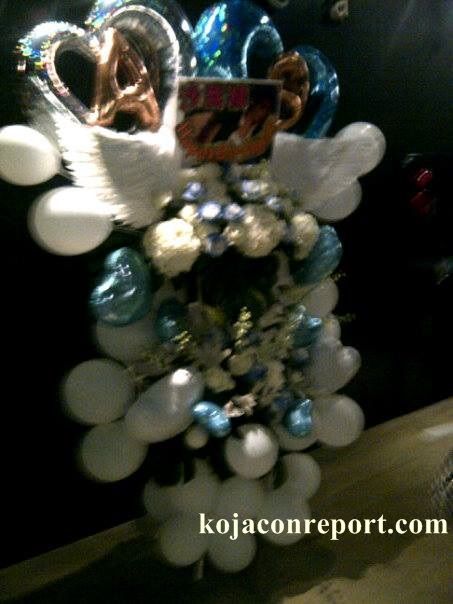 Congratulation balloon bouquet for Saga-san's birthday
The encore started with the famous 2009 single, Hana, then continued to Tora-san's song, Heart of Gold, and closed beautifully with the beautiful name which shows the mature side of Alice Nine. We cried and some fans we saw were actually cried too during the beautiful name which was the closing song for the live.
After the live ended, there was hi-touch event with Alice Nine members. All you have to do is buying shooting star special set from Universal Music Japan Store, it's kinda hard to get it since you need Japanese address to buy it. Fortunately, Kojacon managed to get the ticket.
We wait approximately 15 minutes until Alice Nine members came out from the backstage. After we queued, there will be staff at the front to collect the hi-touch event ticket.  The hi-touch event was only like 10 seconds for all members, so it was 2 seconds only per member. Kojacon managed to said that we are from Jakarta and whether it's Tora-san, Saga-san or Shou-san (we're forget who it was because it was realllyyyy- reaaallyyy fast lol) was a bit surprised and said "Jakarta?!".  Some of the fans have tickets more than one, so after they did the hi-touch they'll go back to the queue again.
Setlist Alice Nine 9th Anniversary Tour #1 World's End Daybreak-Zepp Nagoya :
1. SHADOWPLAY
2. Le Grand Bleu
3. TSUBASA.
4. Blue Planet
5. Affection
6. RAINBOWS
7. Scarlet
8. Haikara Naru Rondo
9. Himitsu
10. Fuurin
11. H.A.N.A.B.I
12. shooting star
13. Subete e
14. Daybreak
15. Q.
16. Kowloon -NINE HEADS RODEO SHOW-
17. DEAD SCHOOL SCREAMING
18. the Arc
-MC-
Tora-san and Saga-san
"Saga-san's Birthday Party" and some announcements here
-Encore-
19. Hana
20. Heart of Gold
21. the beautiful name
Credit : live pictures from Hiroto's blog