I came to EAT YOU ALIVE last weekend.  I arrived at the live house around 5:30pm. Anyway, the show was held in ELL Fits All. ELL has other 2 live houses all together so you need to check if the door you are going is the correct one. Fits all is the smallest one so since it is a small live house, it doesn't have any box to put gifts for members or goods selling outside. Everything is inside except gifts. For small bands, to give a present to the band members, you need to give it to the staff and ask the staff to give it to them or maybe you can just wait outside the live house and the members will go out soon or later since the live house doesn't have back doors with parking area. This live house only has one door, so sometimes people wait outside.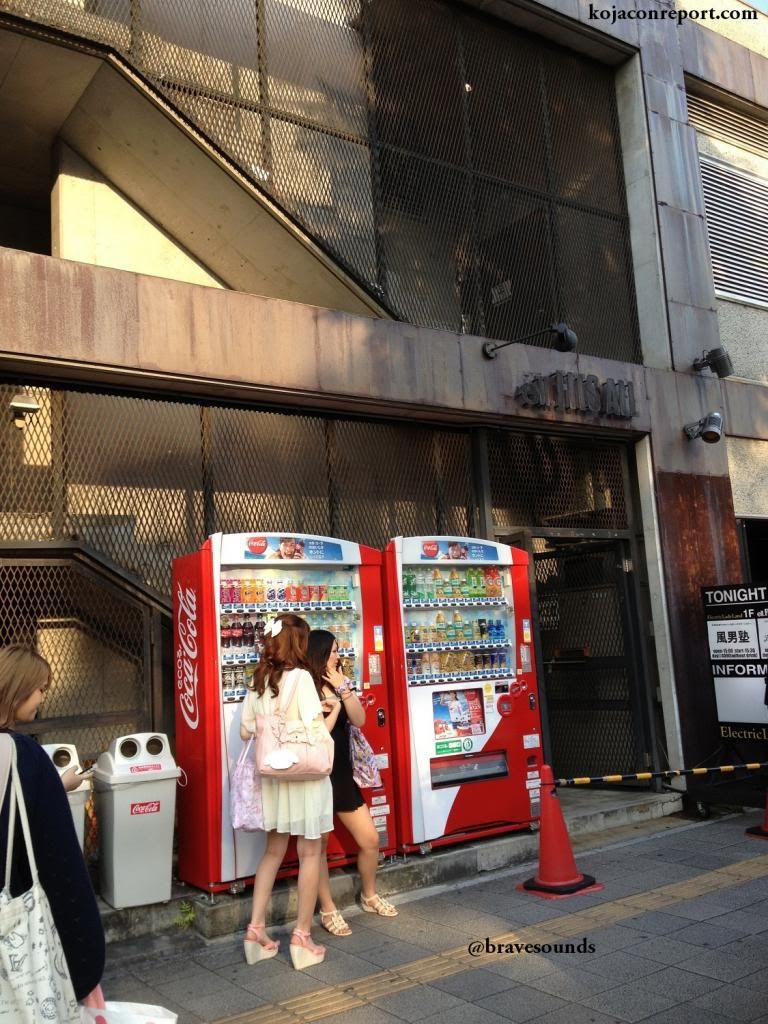 I was surprised!! Outside the live house, I saw this!! this is Ryohei's motorcycle. He is the main guitarist from Eat you Alive! Very cool, right?
My ticket was 29B so I had to wait the A-ticket holders to get inside first. We were called by number. 1B till 10B and keep going. Inside you can find your place easily, just stop somewhere which is free and everything is fine.
Small bands in small live houses are kind and funny. The audience are also more friendly and you can even leave your bag or muffle towel on the floor and get some drinks or buy some goods at the back. So if you see a bag or a muffle towel on the floor, that space is not empty. Don't try to stand on that place because that place belongs to someone else.
You should also be aware  that the front lines (saizen) is kind of dangerous in this small live shows. A lot of mosh, headbang and furi.
The show started a little late. It should start around 6:30 but it started at 6:50. Everyone was sitting on the floor looking to the curtains but when two staffs showed up at stage sides, everyone started to get up. We know the live show will begin.
EAT YOU ALIVE used to play the song eat you alive from Limp Bizkit as an intro but not today, they used the intro from their new album [APOCALYPSIS]. The members came one by one as always but Hiro took a little time to come in. Small bands doesn't have a big stage or lights, they don't have money for all these things so it is a big difference between big stages that we used to see in the DVD's and live streams. Actually this situation doesn't make the live show become bad, to tell you the truth the members are way more friendly. They run more around the stage and play with each other.
In the first session, the songs were very energetic. There were songs from the new album and single, there were also from the old ones. There was funny moment in this live. Ryohei, the main guitarist, he likes punk rock bands and he used to do a typical 'dance step' that fans used to do in punk rock shows. In this live, some fans started to do it, too. The fans acted like people in punk rock live shows. Eat You Alive got surprised and thought it was funny, but it was just for some moments because they are a visual kei bands so the fans came back to furi and headbangs. Hiro, the vocalist, also reminded everyone during MC saying "We are visual kei band, don't forget it" and went back playing with everyone there.
I think it is impossible you forget that they are a visual kei band during slow ballads. When Hiro started to sing with his voice and put emotion in the song, it is kind of impossible you forget you are in a EAT YOU ALIVE live show and they are a visual kei band. Sometimes he used too much emotion in the songs then he needed to stop singing for a while to take a little rest.
Sick, K, Lily and Dear family were examples of very touchy songs which were played in that night. These songs made everyone stayed quiet for a long time and just watched the amazing performance. However, this feeling was easily forgotten when they started the energetic songs.
Before they did MC, Hiro said to Ryohei, "Your hair… is terrible." Everyone in the live house laughed, even the band members laughed, because since the live show started, Ryohei hair was a big messy. In their new look, Ryohei's hair was very neat but during head bang and while he was performing, his hair started to look like a bed hair. The funny thing was that Ryohei didn't notice it until Hiro talks about it. Therefore, he got off the stage and came back in five minutes with all hair pulled back, looking very good. Fans screamed, "Ikemen!" (handsome) or "Kakoi!!" (cool). I need to say, all of them are very handsome with the new look!
EAT YOU ALIVE didn't interact that much each other like other vkei bands, but they like to call the fans, and scream. Sometimes they tried to look sexy, like doing sexy face and put a hand here and there. They also like to do this special thing with everyone in the live house, even girls at back, not only the front ones during Hybrid Status. For example, Hiro asked the audience to separate in two groups, each one go to one side of live house, and he started to count down. 1 2 3…. Everyone started to push each other. Well since it is a visual kei band, this kind of 'mosh' is softer, so it is not that dangerous. When someone fall down, there's always someone helping the person to get up and other pushing people away from the one who fell down in order that person not to get hurt. This happened one time and I had a pleasure to help the girl. I also fell down once, and a girl helped me too, so I think it is a good thing. Even in Punk rock live shows this happen here in Japan. Most people are very kind with other fans when someone is in dangerous situation like this.
They got out of stage saying good bye. Everyone threw their picks but the drummer didn't do it because it is small live house and it may be dangerous. Don't think you will get a drums stick easily in a small band live show, because actually drummers never throw it in a small place.
The audience were tired. Everyone went out to get some drink and one minute later the girls started to shout "Encore!". The strange thing was that  the lights weren't turned on. We just had the lights from the stage and nothing more, but we didn't complain. We got our water, drank it and went back to our previous place and shouted for an encore.
They came back. When the bassist was checking his bass, some girls calling the other members' names, but then someone at the back screamed "KENJI!!!!", he had a fast glance to the back trying to find who shouted his name and checked his instrument again. This happened several times. "KENJI!!!!" he looked at the back again before went back checking his instrument. I found it quite cute. This happened too when Hiro came back to start the encore, he was doing the same thing. A lot of laughs and another song came. Everyone was happy, before the last song started.
They stopped playing and Hiro started the MC. He talked about the live show in December 30. Final One-man in Electric Lady Land. It is a bigger live house. Fans were happy for the band despite that they got surprised because ELL is big while ELL Fist all was not that big and the tickets weren't even sold out…
Everything turned sour when he continued that after their show in Decemberm they will disband. Three, four girls screamed loudly and started to cry. Everyone was in shock, nobody can say anything while he has saying why they will stop. Even his final worlds about EYA family [this is how they call Eat you alive fans ] stated that everyone there are special to them and he hopes that noone forgets they music.
Everyone was speechles that time.
The band members were serious and kept quiet for some time. All the energy suddenly oozed and just a sad feeling lingered inside. It was worsened when Hiro said they'd play Clock Wise for the closing.
They played the song. Sad faces were all over in band members and Hiro can't hold tears. He was trying to sing and sometimes his voice fail. They stopped the song for some seconds for everyone sing and all the Fist all audience were singing with him. All were in tears. I sang too, other fans werre hugging each other while singing. After all was over, Hiro screamed "Thank you!"
Each member went to the front stage and said thank you to the audience before they got out. When the lights turned up you can only see your friends hugging each other crying. Some just helping another alone person who was crying. A very sad feeling was there when I got out. They made an announcement about ticket selling at that night, and nobody asked the price. They just went to the line and bought tickets for EAT YOU ALIVE last live.
It may be the last live, but I'm sure nobody there will forget that band.
~SE~
1. Sandy
2. Ave Maria
3. Light come light go
4. Sick
5. DIRGE
6. Boom Slang
7. Over coming
8. 7秒
9. Lily
~MC~
10. Onkalo
11. Daipuri
12. ADAM
13. 不自由
14. L.O.D
15. Hybrid STATUS
16. coke in a vein
~EN~
17. Agnus Dei
18. Dear family
~MC~
19. clock wise