Freedom Nagoya, is the name of the event held on 20th July 2013. As the name is, the event allows you to feel free to do what you want. For 4 years, Nagoya holds this event for everyone who wants to go and checks how it is. The freedom sensation was everywhere since you can enter FOR FREE in this event inside a very beautiful park near the station Sakyoyama in Meitetsu Line about 30 minutes from Nagoya Meitetsu Station!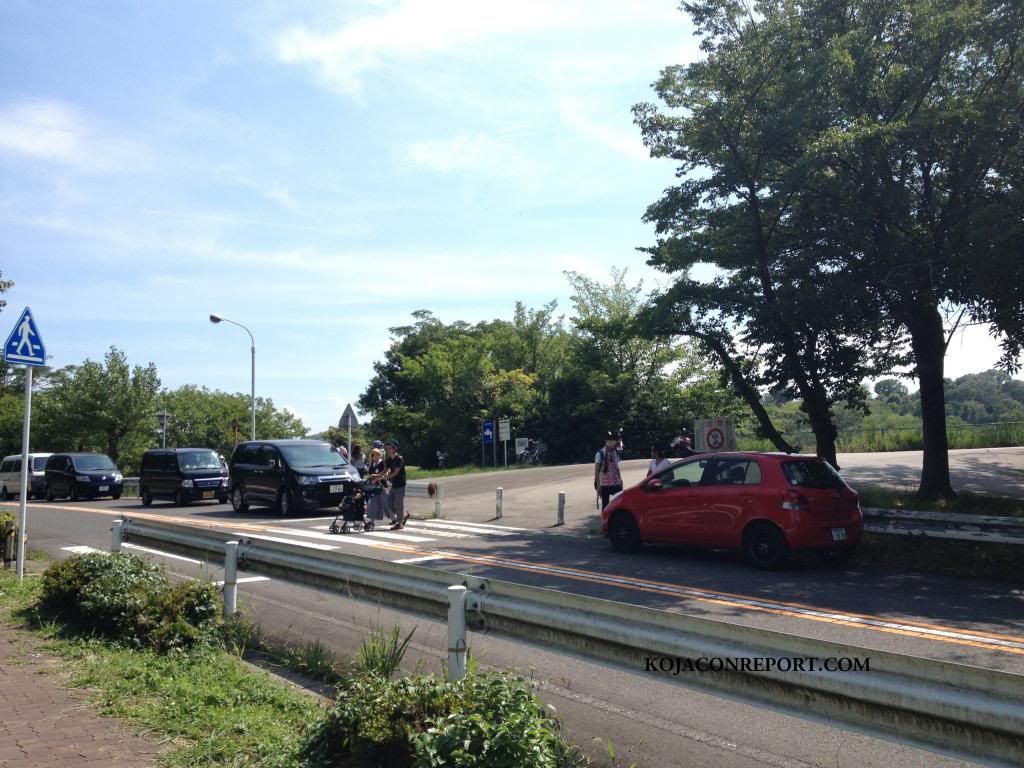 There are 5 stages there and you can choose any stage you want. Of course you can't watch all the bands because everything happens in the same time, but you can go wherever you want. Most of bands were punk rock bands, others were pop rock and some reggae but almost every person there seemed like punk rock fans. The situation was kind of funny because it was the same situation in PUNKSPRING 2013 [ A punk rock event that happens every year in Tokyo, Osaka and Nagoya. ]. You can also see some families around there just sitting under the trees, having a picnic with a nice music playing. Freedom sensation.
I arrived around 2 PM and SECRET7LINE was playing at the same time as MY FIRST STORY. A very difficult choice since both bands are incredible, but if you feel more in a punk rock I recommend SECRET7LINE. Their sound reminds you with BLINK182 and the fans were very enthusiastic even with the sun on their head. Walking in the middle of the park and you can hear SECRET7LINE playing DOWN TO HELL as their first song. People running to get into the stage soon as possible, but it was almost impossible not to sing along while you were trying to arrive as soon as possible to see the band…and even when you arrived you cannot see the stage. A lot of people around the two small stages. One had SECRET7LINE and the other had another band checking the sound. Fans were dancing and singing like crazy doing the famous PUNK MOSH and surfing crow.
One big problem was all the sand with earthenware making A LOT of dust in the air. You almost can't see anything because of that. Some people were enjoying the live show far away because you can't breathe properly with all that cloud of dust. So the best thing to do if you want to enjoy punk mosh and dance was putting a towel on your face and go there to play with other fans. They are VERY friendly and they love to enjoy the music together, no matter if you are Japanese or not.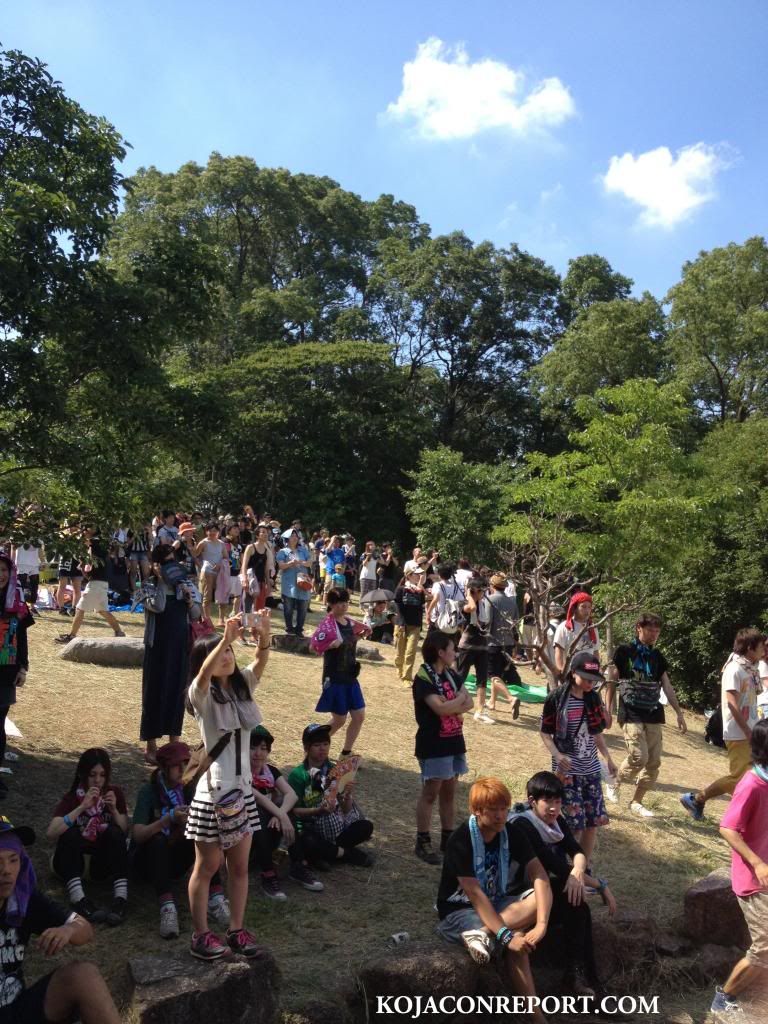 When the second song started everyone just sang loudly. Even people who were far away. 1993 started and you felt like you were coming back to a SEX PISTOLS live show. A lot of surfing crow started but some people fell to the ground. Of course, people cared about the others, so they helped everyone who were hurting or looked like in a dangerous space. Especially some girls, it was almost incredible that you can see those guys putting other girls, that they don't know, on their shoulders just for her to sing. And when the mosh started, they threw her to the people and made her do the surfing crow. It was funny, dangerous, but the FREEDOM sensation came again while you watch it.
SECRET7LINE made a little stop to talk with everyone, asked if it is allright to go on and told the audience not to forget drinking the water. Well, it was 30 degrees on that day. You can see people sweat everywhere. Some were dirty and others were tired, but when they said they'd perform DANCE LIKE NO TOMORROW, all that tired feeling went away and… they danced like there's no tomorrow.
Cloud of dust came back again, but no one cares, not even when they said the last song, IT'S ALL RIGHT. During this song, friends hugged their selves, other people joined and you can see a BIG CIRCLE with everyone jumped together and sang with the band. Amazing feeling was around while you watched it but when it was over people just ran to get some water, beer, tea or anything that they can drink and ran to another stage because while SECRE7LINE was finishing their show, TOTALFAT started to play on main stage.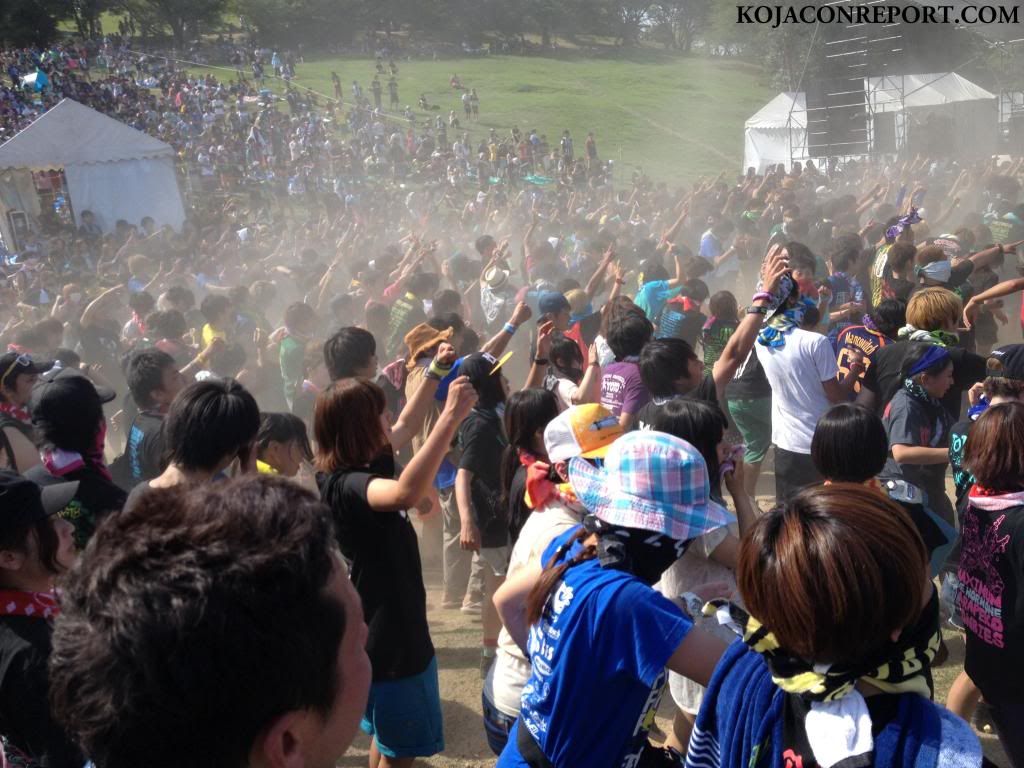 TOTALFAT is an incredible band, they got very famous in Japan, not like other punk rock bands, because they make a song that was used in NARUTO Ending called PLACE TO TRY.
Main stage was far away so to arrive there you took some time and while you walked, you can hear TOTALFAT song, very far away from you. The closer you are to the stage, the more you can listen to it. Main stage was different. Only big bands play there. It was a huge stage and had a special area for people who enjoy mosh, surfing crow and this kind of things called RING AREA. It's again very funny, because when you put your eyes in the middle, near stage, it was really like a ring! A HUGE circle was open and people just make the countdown with the song X-STREAM…. 1 2 3… a big mosh, people running in a circle really make you remember a hurricane. Insane, really insane and dangerous. Even people in RING AREA was far away because they are afraid, a rope separated others. Some friends were playing alone with their own mosh, not so dangerous. You can also see some guys with a water gun throwing water on people, friends, and everyone. Oh thank you, it was extremely hot and just got hotter and hotter when TOTALFAT said PARTY PARTY. Is the most famous song after PLACE TO TRY.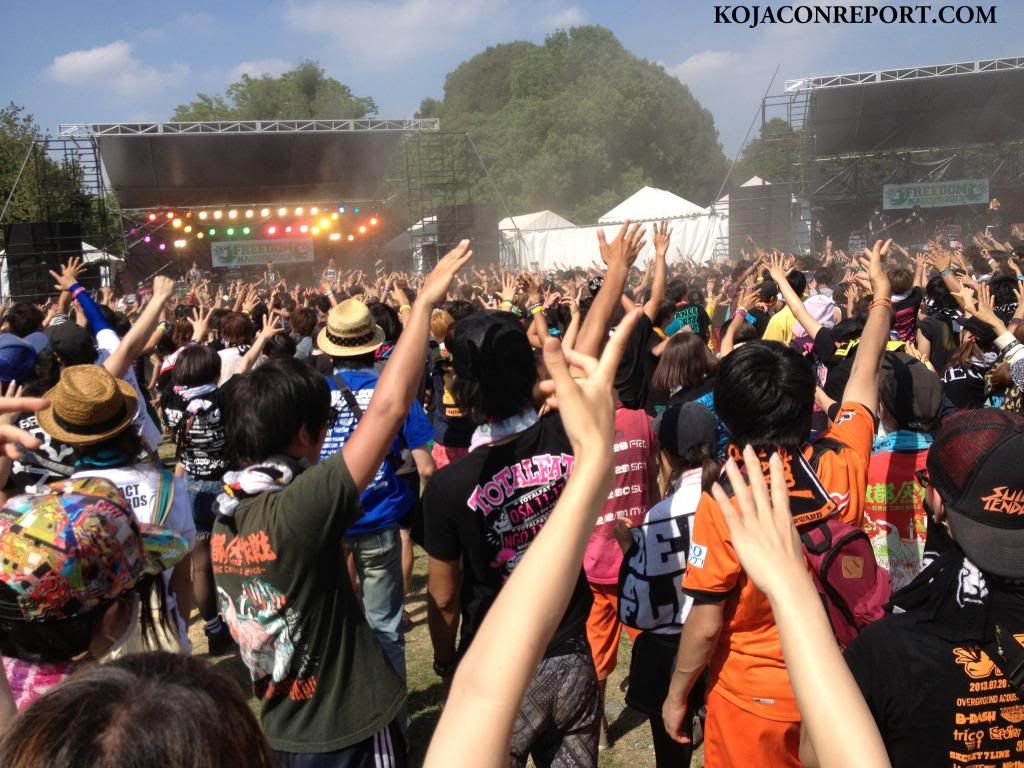 Of course, the fans started dance again together with their friends and did a lot of surfing crow. Girls were on boys' shoulders and everyone sang to their heart content. It was very different from Visual kei live shows.  In this event, you can hear some people singing while dancing and playing with others. Another break to breathe and talk, they reminded everyone to drink water again before announcing the last song, GOOD BYE GOOD LUCK. Everyone took breathe, they put their hands in the air, a water bottle flying in the air and fans started singing together.
When TOTALFAT left the stage, again, people ran to get water, others just took a small rest and went to the other stage. There were two main stage, so while one band was performing, another one was checking sound. It didn't take more than 20 minutes for another band started their performance.
ROTTENGRAFFTY came like a monster in the fans. Two vocals and this band is quite amazing. They have very powerful songs mixed with a little rap by the second vocal. Since I don't know much about ROTTENGRAFFTY I can't tell exactly the name of songs, but during first song NOBUYA just jumped in the crowd… no, he DID NOT fall on the ground. Everyone helped to hold him. He was standing on people! INSANE!!!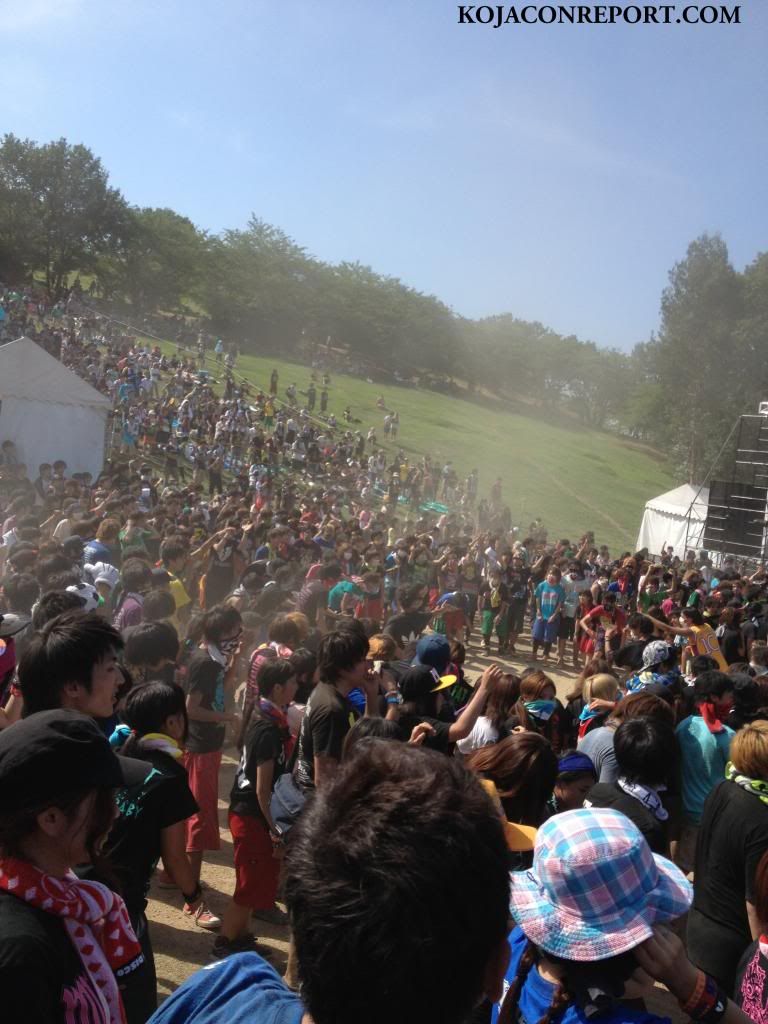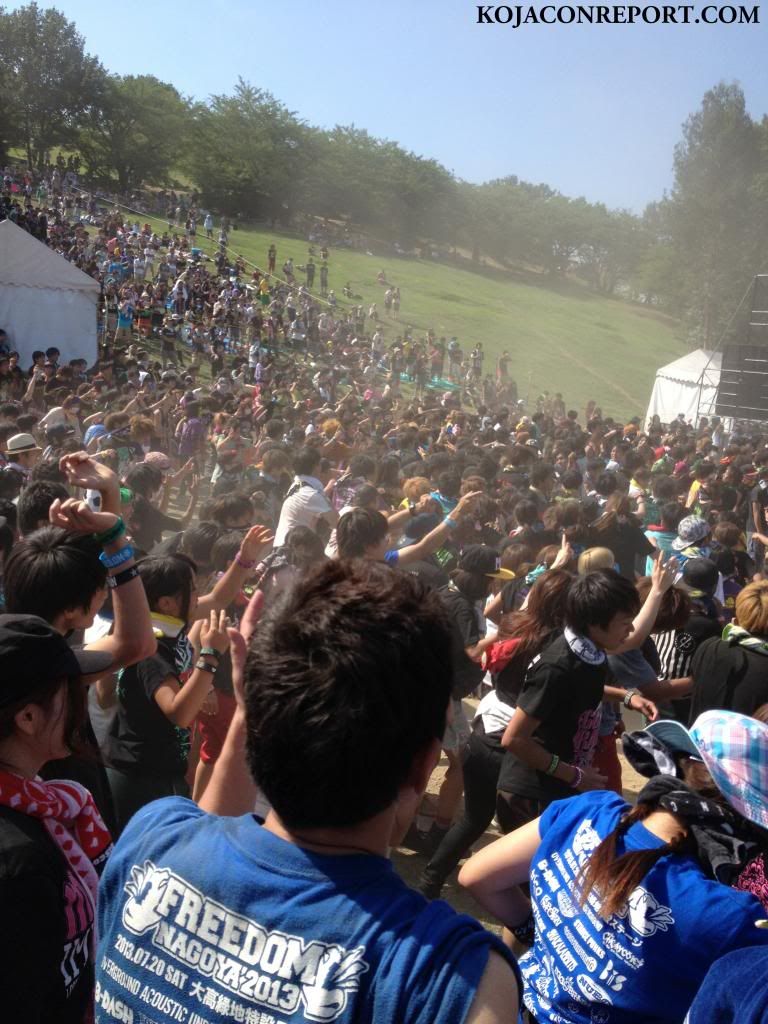 He sang and more fans came to keep him standing while other just put some friends on their shoulders to make NOBUYA saw that they sang together. When the song THIS WORLD started, NAOKI screamed " FREEDOOM!" and everyone followed him. He screamed one more time and you can feel all the people around saying FREEDOM together, and the song started. It was damn powerful. There are a lot of head bangs and of course punk dance!
It's amazing because this band didn't even take a break. They sang one song after another, and SILVER STAY started together with a huge mosh in the middle near stage but I think NAOKI was not satisfied with just that, so he ask to FREEDOM NAGOYA followed him. "Oooh!" and fans followed. He screamed one more, and everyone followed him, so he decided to change and while the band members was holding the song in a certain part NAOKI say " FREEDOM!" and whole park just followed him.
A very good sensation was in your body while you kept following NAOKI, but he wanted more and when they said the last song was D.A.N.C.E, he jumped in the crowd like NOBUYA in the beginning. Again, he didn't fall on the ground. Fans ran to hold him while he sang and screamed without the microphone. If you looked at that scene, you will mostly say, "Insane, he is crazy!" but you can see in his eyes, it's what he wanted to do.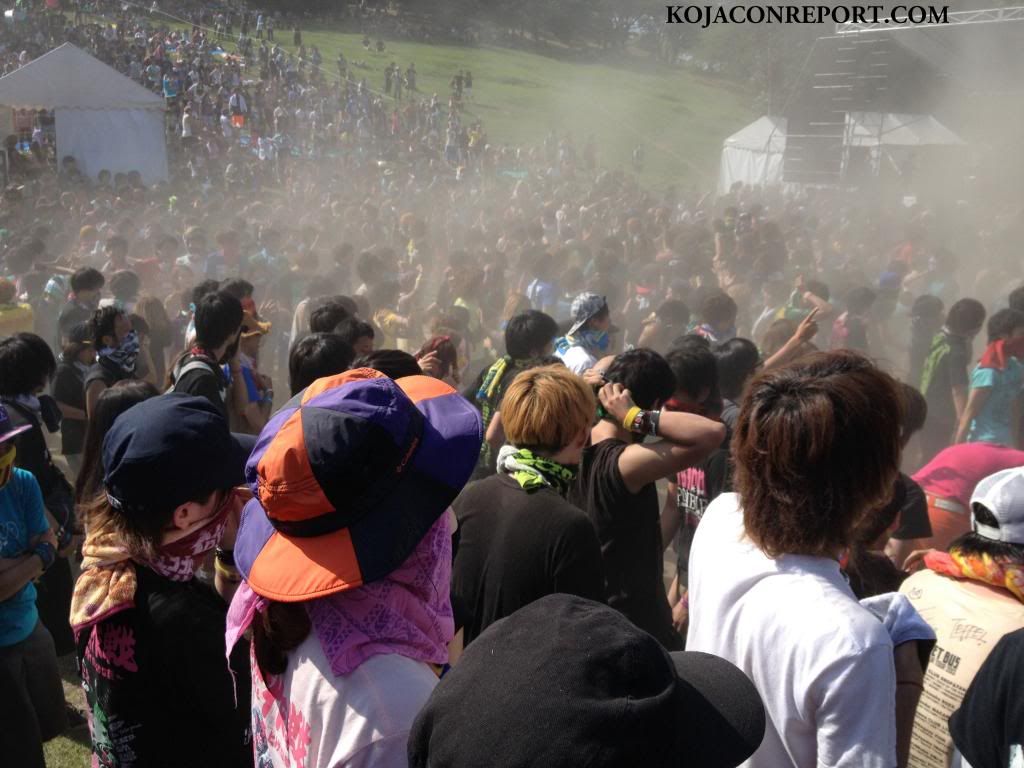 ROTTENGRAFFTY was the last band in that side of stage, and the other stage had THREE LIGHTS DOWN KINGS. They are not that famous since everyone started to go home, got some water or went to NAGOYAKO [ Nagoya port ] because a MATSURI was held there on the same day.
If you think this event was just for some punk boys performed, you are very wrong. Around the park, there were some skate shops selling their clothes, indies punk rock bands was giving away their CD's and two groups were helping the victims from Fukushima because of the tsunami last year. Also all the money received during FREEDOM NAGOYA goods will go to Fukushima victims, so punk people are very friendly, don't you think?
If you are lucky, you can find BUNTA drummer from TOTALFAT walking around the event, take a photo with him, change some words and also get an autograph!
It was a wonderful day for me.  Just remember, if you happen to come to this event, practice your punk steps with SiM, keep your eyes open during 0:50 in the video and remember to bring a water bottle and come early!
Let's learn Punk Dance with SiM!!