Just about two weeks ago when we met WEAVER in their appearance in Singapore, and they finally made a stop to Jakarta, Indonesia to participate in Indonesia Japan Expo 2013. Their performance captured the audience hearts. Despite the rain, many people,boys and girls, still eagerly stood in front of the stage and watched their entertaining performance.
Since there's sometime to buy before they went back to Japan and prepare for their leaving to London, let's talk about their thoughts about Indonesia.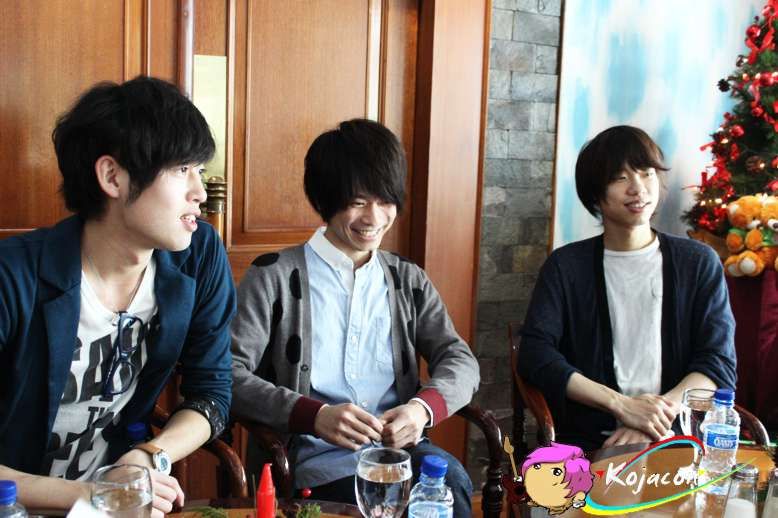 K : How do you feel when you arrived at Jakarta?
Sugimoto: We're really happy to have the opportunity to go to many countries this year, like going to Thailand, Singapore and Indonesia. Actually we really want to expand our music to international market.
Last time in Singapore, we didn't have the chance to announce yet about our coming to Jakarta. So that's why in the last video for Kojacon Report, we gave a teaser that we'd go to Jakarta real soon. And now since we're here, we're happy to introduce our music to the audience.
K : So how did you feel after the performance last night?
Sugimoto : In the last performance we had before going to Jakarta, we had collaboration with Thai artists, so we had lots of support both from their local artist and other people,too. But going to Indonesia is a different thing since it's our first time coming here and we're alone. We prepared ourselves a lot before coming because we knew that there're not many people here know our music yet.
Last night, we saw the audience sing and dance with our music. It shows that they enjoyed our music and we felt some kind of achievement from there. We're glad that Indonesian audience can accept our music.
K : What do you think about the fans here?
Okuno : In Indonesia we see a lot of girls wear head cover. We firstly think that they're going to be calm fans, mature ones. But during the live, and also at the airport, they're pretty hype too for seeing us. They also asked for handshake and were pretty aggresive. So I don't think that there're many differences with other fans from the other countries.
However, we feel at ease to know the same behaviour, so we are not that surprised. Eventhough the way of dressing is different, but eventually we're happy if they're hype when they see us.
K : Last May during Music Matters Live Interview, Kawabe-san suddenly hummed Indonesia Raya. Even during the live at Indonesia Japan Expo, you sang it. Do you have any different thoughts about Jakarta before and after coming?
Kawabe : About Indonesia Raya, I sang it again in our live last night. I still remembered the song from the musical I saw last time. I think some Japanese know about this anthem, because it's a cool national anthem. However my knowledge about Indonesia before coming here was only as far as how the musical goes. Not more than that.
Before coming here, I also had a chance to watch a movie about Jamaica. From that movie, I saw that Jamaican loves music and dance. That movie aside, I want to go to many countries to see and learn many things. Coming to Jakarta made me think more about diversities. There are so many cultures, ethnics, and lifestyles that can be seen in Indonesia. Eventhough it's just three days, I can see where people in Indonesia live, how they behave, and others.
At first, I think I can just understand about the diversity from movie, like the movie about Jamaica I saw previously, but then coming here now, I understand that watching movie and coming in reality have different feelings. I wish to learn more. I am happy to be here and learn many things too from what I saw in real.
K : What about the local food you had here?
WEAVER : NASI GORENG! (local Indonesian fried rice).
Okuno : We ate Nasi goreng everyday since the hotel serves it too.
Kawabe : Yes, even this morning lol
Sugimoto : We want to try to eat many things though
Kawabe : Yes, we want to hear what else can we try to eat here…so please tell us!
K : Have you tried Sate Ayam (chicken satay with peanut sauce-like yakitori)?
Sugimoto : Ah, chicken with peanut sauce?
Okuno : AAAAH!! Yes, yes!! We tried something alike in Singapore before but it's with barbeque sauce).
Kawabe : And also Durian!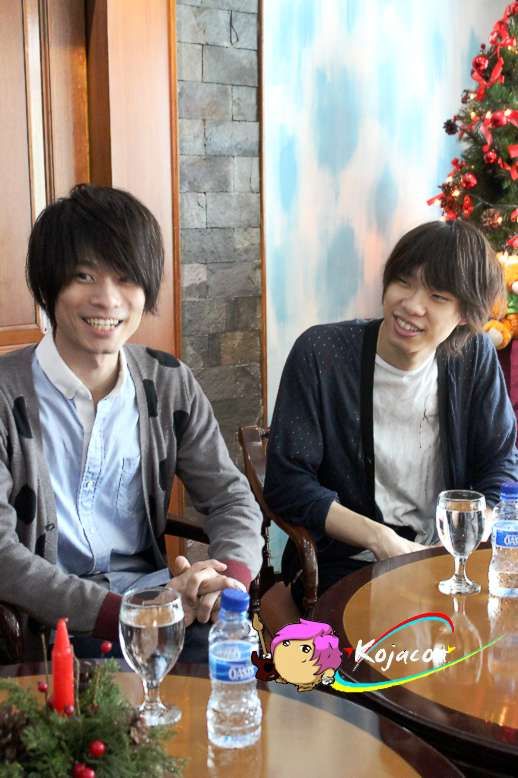 K : Do you eat durian?
Kawabe : No, but I want to try to eat durian…
K : But you might not like it..
Sugimoto : Ah, because of the smell!?
K : Yes! And actually there's even durian shop in Tokyo.
Sugimoto : But it's expensive in Tokyo… And the feelings to eat it here might be different.
(to be continued)