HaKU's image is one of a particular shade of white (白 or 'haku') that cannot be dyed in any other colour. Also infused in the band's name is the Japanese word for one note / one beat (拍 or 'haku') as well as the act of exhaling (吐く or 'haku') – to sing as if exhaling.
Creating music without relying on computers or synthesizers of any kind, HaKU is an electronic rock band that relies purely on human power to bring about its music – even in live performances. HaKU makes its presence felt in emotion-filled performances, combining a heavy-hitting sound with extraordinary vocals, reflecting the tense atmosphere that is the band's worldview.
HaKU is Yuki (Guitar/vo), Haruna (bass/vo), Hiroshige (Guitar) and Shinya (Drum).
With their music, we welcome their live at Indonesia Japan Expo 2013 on Saturday 21st December. Let's get to know them better.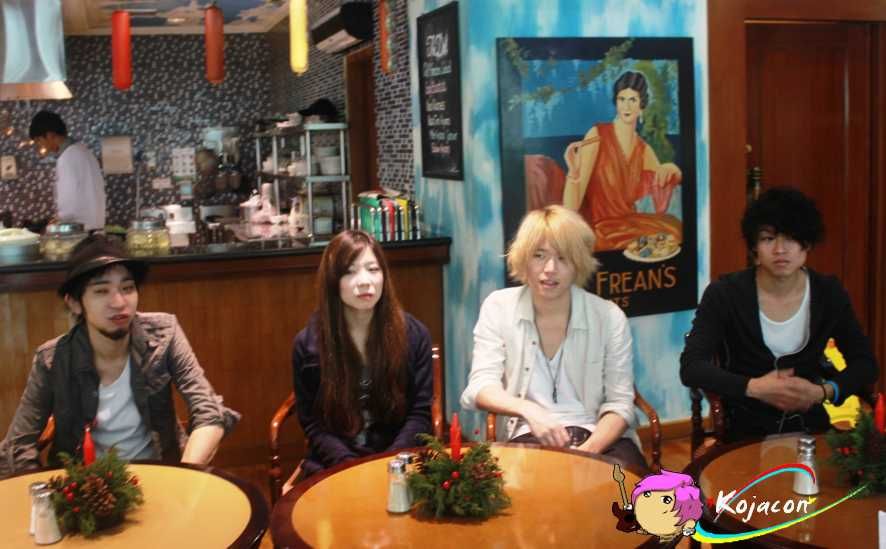 K : How did you feel when you arrived in Indonesian airport?
Yuki : HOOOTT! Even it seems it's rainy season here but the gap with the weather in Japan is tremendously large. It's still winter now in Japan, so I'm shocked with the heat.
K : Do you enjoy the hospitality from the people and the food here?
Yuki : Yes, the people are very warm and they're look nice. It seems their kindness shown on their face.
Haruna : In Indonesia we had a chance to eat lots of food. First of all, of course we tried Indonesian Nasi Goreng (fried rice), sate ayam (chicken satay), and also spare ribs! Everything is so delicious!
K : What do you think about your live last night at Indonesia Japan Expo 2014?
Yuki : We only brought our music on the stage since we don't speak Indonesian or even understand it. However we think our music can be accepted by the fans and we're connected through music. That's a valuable experience that we had last night.
K : If you have a chance to go to Jakarta again, what do you want to try?
Yuki : If we can go back here again, we will love to entertain our fans by having our own one-man live show.
K : Do you have any memorable event occured in Jakarta?
Hiroshige : That time when we went to a tower and we took picture with that monument on our hand.
Yuki : What's the name of the monument? Monas?
Haruna  : Yes, there're horses too in the park. So there are horse carriages inside the park and while we were taking pictures they just passed us like nothing happened lol.
Yuki : And also we got a chance to feel the Jakarta's traffic!! There are so many cars here!
K : Yeah maybe because it's weekend, although on Monday there will be more cars causing traffic.
<to be continued>