WAKUWAKU JAPAN held a music festival as part of their launching promotion. They invited JKT48, Afgan, BCL, and flumpool. JKT48 opened the show with their hits, Musim Panas Sounds Good, Ponytail, and River. The strong River dance is really good and most of the top members like Melody, Haruka, Nabilah, Ayana and Veranda were on the stage giving their best performance.
After their performance, the MC, Shopie, asked about their role for WAKUWAKU JAPAN. They said that they'll be WAKUWAKU JAPAN's supporting ambassador for promoting the tv launch. Ayana added that she loves watching Japanese drama, while Ghaida said she likes to watch Japanese anime.
Right after JKT48 performed, Sophie called Afgan. This phenomenal and cute singer performed his hits throughout the show and he even covered the famous ballad by Brian Mcknight, One Last Cry. Since most of his songs are ballad songs and made people feeling blue or reminisced the good old days, he said to the fans that hopefully all the boys that night will find their soul mate soon, and perhaps it will be the member of JKT48. It was followed by the sound of "AMEN..!" with all the males shouted out loud in the venue. He sang the hits like Dia Dia Dia, Terima Kasih Cinta, Bawalah Pergi Cintaku, One Last Cry, Jodoh Pasti Bertemu and Panah Asmara.
Bunga Citra Lestari or publicly known as BCL, stood out in her performance. She sang her best hits like Hot, Sunny, Jangan Gila, Cinta Sejati, Aku dan dirimu, Karena Ku Cinta Kau. The funny moment is when the JKT 48's fans change the Sunny lyrics to their favorite member's name. But anyway her live is always fun to watch.
flumpool finally hit the stage.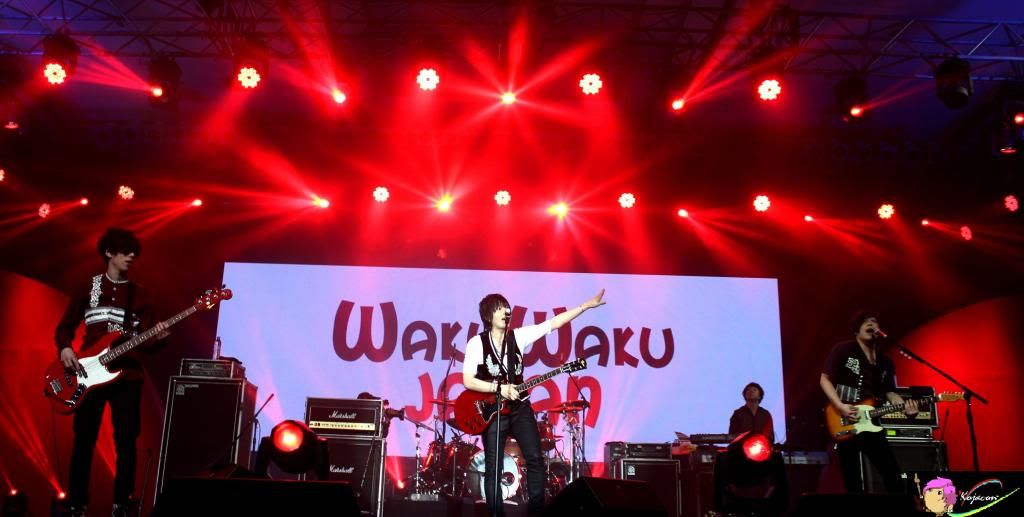 They rocked the venue with their hits like Kakusei Identity, their first debut song Hana ni nare, Taisetsuna mono kimi igai ni miataranakute, Over the rain (the original soundtrack for Bloody Monday drama starring Miura Haruma and Takeru Satoh), Hoshi ni Negai wo, and it was closed with Kimi ni Todoke (the original soundtrack of Kimi ni Todoke movie starring Miura Haruma).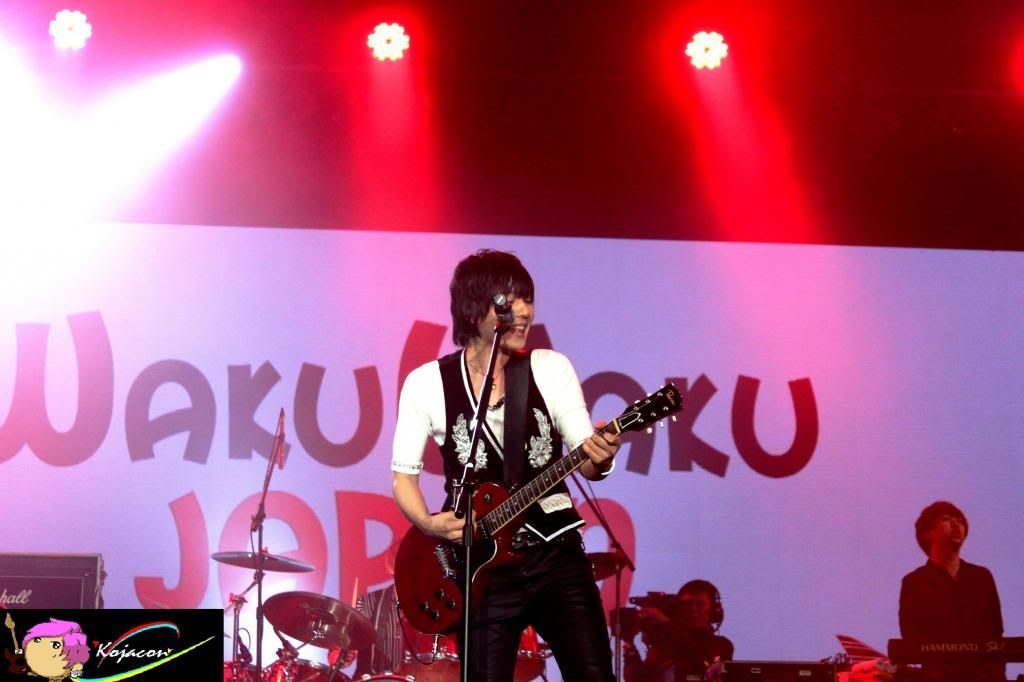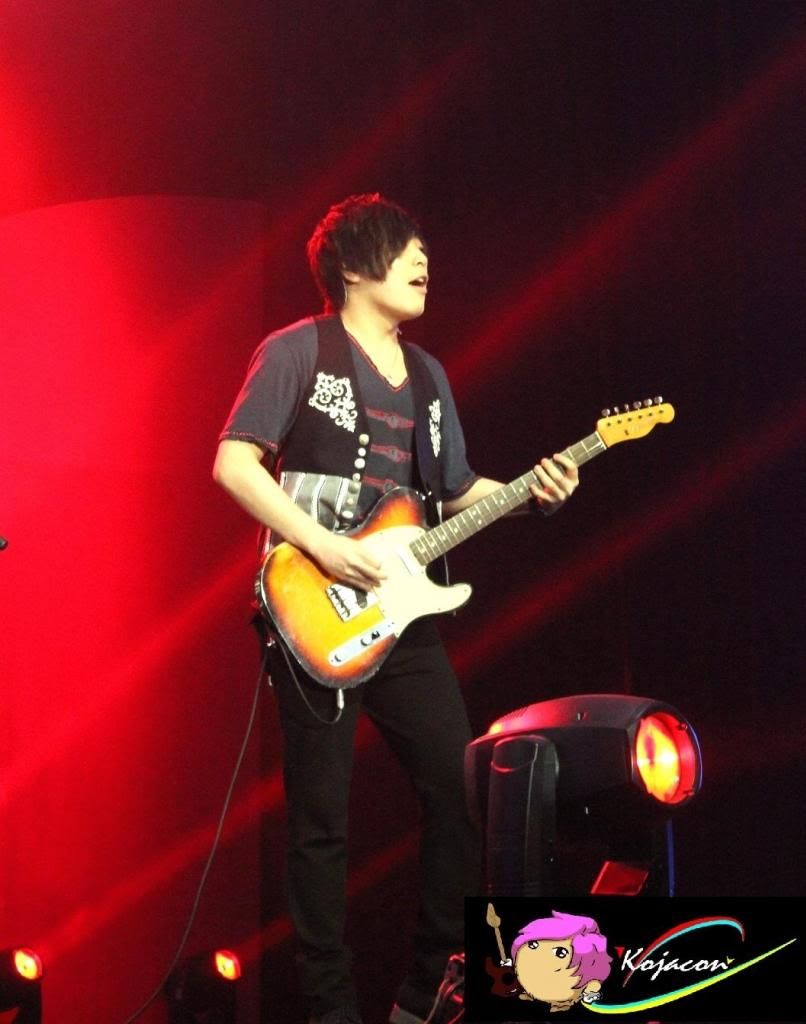 Their fans came brought the concert attribute and posters to support them. During their live performance, they introduced themselves in Bahasa Indonesia, they even used the slang term.
Kazuki shouted, "Hai, Kami flumpool! Kalian bersenang-senang? Terima kasih. Kalian tahu flumpool? Ciyus? Saya cinta kalian!" (*Hi, we're flumpool? Are you guys having fun? Thanks! Do you know flumpool? Really? I love you!"
During the introduction, they showed their skit skill for Indonesian audience.
Ryuta : Terima kasih sudah datang, saya senang sekali. Kami flumpool dari Jepang. Saya Ryuta vokalis. Drummer, Seiji. Bassist, Genki, dan ….Kamu (pointing at Kazuki)… (* Thanks for coming. I'm really happy. We're flumpool from Japan. I'm Ryuta, the vocalist. Drummer, Seiji, Bassist, Genki, and you…
Kazuki : Saya… Joe Taslim. (*I am Joe Taslim – a famous handsome Indonesian actor)
Ryuta : Bukan… kamu… Doraemon. (*No, you are… Doraemon)
Kazuki : Kazuki is speechless, but then he said "Baling Baling Bambu" with Doraemon voice, (* Bamboo helicopter that Doraemon often used).
Kazuki : Sorry, sorry. I'm not Doraemon. It's just a joke. I'm Kazuki, the guitarist.
After Over the rain, Ryuta tried to speak in Bahasa Indonesia again. This time is longer, but he has the note, so no worries. "Kalian bersenang-senang? Saya coba Bahasa Indonesia ya. Terima kasih WAKUWAKU JAPAN, kami jadi bisa datang ke Indonesia. Tapi kami sekarang agak sedih karena kami suka Indonesia, tapi kami tidak tahu apa bisa kembali lagi. Sebelum lagu terakhir kami, supaya kami tidak lupa dengan kalian, ayo keluarkan suara kalian! Ayo keluarkan lagi Jakarta! Kami cinta kalian!" (*Are you having fun? I will try to speak Bahasa Indonesia, ok? Thank you WAKUWAKU JAPAN for inviting us to Indonesia. But we're pretty sad now because we love Indonesia and we don't know when we can come back to Indonesia. So before we our last song, make us remember you. Shout out your voice, shout more Jakarta!! We love you!").
After they ended the performance, Sophie asked their feelings to have the performance in Indonesia. Ryuta said he's very happy and the crowd is hot so he wants to go back again. Seiji was asked whether he can speak any Indonesian or not then again, he only answered one word, "No". A very simple and short answer like he did in press conference and it always made the people who see it laugh.
Ryuta was asked about the Indonesian girls and he said that the girls are so cute. He said, now he can't speak Indonesian very well and that he wants to learn again.
Random question to Genki's hair, whether it is a real curl or not, and Genki said it's a wig, only then he said it was a joke though. They said they're happy to be part of the festival and they want to come again if they're invited because even though flumpool is not well known in Jakarta, but people can connect easily with their music.
The event was closed with the hits from JKT48, Flying Get and Fortune Cookies.