There are more than 100 festivals happened in Japan throughout the year. Those festivals are a fun, exciting way to see Japanese culture and learn a little bit about the people who make the country so special.  Timing is everything; arrive too late for festivals in Japan and you'll be cursed with inflated accommodation prices and clogged transportation without getting to enjoy the fun part. However, below are five Japanese festivals are the largest and most widely celebrated in the country.
1. Shogatsu (New Year)
Shogatsu is the largest Japanese festivals, and taken very seriously in Japan. It is celebrated for the first 3 days or the first week of January. During this time business and schools close for one to two weeks. Many people start the new year by eating soba noodles (toshikoshi soba) at midnight . At dawn, the Emperor of Japan prays for the nation. Casual western style clothing is replaced with kimono on New Years day as people go for their first temple or shrine visit of the New Year (hatsumoude). At the temples they pray for health and happiness in the coming year. The reading New Year's cards (nengajou) and the giving of gifts (otoshidama) to young children are also apart of the New Year celebrations.
Photo source : sakura hotel
Osechi-ryori are special dishes eaten on the first three days of the New Year. Grilled and vinegary dishes are served in multi-layered lacquered boxes (juubako). The dishes are design to be pleasant to look at, and keep for days so that the mother is free from having to cook for three days. There are some regional differences but the osechi dishes are basically the same nationwide. Each of the food types in the boxes represents a wish for the future. Sea Bream (tai) is "auspicious" (medetai). Herring roe (kazunoko) is "the prosperity of one's descendants". Sea tangle roll (kobumaki) is "Happiness" (yorokobu).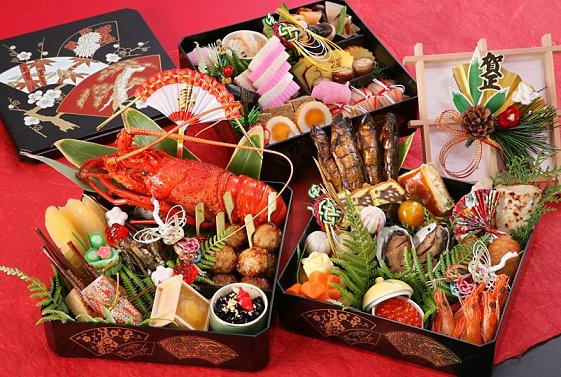 Photo source : bunnychan
Besides the festival itself, many shoppers also love the new year because they have fukubukuro sold in New Year. Fukubukuro ("lucky bag", "mystery bag") is a Japanese New Year custom in which merchants make grab bags filled with unknown random contents and sell them for a substantial discount, usually 50% or more off the list price of the items contained within. The low prices are usually done to attract customers to shop at that store during the new year.Popular stores' fukubukuro usually are snapped up quickly by eager customers, with some stores having long lines snake around city blocks hours before the store opens on New Year's Day. Fukubukuro are an easy way for stores to unload excess and unwanted merchandise from the previous year, due to a Japanese superstition that one must not start the New Year with unwanted trash from the previous year and start clean.
Photo source : wikipedia
When: December 30 to January 3.
Where: Nationwide. A large crowd will gather at the palace in Tokyo.
2. Setsubun (The Bean-Throwing Festival)
Fun and bizarre, Setsubun kicks off the Haru Matsuri (Spring Festival) in Japan. An old tradition, Setsubun has evolved into a televised event with national celebrities and small stages set up around the country. People throw beans in mame maki ceremonies to drive away evil spirits that could cause trouble later. Candy and money are thrown into the crowds which then rush forward to collect the small gifts.
Photo source : wikipedia, commons
When: February 3 or 4
Where: At major temples and shrines throughout Japan.
3. Hanami (Cherry Blossom Festival)
The word hanami actually means 'flower viewing' and that's what people to welcome spring. Families and friends gather for picnics and parties, both day and night, in parks under blooming cherry blossoms. Some festival goers may appreciate the sake more than the flowers themselves, but all enjoy the time outside in fresh air. Tea ceremonies are held under trees; folk songs, dances, beauty pageants, and parades add to the festive atmosphere.
Photo source : wikipedia
When: Between March and May. Dates for the flower blooming are forecasted each year. Flowers bloom earlier in the south than in the north.
Where: Nationwide.
4. Golden Week
Golden Week is one of the busiest travel times in Japan as four different Japanese festivals converge and people take extended vacations to travel; many businesses close for at least a week. The first holiday of Golden Week is the celebration of the birthday of Emperor Showa on April 29. Constitution Memorial Day hits on May 3 and is followed by Greenery Day on May 4 then Children's Day on May 5.
Japan's busy tourist season typically begins right after the festivals clear up and business gets back to normal.
Photo source : gaijinpot 

Beware: Transportation comes to a standstill during Golden Week!
When: End of April until May 6.
Where: Nationwide.
5. Obon
Eventhough Obon is not an official national holiday, it is the largest of Japanese festivals in the summer and is a celebration of ancestors' spirits that come home. Also known as the Festival of Souls, Obon is a Buddhist celebration. People visit shrines, temples, and family graves during Obon. Fires are lit in front of homes and lanterns help guide the spirits. Obon is an important time for families and many head back to their homes, causing long transportation delays.
Photo source: 1440blog.com
When: Typically in the middle of July. Obon is based on the lunar calendar and dates vary from region to region.
Where: Throughout Japan.
Source : GoAsia