CREAM had successfully performed and went all out during the Japan Night Pre event in Singapore last Thursday! Influenced by hip-hop, pop, rock, and electronic dance music (EDM), they refer their music as "new Jpop". Taught by m-flo, this Japanese hip hop group consisting Singer Minami and rapper Staxx T, introduced "new Jpop" music to Singapore music lovers. Aside from a singer and a rapper, Minami compose and write the song herself, meanwhile Staxx T is the track-maker. The group takes its name from a fusion of the words "creative" and "team".
With no further ado, this is our interview with them.
K : How did you meet each other?
Minami : We met each other six years ago in Osaka, which is his hometown. We were in different group that time and actually there was another guy in the group. He's my friend from international school. They were friends because they used to perform together in clubs. We didn't know each other first but then that guy introduced us. So we're like, "Ok, so let's make music together!". It was never like friend first, it was business first. You know, it took us long time to understand each other, to actually like each other.
K : Really?
Minami : Yeah, really. We actually didn't have anything in common. I didn't have any friends who are full Japanese who went to Japanese school, and I always surrounded by people who are English speakers. And he didn't have any friends who were English speakers. And we have this gender issue, I'm a girl, he's a guy… so yeah, it really took us a really long time to get to know each other but three years had passed and by that time, that another guy who introduced us said he wanted to go his own way. By then, both of us finally created a relationship professionally in music, which we realized we still want to work together each other. That's when we created CREAM in 2011.
So it's really a long history since we knew each other for a long time.
K : So, how's your preparation for tonight's event?
Minami : We ate a lot of food! We went down the street to eat some seafood but last night we had chicken rice. Our stomach is good; we took care for the show tonight. We just enjoy for being in Singapore because it's been a long time for me not coming back here, and it's his first time. We're pumped. Oh yeah, we didn't get to party yesterday so we're kind of frustrated today. It's our main reason to take out that frustration in the show tonight.
K : You're mentored by m-flo, but what about your inspiration in music?
Minami : I will have to say that m-flo has definitely been my inspiration in music. He's more the sort of hip-hop guy. So he loves guys like Lil Wayne or T. I (*Clifford Joseph Harris, Jr.)  and other hip hop great people. But I am more to the hop person. I love to hear music produced by Benny Blanco, Dr. Luke, and  I love Mariah (*Mariah Carey), she's the queen.
K : Where is your favorite holiday destination in Japan?
Minami : It depends on what you want to do. If you want to go shopping, I'll definitely recommend Tokyo because it has all the different styles. But when it comes to food, you have to go to Kyushu like Fukuoka. Fukuoka has the best food. In Tokyo, you can get a good food but it's kind of pricey, but in Fukuoka you can get good food with a cheaper price.
Staxx T : I prefer Osaka food. They're delicious and cheap too.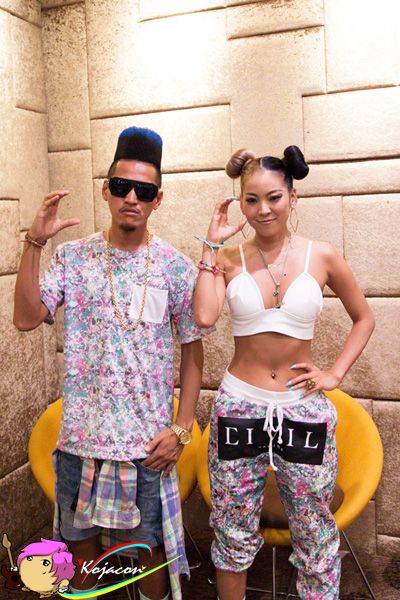 Can you give any message for your Indonesian listeners?
Minami : Hahaha, we don't know if we have anyone listen to our songs from Indonesia, but we can't wait to come there and perform. Hopefully somebody calls and invites us from Indonesia (laugh).
And that's a wrap! Minami is so fluent in English so it's really fun to share stories with her. We think that their new Jpop genre is easily accepted in Asia, and we hope for them to have another party in Indonesia!
Special thanks to Amuse Inc. Asia and Japan Night./Photos by Mikhael.