Naoto Inti Raymi has finally hit the stage on Thursday, 22nd May 2014 in Singapore. Together with CREAM and THE ORAL CIGARETTES, he livened up the Japan Night pre-event in Singapore. Naoto Inti Raymi whose stage name means "festival of the sun" in Inca language, is a Japanese singer-song writer who began writing his own song since 14 years old. His name rose to fame in 2010 as a singer, even though he's already a radio personality on bay fame since 2005 and he also has published  a book about his traveling journey titled Sekai yo Odore which was published in 2006.
K : Hi, we're from Indonesia.
Naoto : Heee… I went to Bali last summer to shoot a movie as an actor. Terima kasih. Apa kabar? (*Thank you. How are you?)
K : Baik (*I'm fine). So Naoto-san, can you tell us how do you feel for participating in this event?
Naoto : I'm very honored to perform here in Singapore. I rarely have the opportunities to perform overseas, so I'm really happy to be able to have a live show here. It's my third time coming back to Singapore, but this time is the first time for me to perform and singing my songs to Jpop lovers. I'm really happy!
K : You began to write in 14 years old, what's your inspiration when you start writing songs?
Naoto : I start writing songs because I learned from various kind of people and various kinds of music. My inspiration didn't come from a particular artist only. I was inspired by many kinds of artists, by many kinds of music; and those things has taught me a lot to start making my own music.
K : You're going to release new single soon in July.
Naoto : This is the Japanese version of World Cup anthem song. Each artist in every country is actually covering the anthem song in their own language. I am the representative from Japan. I hope my fans and the new listeners will enjoy listening to the song in Japanese version. I will also perform the song tonight, let's dance together!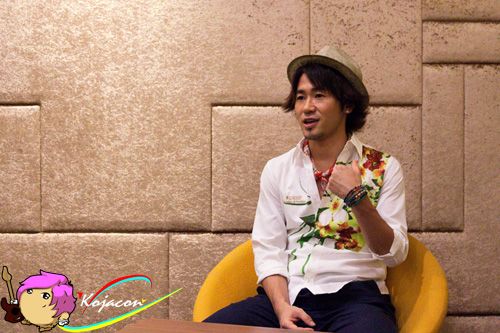 K : If you can be someone who has super power, who do you want to be?
Naoto : I want to be Mickey Mouse. Everybody loves him, he's the symbol of peace. He's a great entertainer as well, who doesn't love him?! I want to be like him, be loved by everyone and can bring a world peace (laugh).
K : Please leave a message for Indonesian J-pop listeners!
Naoto : Apa kabar? Selamat pagi! (*How are you? Good morning!) I love Indonesia, I went there to shoot a movie. I stayed in Bali and I want to go there again. The movie is not ready yet, but please see it when it's out. Maybe it'll be ready around winter.
We can't wait for any news about Naoto Inti Raymi's movie which was shot in Indonesia. We hope we can  watch a glimpse of our country soon in Japanese movie. Anyhow good luck Naoto with the new single~
Special thanks to Amuse Inc. Asia and Japan Night for the interview/Photos by Mikhael.