Like finally, we met RADWIMPS in reality!!!
Kojacon flew again to Singapore to meet a far meatier J-Rock band last week, RADWIMPS. Spearheaded by Yojiro Noda -claimed as Tokyo's Thom Yorke, RADWIMPS had a successful show for approximately two hours at TAB Orchard Road, Singapore, the day after the interview.
Mysterious personality, blunt yet philosophical lyrics, and rarely interviewed, RADWIMPS who had just released their album in December 2013 titled  [×と○と罪と] (BATSUTO MARUTO TSUMITO) rocked the stage with overwhelming fans supported them from various countries in close region; Singapore, Malaysia, and Indonesia. Not to mention, many fans also came from Japan and China to support them in this last overseas performance for RADWIMPS' largest concert tour, titled RADWIMPS GRAND PRIX 2014. Without further ado, let's continue with the interview!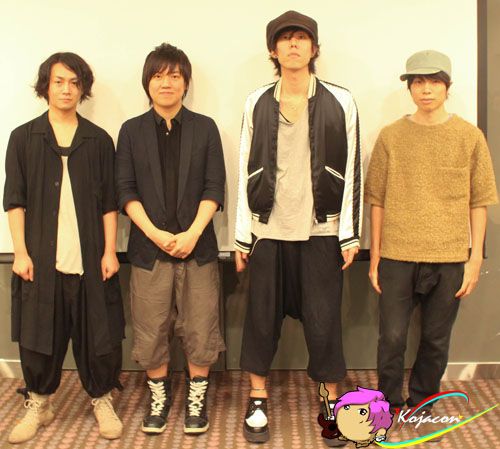 RADWIMPS (L-R : Yusuke Takeda, Akira Kuwahara, Noda Yojiro, Satoshi Yamaguchi)
Kojacon :  Welcome to Singapore! Can you give us your impression about Singapore?
Noda : First of all, thank you very much to be here with us and we're sorry that we're late. It's so crowded in the airport. We just arrived here so we can't tell much. But on the way to the hotel, we passed through the modern buildings and also Merlion. We just saw that much (laughs).
Kojacon : There are so many ups and downs throughout the years with Radwimps. However, can you tell us the best moment with the band?
Noda : I think this year is our best moment. I feel that being together with these guys for this long, We finally made a strong bond already. It's like a love relationship rather than friendship or brotherhood. Even when I write the lyrics, I am confident that these guys know me best about what I feel of what I write. Now we're at the point where we don't have to say anything to others but we understand each other. So this year I feel it's the best moment for us as a band.
Yamaguchi : Also the scream! When we had live in South Korea, we were surprised with the cheers. We have never got cheers that loud in Japan (laughs).
 Yojiro Noda (Vocals, guitar)
Kojacon : Lately, many Japanese musicians go to SEA countries to have gigs, what do you think about this phenomenon?
Kuwahara: It's good. You know, since long time ago Japan has been a secluded country. Either we are afraid to go out from our comfort zone or it's just our culture that made us like that. But since some artists have opened the path in SEA countries, we want to follow that path. We want to meet our overseas fans. Take for example, K-POP has been famous all over the world because one of their pop singers, PSY, has his song Gangnam Style becoming very famous. This led many people not only in Asia wants to know about other Korean artists. We want to be like that too. Let people know about Japan from us too.
 Akira Kuwahara (Guitar, backing vocals)
Kojacon : You will perform tomorrow, how is your preparation so far?
Yamaguchi : We're ready. We have performed in South Korea, Hongkong and Taiwan. We had a special corner where each member talked in the middle of the concert. It's quiet cute to see Takeda tried his best talked and being nervous. I'm looking forward how the fans will react to our mc talk tomorrow.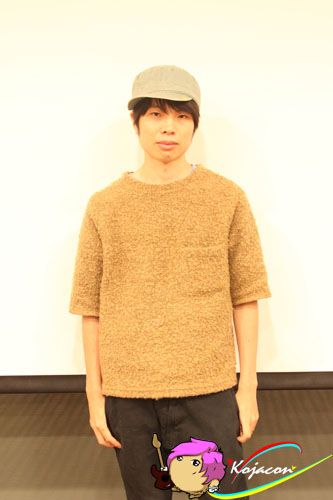 Satoshi Yamaguchi (Drums, backing vocals)
Kojacon : Performing in overseas has been Noda's dream and goal, what about RADWIMPS' dream then? Why did RADWIMPS finally decide to have an overseas performance?
Noda : I hope it's gonna be RADWIMPS' dream, too, soon (laugh). Having a solo concert has been my dream since long time ago, but now with RADWIMPS it's quite different. We are here because of our fans who sent us messages to have a performance in their country. We want to fulfil their request. This is our answer to them because they have support us for years. We want to see them and say thank you directly.
Kojacon : Despite Noda-san had an overseas solo concert with Illion, how do you feel for your first overseas tour with Radwimps?
Noda : To be honest, it's better to have these guys with me now. The more, the merrier (laugh). We support each other, and I am not alone this time.
Kojacon : Takeda has habit of expressing his feeling frankly to other members. You also got an emotional burst towards other members during a fun-karaoke session. How about during on stage? 
Takeda: I am the type of a person who doesn't have the limit for my own emotion. I can't keep everything inside alone. And yes, it also happens on stage. When I am on stage, I remember everything in details. I remember the band members who enjoy themselves, I remember the loud cheers from the audience who blend themselves with the stage, and everything makes me feel emotional. I'm very sensitive to this kind of feeling (laughs).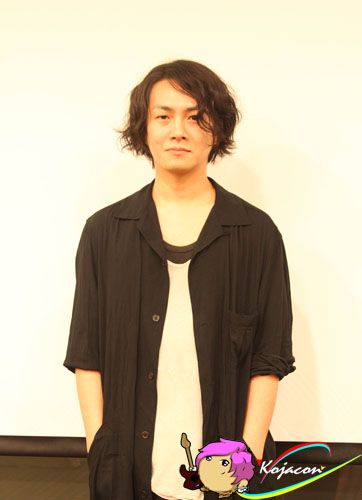 Yusuke Takeda (Bass, backing vocals)
Kojacon : Yamaguchi-san is a close friend of Tomoya-san from One Ok Rock. As musician, how do you perceive this; is he a friend or a rival in music?
Yamaguchi : Of course there's a sense of rivalry with him since both of us are drummers. I often see his performance and although he said that he's my fans, actually I am his fans too. Although there's this sense of rivalry like I want to be better than him but I really like him. It's not like we're fighting (laughs). We respect each other as musicians a lot.
Kojacon : The concept of this live tour is color, mounting, transcendence, and freedom. How did you come up with this concept?
Noda : We have grown up becoming old men now (laugh). Because we're old men now, we are free to create more colors to our music. We want to release our mind from any mounting and realize that to our transcendence in our music. I think it's the basic idea why we come up with this concept for the tour.
Kojacon : Tomorrow you will meet some of your audience who also come from Indonesia. However some also can't attend the live. Please give message to Indonesian fans who can't come to Singapore.
Yamaguchi : Wow! Really?! Thank you for coming all the way from Indonesia, guys!
Kuwahara : I hope we can meet you all soon!
Noda : Yes, I'm glad to know we have fans even until Indonesia. Thank you very much for everyone from Indonesia who will come to our live tomorrow. Thank you for the fans who have been listening to our music. This is our first time coming outside Japan and going to other Asia countries. We learn and see lots of things we've never experienced before. We really want to come and perform in Indonesia, too, next time.
Kojacon : Sure, we're looking forward for it! Anyway, good luck for tomorrow's live!
Special thanks for AFA and Universal Japan