Saturday night in a bright shopping alley of Singapore's heart, Orchard Road, became the silent witness of RADWIMPS showcase as part of the Japan Music Festival 2014 conducted by SOZO Pte Ltd and as part of RADWIMPS' largest show in history, RADWIMPS GRAND PRIX 2014.
Attended by many fans who flocked in TAB, a club which magically altered to a one-day-live house, RADWIMPS showed a strong performance, bringing together the taste of rap, reggae, pop, and rock of their respective countries' rock scenes to the audience who patiently wait since afternoon for their live.
TAB's stage was opened with one of the standout tracks Gimi Gimikku and quickly was followed by One Man Live then enren. Noda, wearing red checkered long shirt received most screams when he started to greet the fans and asked them to clap together through the songs. Noda who showed his falsetto skill ensured an attention-grabbing start and Kuwahara joined in to play the guitar solo part in One Man Live. In enren, again Noda made the audience grasped in awe for his slap guitar technique.
From there, Noda asked whether the fans were having fun or not and indeed they looked so happy since Noda replied their answers with nods and repeated "me too, me too!".
Various well-known numbers like Iron Bible, Yumebanchi, 05410 successfully generated heat and tension of the fans. The members jumped and dance all around on stage, played the piano, and fans head banged throughout the entire songs. Noda also gave chances for the fans to sing along in 05410 since most of the lyrics are in English.  Just before 05410, Noda asked whether the fans can speak English or Chinese, which led to Yamaguchi stood behind the drums and started to introduce himself in Chinese.  Beautiful rendition of the 05410 was opened by Takeda's bass sound. Fans clapped again in rhythm for Yamaguchi's solo guitar in Tummy. Takeda put off his bass and started to play with the midi controller on the left side of the stage. The fans sang together after the short stop in the middle of the song. The song was closed with lovely brotherhood closeness from Kuwahara and Noda.
Kuwahara took a break and talked about the Singaporean's food to the audience in English. He said he had eaten Singaporean food like chili crab and laksa. Then Noda asked the audience about food they should eat while in Singapore. Some fans even recommended Durian then some were laughing. Noda then jokingly told the staffs to jot down the food list. He again asked the audience whether they understand Japanese or not, then the majority raised their hands. Takeda showed his cutest smile, caught up quiet in surprised, and Noda laughed so hard suddenly telling that it's pretty useless for Kuwahara memorize the English words. "Then it's better for him to just speak in Japanese haha, but he gave his best efforts, right?"
Oshakashama, DADA, Iindesuka became the highlight of the show. Guitar duet in the opening of Oshakashama and I believe it's my favorite performance. Each of them shone so brightly on stage, thank you to whoever you are working in lighting props. But really, in this song they showed off their skill individually. Noda also acted like a music conductor here. He brought up the sound to the lowest level and bang! He went back to the normal sound.  This song is completely the proof of their confidence as a whole musician. Noda screamed, "Sugee tanoshii yo, arigatou!!" to the fans who gave big applause just after Oshakashama was ended.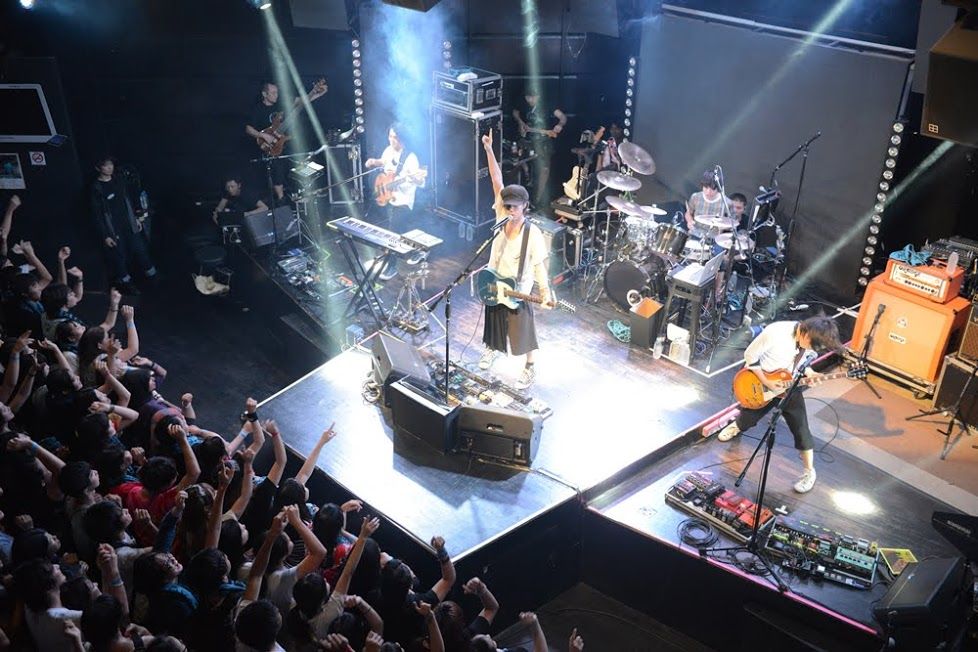 Futarigoto and Last Virgin were also beautifully played. Before futarigoto, Noda asked if there's any fan from different countries other than Singapore, China or Japan. Some fans from Indonesia and Malaysia raised their hands. Noda bowed down and said thank you, promised to them that he really wants to go to Indonesia one day. Since he looked very interested to the foreign fans, he made a mistake for the next song preparation. Takeda whispered to him only to scold him and it was quite cute when Noda said, "It's a proof Takeda remembered all the details in the concert".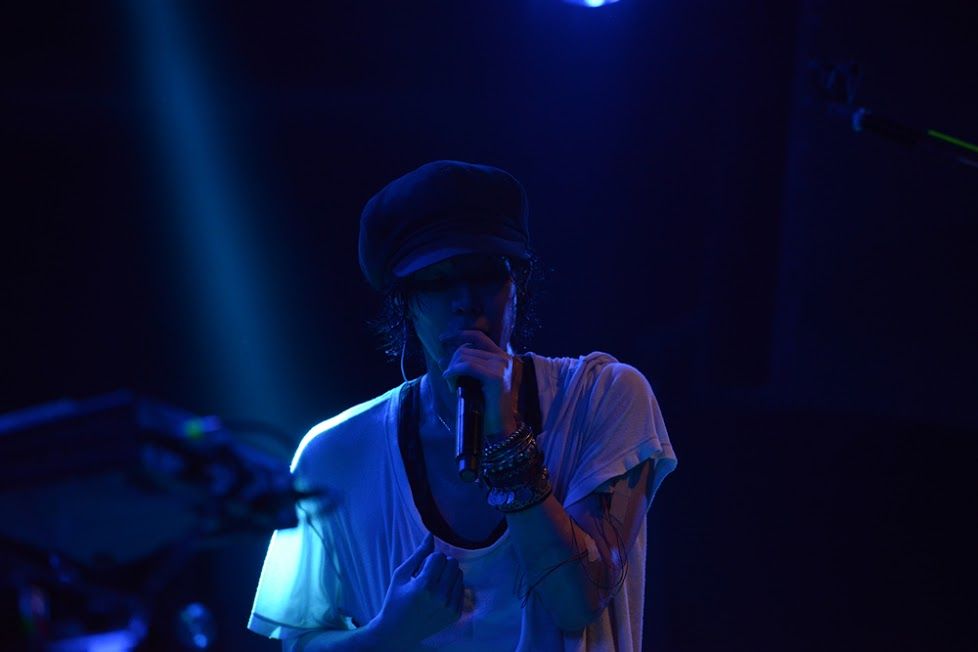 In the Last Virgin, Noda opened the song with soft piano melody and gentle voice. Everyone was swayed with the song but then Noda announced that they only had three songs before the show ended, fans were a bit disappointed. However, Takeda suddenly spoke Chinese which drew awe from the audience. Noda made a joke to Takeda's introduction, saying that Takeda is actually not good in speaking Japanese and is actually very expert in speaking Chinese.
Takeda added that he was very happy for coming to Singapore and didn't regret it. Noda added that he doesn't expect many fans will come to the show and he was even surprised that the show became such a huge event.
From Yushinron, Kimi to hitsuji to ao and Kaishin no ichigeki, they built massive screams, head bangs, and jumps from the fans. All were singing together. Noda promised that RADWIMPS will come real soon to Singapore again and that they had a good time here in Singapore. Everyone danced and waved their hands together wildly until the song was ended.
Although the show was supposedly ended, fans were not giving up. Shouting for another Encore and even singing a chorus from Moshimo repeatedly, they called RADWIMPS to go back on stage. Takeda came back followed by Yamaguchi, Noda then Kuwahara. Yamaguchi was forced to stay in Noda's place in the center of the stage. Yamaguchi spoke some Chinese which he admitted he forgot the rest of it and made up some words. He commented that the fans in Singapore are very warm, the response is very good and he put Singapore to his favorite place, "Singapore suki ni narimashita!".
The encore songs, Tremolo and Darma Grand Prix, were well-responded since the audience again sang along together throughout the entire lyrics. Many shouts of thank you from the members were all up in the air before they bowed down long enough to close the show.
With all the energy and talent on stage, they really spoiled the fans with a lot smaller and intimate stage setting. Fans were fully engaged to the members and RADWIMPS gave high five to some audience in the several first rows of the stage. Takeda even jumped down from the stage to shake hands with some fans in his side. They really played a polished, varied music genre and no doubt they'll gain even bigger in South East Asia if they're willing to.
Photos credit to RADWIMPS/Special thanks to Sozo Pte Ltd and Universal Japan