As you may know, this year TETSUYA arranged a special live titled "Thank You" to celebrate his birthday with the fans at Akasaka Blitz Tokyo.
In that special day, he brought 2 set lists with different songs which were included in his latest single. After the two-years-hiatus, Tetsuya successfully brought up fans' mood all day long.
The show opened with a backward counting from 2014 to 1969, then montage videos of world events from 69. Woodstock, Moon landing, etc were aired in the video.
The members came out around the moon landing bit and then Tetsuya joined them. The lights showered the stage and the music starts to beat. The Juicy Ones wore the same matching outfits. Tetsuya wore tight blue jeans with brown boots, a long pink coat with his candy-pink scarf, and a sweater underneath. He looks fresh with his short hair and shades. He neglected the shades somewhere after the third song, and the scarf was gone at around the sixth or seventh song. He didn't take off the coat until everyone changed for encore.
Sad to say, there was no MC until the encore. However there are many photos of Tetsuya were shown on the screen.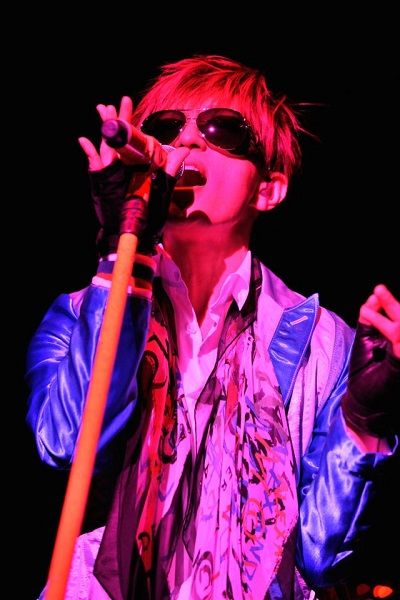 Tetsuya pics montage ran from about 1995 to now and the audience reaction was incredibly hype.
They performed Roulette, but sadly there's no membertalk.  As soon as Roulette ended they brought out a birthday cake and all fans who came sang happy birthday to Tetsuya together. That was the first of the two MCs. He was all surprised that they actually got 2 cakes, since there were 2 stage though. After the encore, everyone was wearing the white concert shirt that says "I was born for seeing you".
They played "THANK YOU" (the new song from 2012) and there were long solos for each Juicy-Banana in it. The second MC was goofier and Tetsuya complimented his Juicy-Bananas for being so cool and handsome. After Tetsuya sang the last song, as usual he threw bananas to the audience.
They also played a surprised video titled "THANK YOU" on screen which includes Juicy Banana concert footage and Tetsuya in the studio.
Set List
[1st ]
01.EDEN
02.Can't stop believing
03.Fantastic Wonders
04.Shinkirou
05.TIGHTROPE
06.lonely girl
07.guilty
08.LOOKING FOR LIGHT
09.REVERSE
10.wonderful world
11.WHITE OUT
12.Are you ready to ride?
13.Roulette
14.THANK YOU
15.15 1/2 Fifteen Half
16.Nagareboshi
[2nd]
01.Fantastic Wonders
02.EDEN
03.Can't stop believing
04.Shinkirou
05.TIGHTROPE
06.lonely girl
07.guilty
08.LOOKING FOR LIGHT
09.REVERSE
10.Mahou no Kotoba
11.WHITE OUT
12.Are you ready to ride?
13.Roulette
14.THANK YOU
15.15 1/2 Fifteen Half
16.Nagareboshi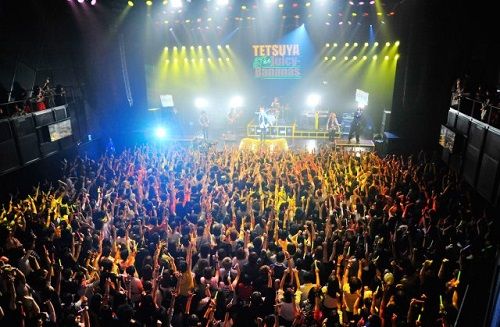 Source: