Since Perfume 3rd World Tour has ended, I can write their live in detail last time in Singapore on 2nd November. As this is our first time coming to watch their concert, I was surprised with the quality. The venue sets up a high standard for me to watch concert in other venues in Singapore.
As I arrived early, I headed to Resorts World Theater on Sentosa Island as soon as possible. People had been lining up ever since in front of the theater; mostly were boys, but there were also many girls. Not only lining up for entering the gate, some were also queuing to buy Perfume's merchandises. Perfume also has their special products for each country that they visit in this world tour. In Singapore, they have green travel tumblers. What kept me surprised was that there are many Indonesians too in the crowd. Lately, there are many Indonesians I met in lives in Singapore and I'm pretty happy with it. It means that many fans from the region really put efforts to meet their idols and have fun in the concert.
At around 6 pm, the gate was opened and the huge hall was already filled with the fans. They were ready to wave their fist up in the air, following Perfume's hand rhythm. Nearing the performance time, the avid fans can't control their patience anymore and started chanting, calling Perfume's names. Everyone has been longing for the power trio idols, and finally when the clock stroke 7 pm, the show started. As the trio finally appeared on the sophisticated screen, the crowds went wild. Lasers, hi-tech lighting, super modern techno music, firm steps combined with robotic dance moves, and well made futuristic costumes were executed brilliantly on the center of stage. The repeated pop tunes with the cute voices echoed throughout the venue. I am completely mesmerized by these three beautiful ladies who radiate perfectly with a smile on their face. They are really on the top of the leagues.
To be honest, when I firstly watched them in tv, I often associate Perfume as techno gals who dance in their high heels, and sometimes I just don't get at how they can dance that casually while wearing heels. But seeing it in reality, with my own eyes, they are really careful with their steps. After several songs played, I realized that they don't put too much strength in their feet movement but their hands. They created their own dancing character with the complicated hand movements with such precision that I was awed by that.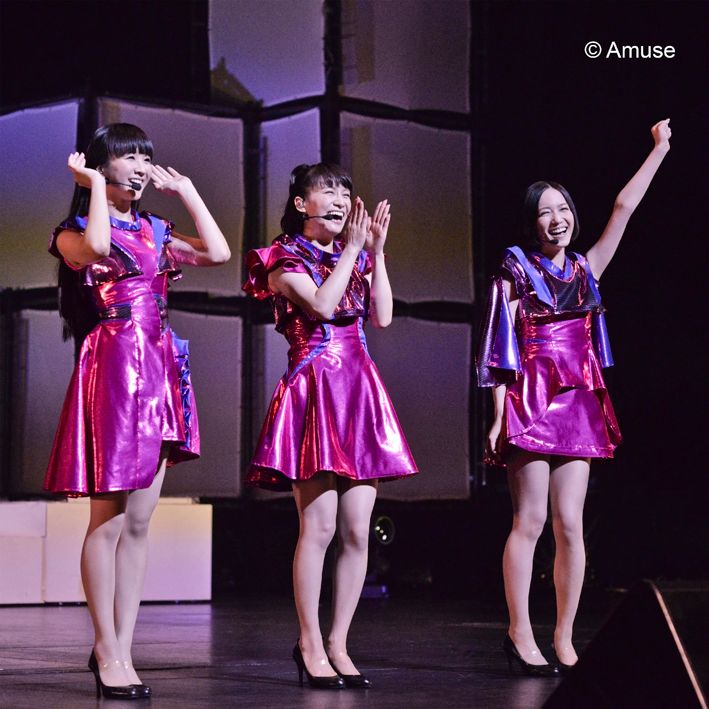 Perfume busted the stage with mini pink suits and tuned with numbers like Enter the Sphere, continued with Spring of Life and Cling Cling. And after Cling Cling ended, I came to senses that they are also normal humans because I can listen to A-chan's panting before they greet the audience in sync. Just like how they greet in any of tv shows I've seen, they introduced themselves together, "We are Perfume'. A-chan continued to use English to greet the audience, 'Thank you for coming tonight! Hello Singapore! We want to make this show more exciting than the one two years ago!'
Nocchi agreed. 'I'm happy to come back to Singapore for the second time in this bigger venue!'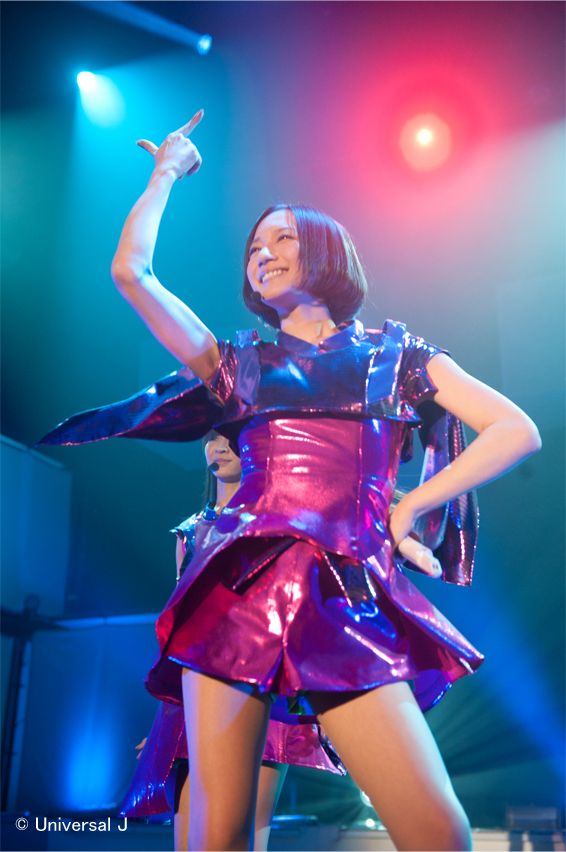 Perfume appeared with different costumes soon after. With black dresses and greenish accent, Perfume danced along with the laser show and made the song sounds more mysterious and darker. SEVENTH HEAVEN and GAME were performed with prop like light-saber from Star Wars. The cool Perfume quickly changed the dresses with a pale chiffon dress and Dream Fighter starts.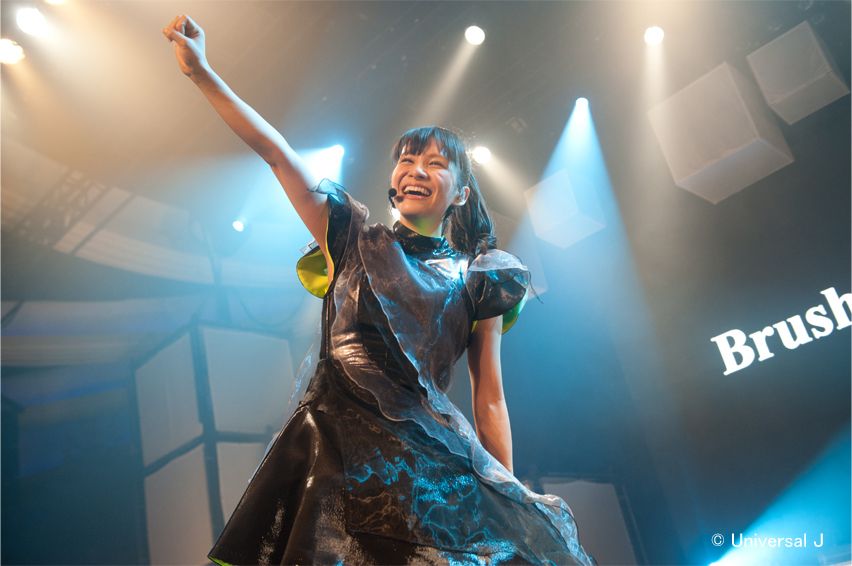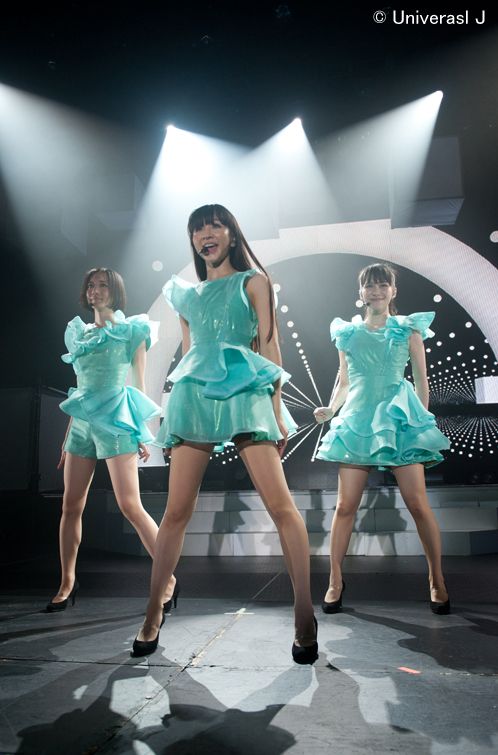 With the English lyrics played on the screen, I can feel how strong their message is.
Aim for the best, to go on a never-ending journey
It's surely proof that we're living
Even if it's painful
You will surely, always, possess the strength to never give up
So we kept running, too YEAH!
Every tear you spill is a treasure oh! YEAH!
Oh! Yeah! Reality can beat us down pretty badly, but
Surely, look forward and walk, Dream Fighter
They look so strong and it feels like they can share their strength to everyone there.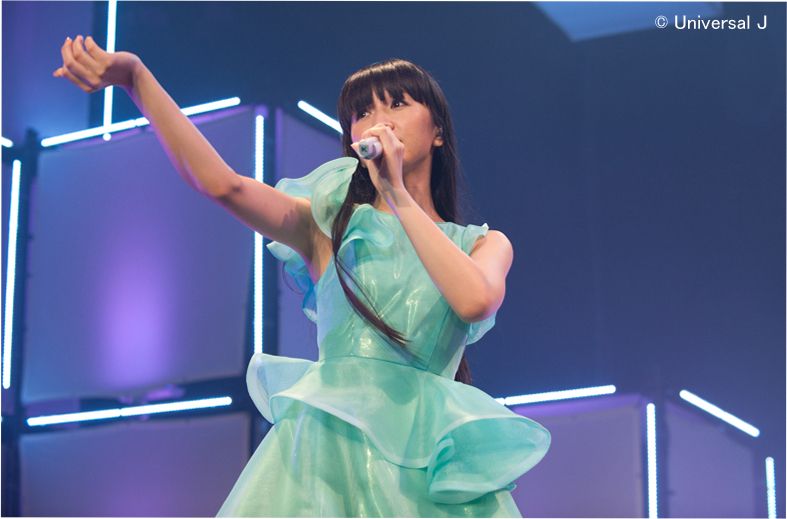 After Polyrhytym, Perfume finally did their special segment called P.T.A where they taught some moves to the crowd to dance together. Indeed they are experts in crowd engagement. I never come to any concert which artists took a long time talking randomly, giggling here and there, and then having one special segment only teaching the whole venue to dance along together. I really think that A-chan deserves to be a tv personality after watching her as a guest so many times in tv shows. It turns out that her character is really cute and likes to joke around.
Despite the language barrier, their passion reached every one of us coming there. After the dance lesson, there is a part where they sang cute song about brushing teeth, and the whole hall was stunned, they didn't know whether they have to laugh or what… I kinda understand A-chan's point of view now hahaha… The crowd cheered soon after they perform a bit drama from Disney flick "Frozen" with Let It Go cover.
The crowd pumped up as they continued the performance with full dance song such as Party Maker and Chocolate Disco. As for me, there was a time where every time I turned on tv, I always listen Chocolate Disco in every variety show so I'm really happy that finally I can listen to this song while watching them performing live.
During the encore, some fans who were included in Perfume fanclub presented a handmade uchiwa with Perfume cartoon picture on it with the Merlion. Perfume was so touched and they kept saying that they'll surely come back and perform in Singapore. They closed their concert with FAKE IT and MY COLOR.
The dance I have learnt during the P.T.A segment was really useful at the last song. Everyone put their arms high in the air, and danced along with the girls. Perfume successfully transformed the hall to a disco party. As the lights dimmed and the music faded, the girls bowed amidst the deafening cheers and applause then thanked the audience before leaving the stage.
Photo source :  Clarence Aw & Esther Tay