Hey, how's everyone? Last weekend, we got the chance to attend Indonesia Toys, Games and Comics Convention, which is also known as ITGCC. ITGCC itself is a convention that originated in Singapore, which is also known as STGCC back there, and is a well-known convention. This year, for the first time in history they branched out to Indonesia and held a convention in Jakarta as well!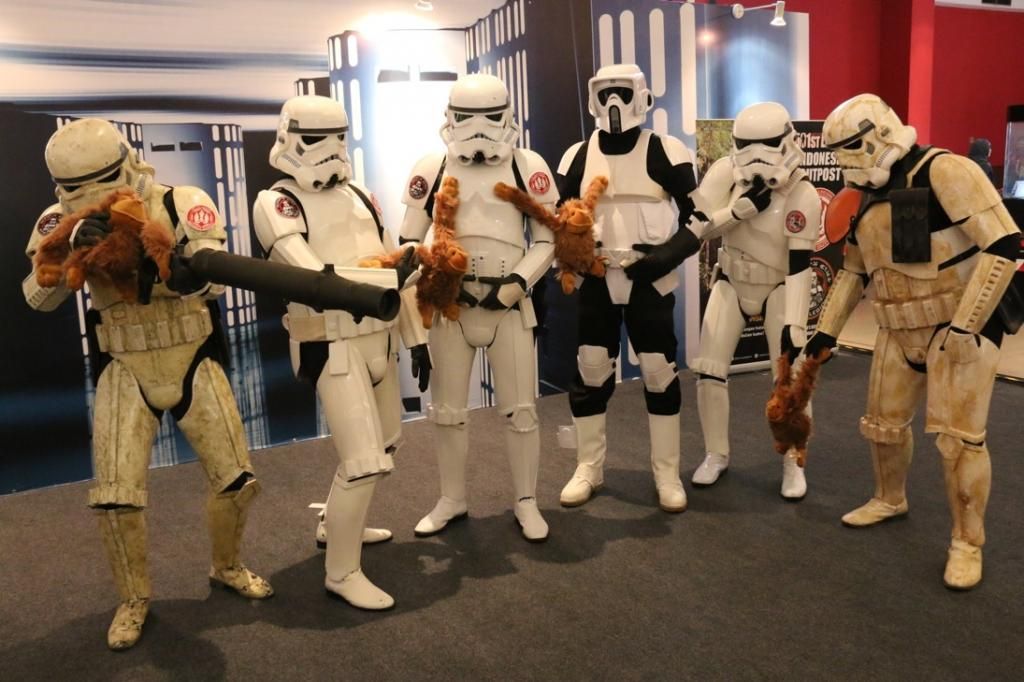 We decided to see what they have, especially for the DJ Night live, with 3 renowned Vocaloid producers playing as DJs for both of the 2 days of the convention. These DJs are namely Higedriver, Baker as well as Yuyoyuppe. Without further ado, let's all head towards the concert report!
 DAY 1
During the first day, the first thing we noticed was that there weren't as many people as we expected there to be… this is most likely due to a different event happening, which is unfortunate since we have some really awesome people coming to DJ for us! At first there weren't very many people gathering in front of the stage—perhaps around 30 at most, but as the night grows later, more people were attracted by the songs that the DJs dished out, and the crowd grew larger.
On the first day, the DJ night was started up with Baker on the set! Baker played mostly Vocaloid songs, such as Tell Your World, as well as his own songs, like Kimi ga Kimi ga and Celluloid. Some troubles happened, such as the power to the set getting cut off twice during his turn, but it was all fixed in a very short time and soon enough all is well again!
Next up was Yuyoyuppe, who gained the most attention during his turn. While Yuyoyuppe is more known for his metal and rock songs, he's also known to be composing really great electronic songs under the pseudonym DJ'Tekina//Something. Yuyoyuppe played a wide variety of songs, ranging from Vocaloid songs such as Luka Luka Night Fever and Yi Er Fanclub, as well as Western Disney songs like A Whole New World and Let It Go amongst many others. He also brought out his own song, You need fxxkin' anthem, which he also sang a little in. The crowd was roaring wild at this point, especially when Yuyoyuppe sang and moves around energetically on stage!
Right after him was Higedriver, who played last, but definitely not the least for the night. Higedriver played mostly anime songs, such as the opening song to the anime Haiyore Nyaruko-san!, titled Taiyou Iwaku Moe yo Chaos, as well as the ending song to the anime Gekkan Shoujo Nozaki-kun, which he composed, titled Uraomote Fortune. Higedriver's uniqueness lies in his methods of using 8-bit sounds as well as using a game controller in the middle of his live to create sounds. Just like Yuyoyuppe, he sang a little during his performance as well. His set was outstanding, and though the crowd has dwindled down at this point, he closed the night energetically.
DAY 2
There were even less people on the second day, which was rather disheartening. But like the first day, soon enough more people were attracted to the set, which helped to liven up the audience area!
On the second day, the roster was shuffled, and the night was started by Higedriver. He brought out his usual 8-bit sounds, as well as anisongs and game songs. This time, he played Uraomote Fortune again, as well as Maware Setsugetsuka!, the ending song for the anime Unbreakable Machine Doll wa Kizutsukanai. He also asked people to spin with him during the, "Maware" (spin) parts of the song, which was exciting! He also played Guile's Theme from Streetfighter, during which he had his trusted game controller out to make sounds, as well as played some of his own music and sang a little.
Right next after him was Baker, who, again, played mainly Vocaloid songs. His set included, but was not limited to Senbonzakura, Just be Friends as well as Popipo, which definitely riled the crowd up! He seems to be more pumped than yesterday, and energetically pumped up the crowd.
Last but definitely not least was Yuyoyuppe, who was just as energetic as he usually was! He was happily jumping around the stage, asking the crowd to clap, fistpump, and jump around with him. Like yesterday, Yuyoyuppe played a wide range of songs, from Vocaloid songs like Just be Friends, to anisong like ClariS's Irony, as well as Western songs like LMFAO's Party Rock Anthem and Zedd's Clarity. Irony especially attracted male fans, and the Western songs attracted the general crowd. At the end his set, he played his own song again, You need fxxkin' anthem, ending the night as well as the convention cheerfully.