Free! Eternal Summer special event was held at Ryougoku Kokugikan, Tokyo on March 22nd. This time, the event theme is "Iwatobi & Samezuka Festival" brought up all cast from Iwatobi High School and Samezuka High School as below:
Iwatobi High School:
Nobunaga Shimazaki as Haruka Nanase
Tatsuhisa Suzuki as Makoto Tachibana
Tsubasa Yonaga as Nagisa Hazuki
Daisuke Hirakawa as Rei Ryugazaki
Samezuka High School:
Mamoru Miyano as Rin Matsuoka
Yoshimasa Hosoya as Sousuke Yamazaki
Kouki Miyata as Aichirou Nitori
Kenichi Suzumura as Momotarou Mikoshiba
Some new info that published on this event are:
1) There will be a Free! Movie called High☆Speed: Free! Starting Days
2) High☆Speed will have a manga
3) Haru/Rin Mook is in the works
4) There will be apparently be several more Free! Seiyuu Events this year
The story take place at swimming club of  Samezuka High School, stage is set just like swimming pool with scattered sakura. It started with sumo background (since the venue usually used for sumo tournament) and Sasabe Coach chant saying IWATOBIIIIII vs SAMEZUKAAAAA. Then all cast came on stage and said hello to audience.The stage on the floor was projected as a swimming pool with four lanes, and all seiyuu sat around the pool on pool benches. Rei and Nagisa sat really close to each other on the bench, and then Haruka, Rin, Sousuke formed like some kind of HaruRinSou sandwich where they sat super close together with Rin in the middle. Now let's get started straightly to the event.

The seiyuu got to choose which scene resonated with them the most:
Scene 1: The first opening scene was a montage of all SouRin fist bump moments and then Rin said how he really liked doing the fist-bump thing with Sousuke during their live recordings and that it was something that only those two characters were able to do without being embarrassed or whatever since they have known each other the longest. They then try to re-enact the scene where Sousuke and Rin first meet and do their weird handshake.
Scene 2: Nagisa chose the scene where they take Rin to the cherry blossom filled pool in Season 1
Scene 3: Aichirou chose the scene with Nitori and Sousuke at night where Sousuke tells Nitori not to crush his own potential. When Sousuke's line of  "don't crush your own potential without even realizing it…is something Rin would say"
Scene 4: Rei chose the scene with Makoto teaching Kisumi's brother Hayato. Japanese fans went wild when Makoto held Hayato's hand and guided him through the water LOL.
Scene 5: The entire Samezuka team chose the super emotional scene where Sousuke tells Rin about his shoulder and Rin starts crying like a baby. Anyway, after the scene Rin is crying, everyone is crying and saying "Rin, don't cry!!!" Samezuka members all say that the scene was the most emotional to them, and Rin couldn't even say anything because he was so caught up in the moment.
Scene 6: Haruka chooses the scene where the Iwatobi team compete at Nationals.

Seijurou's voice actor, Kenjirou Tsuda comes onscreen and asks the seiyuus to re-enact their poses on their character song CD jackets LOL. I thought the funniest one was Sousuke because he tried to copy the picture of Sousuke holding his shoulder, but he held his left shoulder instead of the right shoulder.
Iwatobi vs. Samezuka Drama
In the Drama CD that came with the Free! ES Event ticket, there was a part where they talked about a fashion show battle. They then show a picture of the Iwatobi boys dressed up as some kind of 18-19th Century Napoleon Commander Clothes. Rei looked so flamboyant with a fluffy white boa all around his captain clothes . Samezuka boys were then shown dressed up as mountain men or some kind of post-apocalyptic survival of the fittest war-torn fantasy sci-fi theme where Sousuke and Rin wore super thick fur coats and Nitori looked like he was going to hike the Alps and Momo looked like a Phoenix. Sometime during this, Rin commented that one time during recording, Sousuke drank too much honey in his drink for some reason and sounded like a bear, so maybe that's where this whole Sousuke-is-a-bear theme came about LOL wtf.
Rin then said that Rin was supposed to be a cat, Sousuke a bear, Momo a bird, and then he asked Sousuke what he thought Nitori was supposed to be.  Sousuke kept on saying "UH I FORGOT LOL WHAT WAS NITORI!?!?!" and then everyone was like "come on…Nitori is supposed to be a…!!!" and then Sousuke kept saying "a…CAT!" to which everyone falls down LOL. And then he finally goes "OH I GOT IT! Nitori is supposed to….be….a….DOG!"  In the end, Samezuka wins the fashion show because the audience applaused for them the most, and Rin and Sousuke do a fist bump.
Next up,the seiyuus stand on the stage and perform the live drama that is meant to be for this event only, which is the Iwatobi & Samezuka Festival Iwa-Same Cafe drama. Sometime in between the live drama reading, Rin holds his crotch for some reason.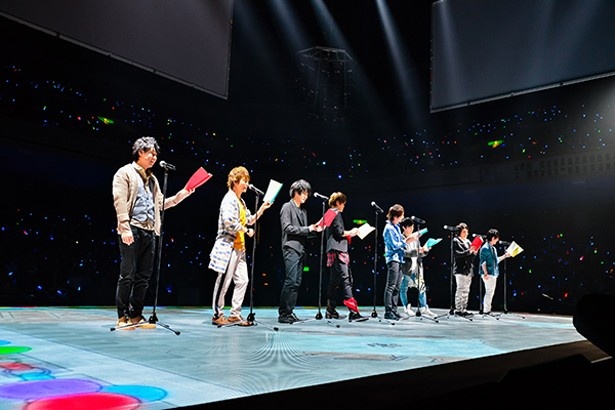 Live Performance
Style Five did a live performance of SPLASH FREE and FUTURE FISH. The whole audience sang along and danced with their glow sticks.Sousuke, Nitori, and Momo had to leave the stage because the performance was only for Style Five. The BEST part of this performance though is whenever Rin would get close to Sousuke and co. standing off-stage, Sousuke would rush up to Rin and fanboy and wave his Style Five glow stick like OMG! And then Momo tried to reach out to hold Rin's hand it was hilarious. This was especially hilarious  like a made canon and it was glorious and Sousuke was rushing up to Rin to get him to notice in the crowd. After the performance, Sousuke, Momo, and Nitori come back on stage, and Rin asks Sousuke, "So, how was our performance?" And Sousuke goes, "STYLE FIVE IS…SERIOUSLY THE BEST!!!"
After the performance, everyone returns back to the stage and say their thank you to the audience. Some girls around me were sniffling, and the most beautiful message was from Rei. He said something super profound that really resonated with me, that "there is a saying that the older you get, the more you cry because you experience more things, meet more people, and become more aware of the world around you, so that's why I want you to know that it's okay to cry! It's okay to cry tears of happiness or sadness because that just means you're growing up, and I hope that you will all continue to walk with us, no, swim with us happily and Free-ly from here on out." Makoto also said that after he finished recording for Free! Eternal Summer, he had this deep feeling within him that he really did not want Free! to ever end. He never experienced such a feeling before and never has an anime resonated with him so much as Free! had, and he would like to continue voicing Makoto for as long as he can because he really has grown to love the character he plays for.
Rin starts crying and I think Sousuke says "hey stop crying!" and then he says "I'm not crying!" And then another occassion Haruka tells Rin "hey stop crying!" and then Rin says again "I'm not CRYING!!!" He then said that he doesn't want Free! to ever end.
Which segues into Haruka making the official announcement for the High Speed movie that will come out on December 5th, 2015! Then Rin gets all happy and excited saying YAY FREE! IS NOT ENDING I REALLY THOUGHT IT WAS ENDING! The cast then say that the movie will take place during their middle school years, and the voice actors will NOT change. I don't know how they will pull this off but okay sure why not. Rin asks Makoto to show us his shota voice LOL. Someone then says "we will show you a shota voice you have never heard before" LOL.
source:  Free Official Website, Web Newtype
special thanks to Audrey for the report
other photos from twitter and blog of Nobunaga Shimazaki, Tsubasa Yonaga, Daisuke Hirakawa, and Mamoru Miyano