Good day everyone! Kojacon Report just returned from Japan after covered one of the biggest game show event! Yes! We were visiting Tokyo Game Show in Makuhari Messe on September 17~20. The hype from every gamer, the developers and the audience mixed up together within this event!
So, Tokyo Game Show 2015 finally ended. Many good impressions marked on all video gamer around the world. Even though some developers and publishers couldn't participate in this event, there were still a lot of video games represented here. As Tokyo Game Show stays alongside every other big gaming show and is spread across countries more and more, there were still more than enough cool video games for us to play and to inform you all about it.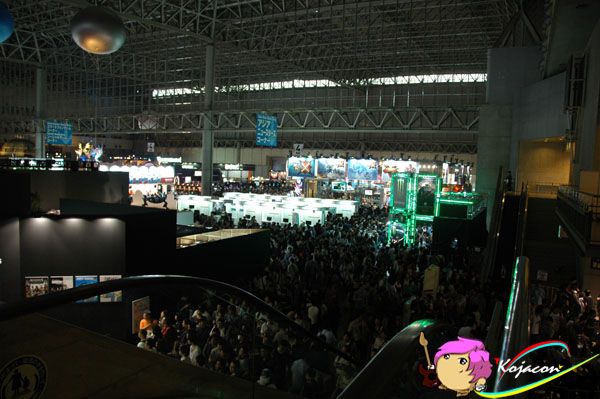 First of all, let's see the general statistics. Tokyo Game Show 2015 was organized by the Computer Entertainment Supplier's Association (CESA) in cooperation with Nikkei Business Publication, Inc and was held over four day period from September 17th to September 20th 2015. Divided into Exhibition Area (Hall 1 – 8) and Selling Area (Hall 9 – 11). The total Number of visitor was 268,446 with detail below.
Sept. 17  (Thu) Business Day: 29,058
Sept. 18  (Fri) Business Day: 29,557
Sept.19  (Sat) Public Day: 97,601
Sept.20 (Sun) Public Day: 112,230
Total 268,446 including 24,877 in Family Area
Number of  exhibitors: 480
Number of booths: 2,009
Number of exhibiting titles: 1,283
Countries and Regions of exhibitors: 37
–> Asia Pacific 18 countries, North/South America 4 countries, Europe 15 countries.
Under the theme "Play Your Way: Games Unleashed", Tokyo Game Show 2015 had the record of 480 corporations/organizations (which 246 from them were overseas exhibitors), also new titles, and services were announced in the wide rang of genres console, smartphone, PC, and other platforms. This show was very well attended by video-gamer and game fans all over the world.The highest interest seems goes to booth for video streaming game, virtual reality game, and particular indie games. The show symbolizes the incremental growth of Asian game market, also the diversified and widening ways of enjoying game.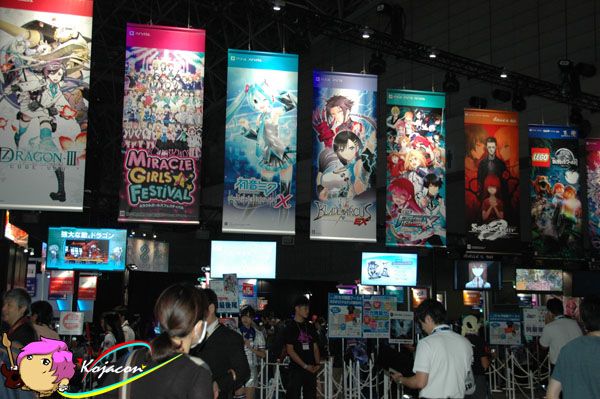 Thanks to the growth of smartphone, game industry has been expanding on a world scale. Foreign companies seek more opportunities to partner with Japanese game companies which carry superior contents, and this event has made itself to be a business hub between local and foreign companies. At the venue there was a wide range of games from the latest games (which attract users with beautiful expression and spectacular world view by the advance graphic technologies) to the casual games (which could be played anywhere anytime like a common arcade game or family game). New game culture such as VR (virtual reality) games also ran a lots of comments, feelings and views.
Planned exhibiting titles this year (including goods) sharing about 40% of iOs/Android games which continue to become more popular in smartphone game market in the last year. New titles have been exhibited since PS4 already released within Japan. In addition, PC games titles also increased. Please check below stats for general reference from TGS's exhibitor.
Number of Titles (By Platform)
iOs/Android : 252/252
Other Smartphones : 6
Featured phones : 8
Nintendi 3DS : 29
Wii/Wii U : 1/23
PlayStation3/PlayStation4 : 39/103
PSP/PSVita : 1/62
Xbox360/XboxOne : 7/27
PC/PC Browser : 135/28
Steam : 23
Others : 287
Number of Titles (By Genre) included indie games
Action/Role Playing : 208/189
Action Role Playing : 21
Adventure/Action Adventure : 70/15
Shooter/Action Shooter : 42/14
Simulation : 122
Puzzle : 62
Sports/Racing : 8/6
Others genres: 222
Beside that, business meeting were held proactively. Total 1,011 corporations registered in the business matching system "Asia Business Gateway" and 606 matches were made. This growth show us the fact that TGS plays even more important role as an international exhibition to connect worldwide game industry.
If you're looking for something memorable from this event, take a note that Tokyo Game Show 2015 also has its merchandise booth! Please take a look and buy something to remind you how great is this event!  We'll see you in Tokyo Game Show 2016!
PS:
For detail of each game publishers and stage event, don't forget to check another TGS related links.
Square Enix
Bandai Namco
Sega ATLUS
CAPCOM
KONAMI