Konami Holdings Corporation (commonly referred as Konami) is a Japanese developer and publisher of numerous toys, trading cards, anime, tokusatsu, slot machines, arcade cabinets and video games. It also operates health and physical fitness clubs in Japan. Konami is famous for popular video game series such as Castlevania, Contra, Dance Dance Revolution, Gradius, Frogger, Suikoden, Ganbare Goemon, Metal Gear, Mirmo, Pro Evolution Soccer, Silent Hill and Yu-Gi-Oh!. The 2012 purchase and absorption of Hudson Soft has resulted in the addition of several other popular franchises, including Adventure Island, Bonk, Bloody Roar, Bomberman, Far East of Eden and Star Soldier. Konami is the twentieth-largest game company in the world by revenue.
Konami welcomed you by setting up their booth into five different areas. Main stage was in the front middle and was separated by soccer area and baseball area (where you could play Winning Eleven and or Pro Yakyu here). Metal Gear area was also available at its backside, the opposite of main stage. Other two areas were photo spot and Konami's Partner game which titled "Tokyo Xanadu". If you visited Konami booth, their staff would greet you with exclusive flyers, limited edition uchiwa, and free magazine!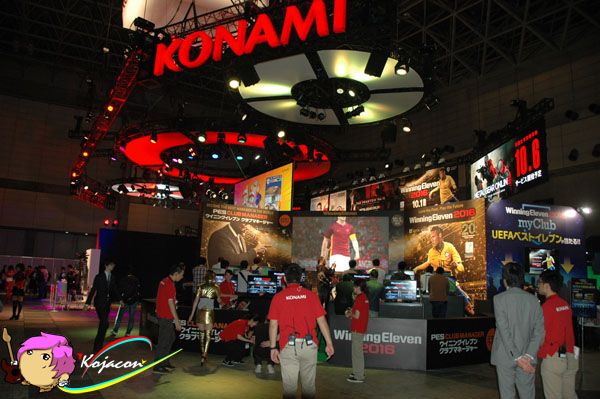 Check below list for featured games from Konami!
1) Metal Gear Solid V: The Phantom Pain
Genre: Action
Platform: PS4, PS3, XBOX ONE, XBOX 360, Windows
now on sale

2) Winning Eleven 2016
Genre: Soccer
Platform: PS4, PS3
Release Date: October 1st 2015

3) Jikkyou Powerful Pro Yakyuu
Genre: Baseball
Platform: iOs, Android
now available for download

4) Winning Eleven Club Manager
Genre: Sports
Platform: iOs, Android
now available for download

5) Professional Baseball Spirits A
Genre: Bsebell
Platform: iOs, Android
now available for download

6) Star Wars: Force Collection
Genre: Card Battle
Platform: iOs/Android
now available for download

KONAMI's Partner Featured Game:
Tokyo Xanadu
Genre: Action RPG
Platform: PSVita
Release Date:  September 30th 2015

Stage Events from Konami were as below:
Saturday Stage:
>> TGS 2015 Konami Booth
>> Metal Gear Online
>> Metal Gear Solid V: The Phantom Pain
>> Konami Yakyuu Game Latest News
>> Tokyo Xanadu ~ Riaru ☆ Spica
>> Winning Eleven 2016Competition
Sunday Stage:
>> TGS 2015 Konami Booth
>> Konami Yakyuu Game Latest News
>> Metal Gear Solid V: The Phantom Pain
>> Metal Gear Online
>> Tokyo Xanadu ~ Riaru ☆ Spica
>> Winning Eleven 2016Competition